Now Hiring | Registrar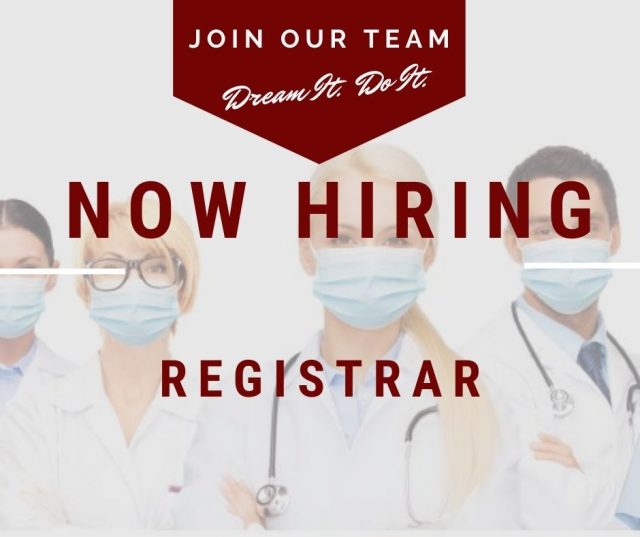 Title: Registrar
Supervisor: Dean of Students
Job Summary:
The registrar is responsible for the entering of classes and students into the SIS, scheduling of classes and rooms to support the instructional schedule, ensuring class sizes are in compliance with class size limits and the delivery of student schedules at the beginning of each academic term. The registrar is responsible for ensuring that the grading system in the SIS matches the grading system in course syllabi. The registrar is also responsible for the archiving and retrieval of all academic records as well as for processing transcript requests. Additionally, the registrar is responsible for the security, privacy and protection of student records and grade information as required by law. The registrar is directly responsible to and works at the direction of the Dean of Students.
Duties and Responsibilities:
Work with President, Dean of Students and Department Chairs to create master, instructor and student schedules
Enter new students into the SIS
Deliver student schedules to students each term
Deliver instructor schedules to instructors
Complete Campus Login and Turn it in training for new instructors
Update and maintain student transcripts
Send graduate paperwork and official transcripts to the correct State board of Nursing for testing and licensure.
Process and ensure accuracy of diploma and transcripts and send to students upon graduation
Complete SAP forms at the end of each term and distribute to Department Chairs and Dean Complete DOE SAP forms and credit hours for Financial Aid at the end of each term.
Assure all transfer credits are evaluated and reviewed by and entered into the SIS and Transfer Credit
Uploaded Transfer Credit Evaluation and official transcripts into the T drive
Assist in orientations
Assist in graduations
Assure graduation lists are completed
Oversight of attendance.
Deliver E-books to students
Respond to student questions regarding schedule
Additional duties that may be required by Dean of Students
Requirements:
Ability to work with multiple college departments.
Strong attention to detail.
Highly organized.
Strong written and oral communication skills
Contact HR for more information.