Health Care Just Became the U.S.'s Largest Employer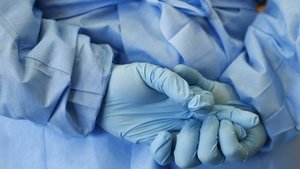 This moment was inevitable. It just wasn't supposed to happen so soon.
Due to the inexorable aging of the country—and equally unstoppable growth in medical spending—it was long obvious that health-care jobs would slowly take up more and more of the economy. But in the last quarter, for the first time in history, health care has surpassed manufacturing and retail, the most significant job engines of the 20th century, to become the largest source of jobs in the U.S.
In 2000, there were 7 million more workers in manufacturing than in health care. At the beginning of the Great Recession, there were 2.4 million more workers in retail than health care. In 2017, health care surpassed both.
---
---
There are several drivers of the health-care jobs boom. The first is something so obvious that it might actually be underrated, since it is rarely a proper news story in its own right: Americans, as a group, are getting older.
By 2025, one-quarter of the workforce will be older than 55. That share will have doubled in just 30 years. The graying of the nation will have widespread economic and political implications, like declining productivity and electoral showdowns between a young, diverse workforce and an older, whiter retirement bloc. But the most obvious effect of an aging country is that it needs more care—and that means more workers.
Second, health care is publicly subsidized, in several ways. Most directly, the U.S. spends hundreds of billions of dollars each year on Medicare, Medicaid, and health-care benefits for government employees and veterans. More subtly, the U.S. subsidizes private insurance in several ways, including through a tax break for employers that sponsor health care. This public support makes health-care employment practically invincible, even during the worst downturns. Incredibly, health-care employment increased every month during the Great Recession.
Third, the two most destabilizing forces for labor in the last generation have been globalization and automation. Together, they have hurt manufacturing and retail by offshoring factories, replacing human arms with robotic limbs, and dooming fusty department stores. But health care is substantially resistant to both. While globalization has revolutionized supply chains and created a global market for manufacturing labor, most health care is local. A Connecticut dentist isn't selling her services to Portugal, and a physician's receptionist in Lisbon isn't directing her patient to Stamford. Health-care work has, so far, been generally resistant to automation, too. While artificial intelligence may one day take over radiology, while programmable robots replace brain surgeons, that future isn't quite here yet.
Recently, the growth in health-care employment is stemming more from administrative jobs than physician jobs. The number of non-doctor workers in the health industry has exploded in the last two decades. The majority of these jobs aren't clinical roles, like registered nurses. They are mostly administrative and management jobs, including receptionists and office clerks. It's not always clear that these workers improve health outcomes for patients. "Despite all this additional labor, the most meaningful difference in quality over the past 10 years is the recent reduction in 30-day hospital readmissions from an average of 19 percent to 17.8 percent," wrote Robert Kocher, a senior fellow at the Schaeffer Center for Health Policy and Economics at the University of Southern California.
This isn't the end of health care's run. It's just the beginning. Of the 10 jobs thatthe Bureau of Labor Statistics projects will see the fastest percent growth in the next decade, five are in health care and elderly assistance. The two fastest-growing occupations—personal-care aides (who perform non-medical duties for older Americans, such as bathing) and home-health aides, (who help the elderly with medical care)—are projected to account for one in every 10 new jobs in that time. The entire health-care sector is projected to account for a third of all new employment.
While this is an important moment to take stock of the rise of the care economy, labor categories like "retail" and "health care" are imperfect approximations. For example, as online shopping grows, fulfillment centers and delivery truck drivers become integral parts of the retail industry. But the government does not categorize many of these jobs as retail. But while some categories are too restrictive, perhaps others are too broad. For example, there are technically more jobs in "leisure and hospitality" than in health care. A supersector that includes restaurants, hotels, and amusement parks, leisure and hospitality has grown faster than the overall labor market every year since the turn of the century, mostly thanks to the growth in restaurant workers. But it doesn't really make sense to think of a Michelin star chef, a hotel manager, and a ticket counter at Disney World working in the same industry.
The work that seemed to define the 20th century in the American imagination included union jobs held by white men who made things. But manufacturing employment peaked in the late 1970s. Forty years later, the fastest-growing occupations—like personal care and home-health aides—are quite the opposite: poorly paid, lacking a strong union, often female, and disproportionately filled by immigrants (who account for one-third of the in-home health care workforce). The fastest growing job with higher-than-average pay in the U.S. is registered nurse. But male nurses are stigmatized. Even married women saythey'd prefer their husbands find another profession. But an increase in male nurses is just the sort of development that is demographically inevitable in any health-care nation. Services are the new steel.
Article was written by Derek Thompson and shared from The Atlantic
Learn more: