Tips on Preparing for Nursing School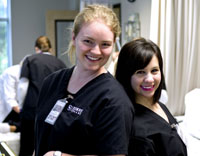 Your decision to become a nurse can be very exciting and sometimes a bit overwhelming. Nursing school is not easy. You will be challenged academically and professionally as you gain the knowledge and skillsets needed to be successful in your career.  Doing some preparation before you start your nursing program will prepare you for successful completion and transition into your new career.
How to pay for school is usually at the top of the list for nursing students. Do your research on what financial resources are available to you,  like student loans and grants so you can begin to create a realistic financial plan to get you through school.  Visit the Federal Student Aid website and complete a FAFSA (Free Application for Federal Student Aid) application and set up a time to meet with a financial aid representative at the school you will be attending. Do some research for grants and scholarships at hospitals, medical centers, and organizations in your community and apply. Create a realistic financial plan before classes start so you can focus on your studies.
Start thinking like a nurse! Spend some time researching healthcare news and become familiar with what's happening in the field. Talk with people you know in the nursing field. Become familiar with what a day in the life of a nurse looks like so you can be aware of what the challenges and rewards are. Get involved in online nursing or health care groups to learn from others in the field.
Get your support group involved. Share your plans with your family, friends, co-workers and employer. Let them know you may need their help and let them know how much you will appreciate their support while you are in school.  Let them see your excitement and willingness to work hard and do whatever it takes to be successful.
If you are looking for the right school for you, consider Sumner College. Sumner has been preparing students for successful careers since 1974. The practical nursing program can be completed in 13 months and our registered nursing program in 24 months and the medical assisting program in just 7.5 months! Visit us on the web at: www.sumnercollge.edu or call us at 503-223-5100 for more information.
Learn more: