Financial Aid Resources
Sumner College understands that every student's financial situation is unique. Our financial aid department can provide you with more information about Oregon financial aid options and show you how to apply for financial assistance.
If you have not already done so, it is important for you to fill out the Free Application for Federal Student Aid (FAFSA) and schedule a time to meet with a Financial Aid Representative prior to enrollment. During your appointment, we can help you find and apply for financial aid. We can also help you find out what you are qualified for and what kind of loans will be needed.
Many of the specific eligibility requirements to gain and retain Federal Aid eligibility can be found in the publications provided by the U.S. Department of Education and on their websites at studentaid.ed.gov/eligibility. Many of these booklets, brochures, pamphlets, applications and other consumer information available at the Campus Financial Aid Offices.
If you are not sure how to fill out the FAFSA, the Financial Aid department at Sumner College will assist you with the application. Complete your Electronic Master Promissory Note and entrance counseling for student loans at studentloans.gov/myDirectLoan/index.action.
School Code for Sumner College: 014581
Scholarships
Sumner Scholarships
$81,000 Awarded in 2022
Sumner College Scholarship
(For Current Sumner Students)
Sumner College recognizes current students who are inspired and motivated to earn a degree or diploma at Sumner College in the following programs:
Bachelor of Science Degree in Nursing
Associates Degree in Nursing
Practical Nursing
The scholarship can only be applied towards tuition, fees and associated costs while attending a program of study at Sumner College. The maximum award is $1000 for BSN, ADN and PN  which depends on the student's unmet funding for tuition and associated costs with attending Sumner College.
Eligibility Requirements
The applicant must be currently attending Sumner College full time.
The applicant must have completed their first term of study at Sumner College with unmet financial need.
The applicant must be in good academic standing (attendance, GPA & classroom participation) with Sumner College.
The applicant must complete the Sumner College Scholarship application and submit a typed 500- to 1000-word essay explaining how the Sumner College Scholarship will help them achieve their personal, academic and career goals.
The scholarship is awarded once per quarter. The deadlines for submitting applications are: March 31 (Spring)| June 30 (Summer) | September 30 (Fall) | December 31 (Winter).
Completed applications must be submitted to Admissions.
Students that were not selected can re-apply for future consideration.
Applications for the Sumner College Scholarship are available at the Admissions Office or you can download a PDF of the application from the website: 2023/2024 Scholarship Form
Sumner College High School Scholarship
The Sumner College High School Scholarship is for students who are interested in alternative options for beginning their academic career. This scholarship is offered to all high schools in Oregon and Southwest Washington. A maximum of five scholarships can be awarded to each school. Recipients of the award must enroll at Sumner College and begin classes within six months to be eligible for the scholarship.  The award amount for the Bachelor of Science Nursing degree is up to $5,000. The award amount for the Licensed Practical Nursing program is up to $2,000.
Eligibility Requirements
The applicant must be a high school senior graduating in or after June 2023.
The applicant must be graduating from an accredited high school in Oregon or Southwest Washington (within 50 miles of the Sumner College campus).
The applicant must submit a typed 500-word essay on why he or she is interested in a chosen career program and how this scholarship will help the student achieve his or her goal.
The completed application and essay must be submitted to the Executive Assistant to the President. Recipients will be contacted by mail if selected.
Applications without essays will not be considered.
Deadline: June 30th for fall term & December 31st for spring term.
Applications for the Sumner College High School Scholarship are available at the Admissions Office or you can simply upload a PDF of the application from the website: Sumner College High School Scholarship
Send completed applications to:
Sumner College
Attn: Sumner College Scholarship
8338 NE Alderwood Rd. Suite #100
Portland, OR 97220
or email to: htorres@sumnercollege.edu
Include subject line: Scholarship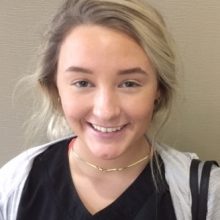 Hannah
LPN | LICENSED PRACTICAL NURSE
"I developed relationships with nurses, and other future nurses that have given me many opportunities for growth in my nursing career!"
Read Full Spotlight
Previous Testimonial
Next Testimonial