If you're seeing this, something has gone wrong
Sumner College Phlebotomy graduates are thriving in Arizona. Are you next?
If you desire an collaborative career, phlebotomy is the occupation for you. Not only is the profession's abilities regularly expanding, but phlebotomists are able to work with diverse people in a variety of different settings. Phlebotomists may also travel for work (i.e. mobile phlebotomy).
All in all, phlebotomists are granted the privilege to meet all types of people and utilize different phlebotomy techniques. Bloodwork has no age limit and you can make meaningful connections with patients that make the job rewarding.
Sumner College Arizona offers a comprehensive Phlebotomy Technician program that prepares you to take the next step in your career in healthcare.
Phlebotomists are in high demand and are needed in many medical facilities. A Phlebotomist is a skilled medical professional who is trained thoroughly to draw blood.
Job opportunities include hospitals, long term care facilities, Doctor's offices, blood banks, plasma centers and laboratories. Employment of phlebotomists is projected to grow 17 percent from 2019 to 2029, much faster than the average for all occupations. Hospitals, diagnostic laboratories, blood donor centers, and other locations will need phlebotomists to perform blood work. Blood analysis remains an essential function in medical laboratories and hospitals. Demand for phlebotomists will remain high as doctors and other healthcare professionals require blood work for analysis and diagnosis.
*According to The Bureau of Labor and Statistics projections for 2016-2026*
Our grads are working at the following healthcare institutions:
Banner University Medical Center
Sonora Quest Laboratories
Steward health Care
Mount Vista Medical Center
LabCorp
LabXpress
CCL Labs
Dignity General Hospital
Valleywise Health Care
St. Joseph's Hospital
Arizona Heart Hospital
Abrazo Health Care
HonorHealth
CIGNA Medical Group
Mayo Clinic
Gila River Healthcare
Sun Health Foundation
VA Hospital
St. Joseph's Clinic
#HealthcareCareer in Phlebotomy – Enroll Today at Sumner College Arizona
Sumner College Arizona provides unique opportunities for our students to learn and develop practical experiences before they begin their career.  Phlebotomy continues to grow as a popular career in the medical field, and you can start your in-depth education every 10 weeks on our Arizona Campus. Our courses provide in-classroom phlebotomy theory and supervised practical instruction. Real life experiences that will jump start your career working in healthcare as a Phlebotomy Technician.
Seats are still open to enroll for the June/July class start.
Nursing Assisting Median Annual Wages
Sumner College offers a Nursing Assistant Program on the Arizona Campus.
If you're looking for a career where you can make a difference in the lives of others, a career as a Certified Nursing Assistant (CNA) or Licensed Nursing Assistant (LNA) may be perfect for you. CNAs and LNAs work alongside nurses and physicians to ensure the comfort and safety of people who are often at their most vulnerable. Through direct interaction, they are a vital link between nurse and their patients.
This four-week program will provide you with knowledge and skills including patient safety and rights, diet and nutrition, ambulatory transfers and CPR. Sumner College is licensed by the Arizona State Board for Postsecondary Education and is approved by the Arizona State Board of Nursing to offer the Nursing Assistant Training Program.
Source: The U.S. Bureau of Labor & Statistics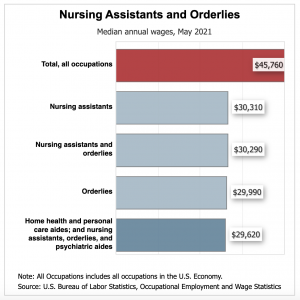 The median annual wage for nursing assistants was $30,310 in May 2021. The median wage is the wage at which half the workers in an occupation earned more than that amount and half earned less. The lowest 10 percent earned less than $23,880, and the highest 10 percent earned more than $44,240.
The median annual wage for orderlies was $29,990 in May 2021. The lowest 10 percent earned less than $23,970, and the highest 10 percent earned more than $46,470.
In May 2021, the median annual wages for nursing assistants in the top industries in which they worked were as follows:
| | |
| --- | --- |
| Government | $37,310 |
| Hospitals; state, local, and private | 35,870 |
| Nursing care facilities (skilled nursing facilities) | 29,970 |
| Continuing care retirement communities and assisted living facilities for the elderly | 29,900 |
| Home healthcare services | 29,280 |
In May 2021, the median annual wages for orderlies in the top industries in which they worked were as follows:
| | |
| --- | --- |
| Government | $36,950 |
| Hospitals; state, local, and private | 30,010 |
| Ambulatory healthcare services | 29,620 |
Although most nursing assistants and orderlies work full time, some work part time. Because nursing and residential care facilities and hospitals provide care at all hours, nursing aides and orderlies may need to work nights, weekends, and holidays.
CNA – Job Projected Outlook 2020-2030
Job Outlook
Nursing Assistants and Orderlies
Percent change in employment, projected 2020-30
Home health and personal care aides; and nursing assistants, orderlies, and psychiatric aides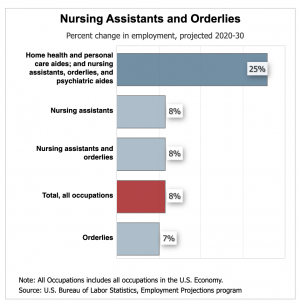 Overall employment of nursing assistants and orderlies is projected to grow 8 percent from 2020 to 2030, about as fast as the average for all occupations.
About 192,800 openings for nursing assistants and orderlies are projected each year, on average, over the decade. Many of those openings are expected to result from the need to replace workers who transfer to different occupations or exit the labor force, such as to retire.
Employment
As the baby-boom population ages, nursing assistants and orderlies will be needed to help care for an increasing number of older people who have chronic or progressive diseases, such as heart disease and diabetes.
Demand for nursing assistants may be constrained by the fact that many nursing homes rely on government funding. Cuts to programs such as Medicare and Medicaid may affect patients' ability to pay for nursing home care. In addition, patient preferences and shifts in federal and state funding are increasing the demand for home and community-based long-term care, which should lead to increased opportunities for nursing assistants in home health and community rehabilitation services.
Employment projections data for nursing assistants and orderlies, 2020-30
Occupational Title
SOC Code
Employment, 2020
Projected Employment, 2030
Change, 2020-30
Employment by Industry
Percent
Numeric

SOURCE: U.S. Bureau of Labor Statistics, Employment Projections program

Nursing assistants and orderlies
—
1,440,700
1,559,100
8
118,500
—

Nursing assistants

31-1131
1,396,700
1,512,000
8
115,300
Get data

Orderlies

31-1132
44,000
47,200
7
3,200
Get data
CNA – Job Summary – What does a CNA Do?
Now is a great time to pursue a career as a Nursing Assistant. According to the U.S. Bureau of Labor and Statistics, Nursing Assistants Job Outlook 2020-2030 is 8%.
Nursing Assisting Job Summary
Nursing assistants provide basic care and help patients with activities of daily living. Orderlies transport patients and clean treatment areas.
Most nursing assistants and orderlies work in nursing and residential care facilities and in hospitals. They are physically active and may need to help lift or move patients.
Nursing assistants often need to complete a state-approved education program and pass their state's competency exam to become licensed or certified. Orderlies typically have at least a high school diploma.
The median annual wage for nursing assistants was $30,310 in May 2021.
The median annual wage for orderlies was $29,990 in May 2021.
Overall employment of nursing assistants and orderlies is projected to grow 8 percent from 2020 to 2030, about as fast as the average for all occupations.
About 192,800 openings for nursing assistants and orderlies are projected each year, on average, over the decade. Many of those openings are expected to result from the need to replace workers who transfer to different occupations or exit the labor force, such as to retire.
Explore resources for employment and wages by state and area for nursing assistants and orderlies.
Compare the job duties, education, job growth, and pay of nursing assistants and orderlies with similar occupations.
Now Hiring – Financial Aid Officer
Financial Aid Officer 
Within a centralized financial aid services environment, evaluates, approves, and awards financial aid to students in accordance with federal, state, and college regulations, policies, and operating guidelines.
Assesses financial needs of students, and advises students and parents regarding financial aid options, processes, and requirements. Participates as appropriate in systems/procedures planning and management; implements and coordinates specific individual programs and/or assignments, in accordance with the overall objectives of the department.
Duties and Responsibilities
Disseminates information about Sumner College's financial aid program and application process, as well as counseling new students and their families on eligibility factors and alternative financing options.
Acts as back up for Senior Financial Aid staff
Implements, coordinates, and oversees one or more specific administrative programs and/or service areas, as assigned.
Provide financial aid counseling to students and parents regarding application procedures and eligibility requirements for student aid programs, and assist students and their families with the completion of application forms.
Reviews and assesses eligibility of applications for financial
Reviews for accuracy and provides signature approval/disapproval of loan applications, promissory notes, and other financial documents.
Participate in orientations and
Conduct entrance and exit interviews, in accordance with college, state, federal, and other agency
Responds to inquiries and researches and resolves problems related to transactions handled by the unit; serves as liaison with other constituencies in the resolution of day-to-day administrative and operational issues.
Provide information, in person, on the telephone, and via electronically to students, prospective students, and families regarding student financial aid, admissions, student account balance, and registration status.
Available to conduct workshops and/or presentations to students, parents, and/or other interested parties on financial aid policy and procedural issues.
Performs miscellaneous job-related duties as
Minimum Job Requirements
Bachelor's degree preferred, preferably with course work in counseling and business
At least one (1) year of experience in financial aid/related experience required
Experience with on-line student information systems and personal computers Knowledge of EdExpress, EdConnect,COD and NSLDS preferred.
Knowledge, Skills and Abilities Required 
Strong interpersonal and communication skills and the ability to work effectively with a wide range of constituencies in a diverse community.
Skill in the use of personal computers and related software
Ability to communicate effectively, both orally and in
Ability to verify and assess student eligibility for financial
Ability to analyze and solve
Interviewing
Ability to make evaluative
Ability to investigate and analyze information and draw
Ability to supervise and train employees, to include organizing, prioritizing, and scheduling work
Organizing and coordinating
Knowledge of federal and state laws, regulations, and policies concerning the provision of financial aid to students.
Knowledge of financial aid policies, procedures, and eligibility
Knowledge of data management systems and
Ability to develop and present educational programs and/or
Knowledge of the policies and eligibility requirements of a range of federal, state, and agency scholarship programs for tertiary students.
Ability to communicate effectively verbally, in writing, and over the phone
Joanna Russell visits with CW's Nicole DeCosta about the RN to BSN Program at Sumner College
RN's that already have their Associates Degree have so many more options for continuing education. Joanna Russell, President, Sumner College talks with Nicole DeCosta, CW's Everyday Northwest about some of those options.
Interview with Joanna Russell and CW's Nicole DeCosta
Right now is a great time to enter the healthcare field interview with Joanna Russell, President, Sumner College.
Informational Sessions – Seats Available June 15th
Sumner College has a few remaining seats open for the June 15th Nursing Informational Session with President, Joanna Russell. It's all online! Sign up now and learn more about the nursing programs at Sumner College.
Sign up on our website www.sumnercollege.edu
Nursing Assistant Types
UCNA, CNA, and LNA
Note: As of July 1, 2016, Arizona offers two types of nursing assistant credentials in Arizona:
Certified Nursing Assistant, designated as "CNA", or "Registry CNA", and
Licensed Nursing Assistant, designated as "LNA"
The "NEW" CNA: Although there were CNAs before July 1, 2016, the current CNA, also known as "Registry CNA", is a new type of credential, effective July 1, 2016. Registry CNAs have fewer requirements for certification and less oversight by the Board. Registry CNA applicants need only meet the minimum federal requirements for CNA certification, and will be issued a certificate after completing an approved CNA program and passing the CNA tests. Registry CNAs are required to practice 8 hours every two years to renew their license/certificate. A criminal background check is NOT required, and certification is free.
The LNA: In contrast, the current LNA has requirements that are almost identical to the "old" CNA. The LNA must complete a criminal background check, has a higher level of oversight by the Board prior to and after issuance of the LNA license. LNAs are required to practice a minimum of 160 hours within the past two years to renew their license.
IMPORTANT – "Undeclared CNAs": During the transition period from the "old CNA" to the new, "Registry CNA" and LNA, some nursing assistants who hold an "old" CNA certificate, issued prior to July 1, 2016, have not "declared" whether they wish to convert to either an LNA or Registry CNA (individuals cannot hold both credential simultaneously). These "old" CNA certificates are called "Undeclared CNAs", or "UCNAs". Upon renewal, holders of the UCNAs will be required to declare If they want to convert to a Registry CNA or LNA. In the meantime, they are treated as LNA-equivalents, because the requirements that were in place for the UCNA certificates at the time they were issued, were equivalent to the current LNA requirements.
**While there are still UCNA credentials that have not been converted to (new) CNA or LNA; the designator "UCNA" will be used in the Board's license verification system.
Article shared from the Arizona State Board of Nursing 
Class of 2022 Entering the Best Job Market in Years
Great
NBC News
story highlighting the job search experience for recent grads like Aga Sophia Noel, an Occupational Therapy Assistance graduate from CECU member career colleges,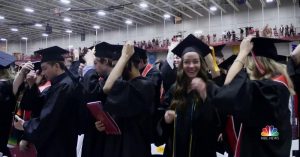 Post shared from CECU
Video and images shared from NBC News
Now Hiring – Dean of Students
Sumner College is hiring for a Dean of Students.
Title: Dean of Students
Supervisor: Vice President
Job Summary:
The Dean of Students is part of the management team and will report to the Vice President. This team member provides oversight and manages performance of the registrar and general education faculty. The Dean of Students is responsible for efficient and effective academic program delivery and development of curriculum and faculty training tools.
Qualifications:
Bachelor's Degree
3-6 years of experience directly in or related field
Proven student retention process
Experience teaching in private post-secondary institutions is desired
Planning, staffing, and coordination skills are required and also preferred to be in an educational setting
Possess strong leadership abilities
The desire to help others succeed in their career goals
Duties and Responsibilities:
Works toward the achievement of the College's retention
Administers, implements, and monitors the College's institutional program effectiveness
Fosters strong programs that contribute to the education environment that encompass intellectual pursuits ranging from basic scholarly activity to innovative personal
Administers the College's program for professional growth and development, in-service programs, faculty meetings, program director meetings, and on-boarding tools for
Administers the policies and procedures contained in the College Catalog, the Faculty Handbook, and the Employee
Implements a scheduling process that includes maximum utilization of faculty and classrooms while meeting the needs of
Participates with other senior officers of the College in institutional planning, policy development, and problem solving.
Directs and assists program directors in the recruitment, selection, evaluation, retention, and success of
Conducts regular classroom observations of faculty, reviews all end of term surveys and provides timely formative feedback to faculty.
Makes recommendations on the selection of text and other instructional support
Assure all syllabi is updated with the most current textbook editions, page numbers, grading, ISBN's, resources, etc. The syllabi must be updated on the network drive prior to the term start.
Oversee the evaluation of transfer credit for incoming
Execute and ensure end of term surveys are completed for all
Review feedback with direct reports and provide feedback to program chairs. All faculty should have formative feedback within 30 days of the end of the
Assure that advisory board meetings are conducted at least annually, if not more, during the calendar year.
Conduct regular meetings with the program Assure program directors are conducting, at a minimum, quarterly meetings with faculty. Must attend all scheduled faculty meetings.
Assist in faculty training, hiring, interviewing, and finalizing teaching
Assure timely processing of student status changes through the student change
Monitor attendance and grades regularly and consult at risk
Review and approve syllabi and textbook change
Oversee, monitor and ensure the quality and content of instruction in the department and assist in the training and evaluation of instructors and Instructor evaluations must be completed each term as assigned by the vice president or campus president.
Provide oversight to the registrar and ensure timely and accurate reporting in the student information system.
Participate in the revision, development, maintenance and implementation of existing and new programs.
Interested candidates, please contact Lisa Jameson, Human Resource Manager at Sumner College.
Array
(
    [external_url] => 
)