Nurses Making A Difference and Touching Lives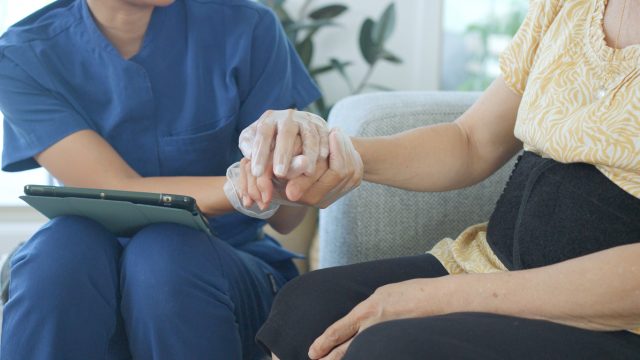 Article shared from Daily Nurse The Pulse of Nursing
Nurses are givers, and most will agree that they didn't join the profession for the high salaries, fancy clothes, sexy shoes, or awesome accessories. Instead, nurses are more likely to say they chose nursing because they wanted to help people. Some will tell stories of caring for a beloved family member and how that inspired them to a life of service as a healthcare professional. Touching lives is generally what it's all about, and in doing so, nurses make an enormous difference in the world around them.
Touching Lives
In patient care in the acute setting, nurses are the ones with whom patients interact the most. While attending physicians, hospitalists, or specialists will stop in to examine the patient, write orders, and talk with colleagues, their visits are short in the scheme of things. Yet, the reality is that nurses are the ones who carry those orders forward and act as the eyes and ears of the physicians. After all, assertive and thoughtful nurses push back when an order feels wrong, or they disagree with the medical plan of care. In this way, the nurse is the patient's strongest ally and advocate.
It's not simply in the hospital where nurses touch lives — after all, only approximately 55 percent of nurses work in acute care. Nurses touch lives in schools, summer camps, occupational health, research, home health, hospice, public health, dialysis, urgent care, ambulatory surgery, case management, etc.
The nine-year-old child with a trach and g-tube could not properly receive their education if a nurse couldn't provide the expert skilled care needed to keep that child safe and healthy. The family caregivers of a patient dying of pancreatic cancer would not be able to have their loved one in the home without the attention of a hospice nurse. A post-op nurse is central to a safe post-surgical discharge in the day surgery suite. The public health nurse involved in the pandemic is an indispensable asset. And a Legionnaire's outbreak on a cruise ship can be expertly handled by the onboard nurse trained to respond to such urgent situations while at sea.
The Challenges of Working with Intoxicated Patients
Many nurses can tell numerous stories about caring for their family members and neighbors and being called on whenever a friend needs medical advice. Nurses are frequently asked to examine sick children in their neighborhood and give their opinion on the urgent veterinary needs of the pets belonging to family members, acquaintances, and friends. And since nurses are the largest segment of the healthcare workforce in the U.S., they can frequently be first on the scene when a car accident occurs, an older woman suffers a stroke in a local diner, or someone falls and hits their head and breaks their arm at the mall.
The lives touched by nurses are legion, and the benefits bestowed by nurses on society are innumerable. Changing the world around them comes naturally to nurses, and touching lives with care and expertise is crucial to nurses' power.
Making a Difference
Nurses make a difference through their knowledge, training, and compassion, whether at a school, on a street corner, in the ICU or ED, or at a summer camp for children living with cancer. 
Nurses have been called the lifeblood, the mitochondria, and the connective tissue of healthcare. Without nurses, the healthcare system would grind to a halt. Considering vocational/practical nurses, RNs, advanced practice nurses, and those with terminal degrees, the societal impact of nurses is incalculable. Yet, even without the annual Gallup poll telling us so, we know that the public trusts nurses, and for a good reason. This special group of citizens who join this praiseworthy profession are intrinsic to the health of individuals, entire communities, and nations. It's a simple summation and indisputable fact: nurses make a difference, touch lives, and change the world. 
Daily Nurse is thrilled to feature Keith Carlson, "Nurse Keith," a well-known nurse career coach and podcaster of The Nurse Keith Show as a guest columnist. Check back every other Thursday for Keith's column.
Learn more about Nursing: