10 Non-Bedside Nursing Job Ideas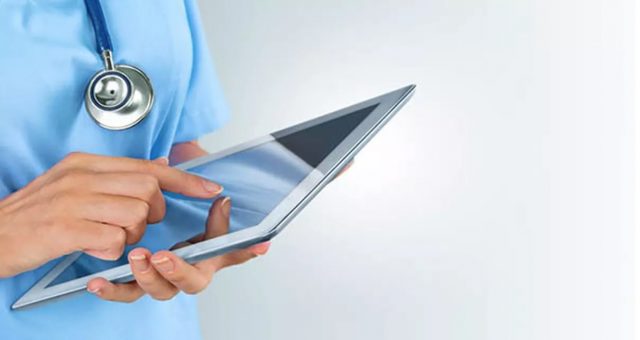 Hospitals will always need bedside care, but more and more nurses are looking for jobs beyond the hospital, especially as the COVID-19 pandemic makes patient care even more exhausting than usual.
The pandemic has stretched hospitals to the limit with nurses taking on more patients, working more shifts, dealing with PPE shortages, and navigating emotional pain alongside patient families who have lost loved ones.
Anyone can understand why a nurse might need a break from this demanding and perpetual stress.
Fortunately, the medical field has been growing more flexible in recent decades. Career opportunities for nurses beyond the bedside are no longer limited to school nurse, nursing home, or home health jobs. Read on for jobs that will take you out of patient care, while allowing you to use your nursing skills.
10 Ideas for Non-Bedside Nursing Jobs
When you're ready for a non-bedside nursing job to challenge your nursing skills and give your years of experience at the bedside a new use, consider these possibilities:
1. Nursing Informatics
The need to analyze and control health care costs has driven a surge in informatics as a nursing specialty. Effective nursing informatics can help to rein in health care costs at hospitals and other medical facilities. Plus, informaticists can also help bedside nurses care for patients more efficiently by improving systems.
The Healthcare Information and Management Systems Society (HIMSS) says nurse informaticists earn $100,717 a year on average.
The American Medical Informatics Association estimates 70,000 nursing informatics specialists/analysts may be needed in the next five years.
To get into the field of health informatics, registered nurses typically need at least a bachelor's degree in nursing (BSN) and experience working with electronic healthcare records.
Along with a BSN and a few years of clinical experience, you'd need strong computer skills and an ability to analyze data and statistics to make this transition. If you work for a large public or university hospital, your facility may hire informaticists.
As a bonus, you could likely work from home.
2. Nurse Case Manager
"More and more reimbursement for healthcare delivery is linked to readmission rates,"  said Cheryl Bergman, associate dean at the school of nursing at Jacksonville (Fla.) University. "A case manager helps manage the holistic care of patients to decrease readmission thus, keeping patients out of hospitals."
The Commission for Case Manager Certification (CCMC) expects an increase in the demand for nurse case managers as the baby boomer generation continues to age. Case managers are especially important to patients with chronic illnesses such as arthritis.
The average base salary for a nurse case manager in 2021 is about $73,000 according to the website Payscale.com which reflects data from the Bureau of Labor Statistics and its own research.
Case managers can choose many places of employment including clinics, hospitals, health facilities and in many areas of the public and nonprofit sectors. They also have a chance to specialize in their passionate areas such as addiction, pediatrics, child welfare, aging, long-term care, immigration, occupational services and more.
3. Cruise Ship Nurse
A beyond-the-bedside job search could land you in a position that resembles an ongoing vacation. In normal, non-pandemic times, cruise ships come and go from the nation's Southern port cities every day. These ships have to bring healthcare providers on board to care for their passengers.
ZipRecruiter estimates that cruise ship nurses earn an average of $76,283 per year, though they also estimate that more than half of current cruise ship nurses earn less.
But don't expect to leave your nursing skills on the dock. A recent job post from Norwegian Lines sought nurses with emergency room and ICU experience. The job entailed living onboard for 14 weeks with vacations of 7 weeks at a time, and accommodations, meals, and benefits were all paid for.
Of course, COVID-19 has stalled the cruise industry, but this was a fast-growing segment of the medical profession back in 2018 and 2019. As the world returns to normal in the coming years, these employers will be searching for nurses again.
4. Legal Nurse Consultant
"Some law firms hire expert nurses for particular cases (such as surgical nurses if the case involved a surgical claim)," Bergman, of Jacksonville University, says. "The pay per hour is often set by the nurse and could be very lucrative ($300 an hour) for reviewing the legal documents with additional fees if called for deposition."
Legal nurse consultants can be hired by insurance companies, attorney firms, prosecution offices, law enforcement forensic departments, pharmaceutical companies, clinics, and government agencies.
Although it's not mandatory, the American Association of Legal Nurse Consultants (AALNC) offers a training course and certification examination for those hoping to become legal nurse consultants.
This kind of training could help set you apart from other job candidates who have similar qualifications.
5. Nurse Educator
Nurse educators can shape the future of patient care, both at the bedside and throughout the nursing profession.
To teach nursing you'll likely need a master of science in nursing (MSN) degree. You can also earn a doctor of nursing practice (DNP) degree that prepares you for leadership positions in multiple aspects of health care.
"For salaries, it really depends on the region of the country," Bergman says. "Additionally, the place of employment such as a community college vs. a large state university will have varying salary ranges."
6. Healthcare Risk Manager
Risk managers work to ensure patient and staff safety, respond to claims of clinical malpractice, focus on patient complaints, and comply with federal and state regulations.
In short, risk managers protect the well-being of patients and staff in hospitals or anywhere people get health care.
You'd need a bachelor's degree to enter this field, and some RN risk managers have master's degrees, especially if they teach safety courses to other nurses within a healthcare institution.
In 2021, full-time risk managers earn about $113,170 annually according to Salary.com. The Bureau of Labor Statistics anticipates a steep increase in nurse risk managers during the coming years. The BLS forecasts a 12% increase in these positions by 2028.
7. Certified Diabetes Educator
The Centers for Disease Control and Prevention says 21 million people in the United States have been diagnosed with diabetes while another 8 million have this condition but don't know it yet. That's a lot of people who will need help controlling their blood sugar in the next few years.
This translates to job security for nurses who work as certified diabetes educators. Payscale.com reports a median salary of about $68,000 annually.
This role leaves plenty of room to develop long-term relationships with your patients, who you can visit in their homes or meet within a clinic.
You would need a bachelor's degree in nursing to begin your career as a certified diabetes educator. Most employers require two years of experience before you work on your own.
8. Flight Nurse
Bedside nurses who enjoy critical/emergency care may enjoy the challenges of flight nursing. Flight nurses help transport critical patients via helicopter or airplane.
Often, flight nurses transport patients from the scenes of accidents to trauma centers. They also deliver patients from small hospitals to higher-level trauma centers.
Flight nurses do work that resembles emergency room or ICU nursing but in less predictable environments and often with fewer resources.
If this career path appeals to you, start by gaining some experience in the ED and/or ICU. Then, you can get certified as a flight nurse by the Board of Certification for Emergency Nursing (BCEN).
Glassdoor reports that the average salary for a flight nurse is $65,870 as of 2021.
9. Forensic Nurse
Forensic nurses help solve crimes and collect evidence. They can also help a coroner determine a cause of death.
But they're still nurses first: They provide compassionate care to crime victims and survivors of natural disasters. Forensic nurses can also testify in court during criminal trials.
According to PayScale, the average salary for Forensic Nurses is $30.61 per hour, or $73,985 annually.
If you live in a larger city such as Philadelphia, Seattle, Los Angeles, Miami, or New York, you'll have more access to job opportunities in this new and emerging field.
Check with city and county law enforcement departments in your community to look for jobs. If you're particularly passionate about this career path, appeal to your city leaders to add forensic nursing to your local police department.
10. Nurse Health Coach
Are you the kind of bedside nurse who enjoys developing one-on-one relationships? Have you ever found yourself, weeks after a discharge, wondering how a patient is getting along?
You may enjoy becoming a nurse health coach. These registered nurses need a BSN and a certification from the International Nurse Coaching Association.
Insurance companies often hire nurse health coaches to help policy-holders sustain wellness after a procedure or surgery. You could also work as a freelance health coach, picking up clients from an insurance company or local healthcare provider.
ZipRecruiter reports that Nurse Health Coaches earn $62,883 annually on average in 2021.
Content is shared from Nurse.org