12 Thanksgiving Tradition Ideas for a Less Stressful, More Thankful Holiday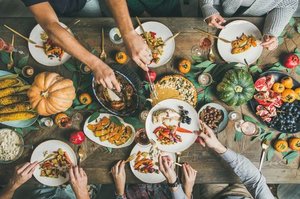 From quirky family favorites to time-honored classics, traditions are one of the things that we crave most around the holidays; not just because they're familiar, but because they serve as reminders of friends and family, of times long past, and moments that might have slipped away from us if not for this annual gathering. But how does a tradition become a tradition? Well, someone starts it, of course. So whether you're a true traditionalist or you're just starting your own holiday history, these new Thanksgiving traditions are certain to change your holiday for the better.
Designate "Me Time"
Thanksgiving is all about the people you love, which can be as wonderful as it is exhausting. Before the house is flooded with the sounds and smells of the holiday, deliberately set aside an hour for everyone to do their own thing with no obligations to cook, clean, or make conversation. Trust us, everyone will be in a better mood for it by the time the celebration really kicks into gear.
Create a Momento
Lay out a sheet of butcher paper on an unused cabinet (if you have one of those with all the feasting going on) or hang one on the wall for all of your guests to sign. At the end of the day, ask everyone to write on it what their favorite part of the Thanksgiving festivities were, then fold the paper up and tuck it away somewhere special. Next year, lay the old sheets out along with the new one for everyone to look back on and remember Thanksgivings past, like a time capsule in ink and paper.
Pass Down a Family Recipe — Or Make a New One
Sure, everyone loves Granny's pecan pie recipe and Aunt Marge's cranberry sauce, but your Thanksgiving food traditions don't need to end there. If you've inherited old recipe cards or cookbooks from family members, there's no better time to dig into these archives than on the biggest noshing holiday of all. Pick out something in the holiday theme, something that sounds delicious, or just something unusual from a time gone by — even if the recipe doesn't become an immediate hit with your crew, the adventure of trying them out is half the fun.
Don't come from a family of cooks? Not to worry. Take the chance to try something new, like a gluten-free dessert you've been dying to try or an ultra-luxe black truffle stuffing — you never know what's going to become the next family favorite.
Teach Each Other
Everybody has a special skillset; from your uncle's card tricks, to your etiquette queen sister, to your third cousin who memorized the one thing you should never drink on a plane. Whether it's around the table or after clean up, go around and give everyone five minutes to teach the group something from their own repertoire. It doesn't need to be Earth-shattering or even useful, the point is to learn something fun and new from (and about!) each other.
Remember Lost Loved Ones
On a day made for spending time with the people you care about most, set aside a little of it to think of loved one who have passed on. Get everyone to gather together and share a story or a special moment they remember; through those memories, you keep your loved ones alive in your hearts and can pass on important family legacies to the next generation.
Give the Gift of Tupperware
We're all for Thanksgiving hostess gifts, and it's great to bring a potluck item or bottle of wine to contribute, but the number one thing that your average Thanksgiving host runs out of? Food containers. This year, instead of contending with the awkward "what can I bring" quandaries, start the tradition of giving the host what they actually need most — a way to send everyone home with all of those holiday leftovers. Have everyone bring at least one container (preferably labeled to prevent squabbles) to carry their helping of turkey and dressing home in at the end of the night and we promise that your host will really have something to be thankful for.
Catch Up with Far-Off Family
The bigger your family gets, the harder it is to get everyone together for the holidays. But even if some of your nearest and dearest can't make it to the celebration, there's no reason not to see them on turkey day. Embrace the wonders of technology and set up a time to video chat with everyone you're missing during the holiday — after all, there's no reason your traditions can't get a 21st century boost.
Do a Wishbone Scavenger Hunt
This is a great way to keep kids of all ages entertained during the post-meal lull. Early in the day, have teens or unoccupied adults think up scavenger hunt clues (bonus points for Thanksgiving puns) and hide them around the house and yard. Once dinner is over, send the little ones out to search for all of the hidden hints, leading them back to a secret spot where you've stashed the turkey's wishbone. The first two to arrive get to split the wishbone — the winner gets a wish, second place gets first pick of the desserts!
Content shared from Town and Country Magazine