25 Best Gifts For Nurses and Nursing Students 2020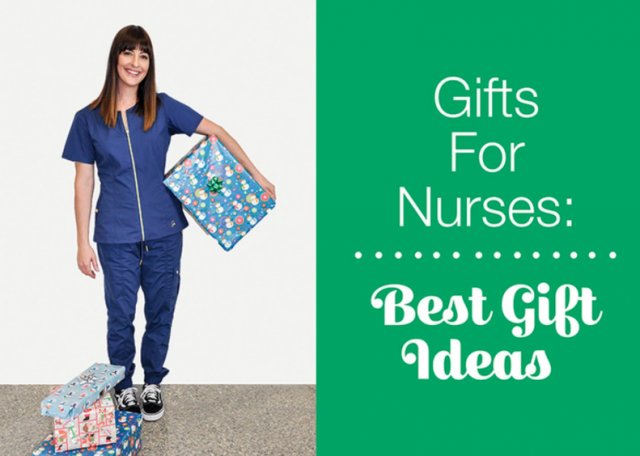 Even if it's not a holiday, every day is a great day to show that special nurse in your life how much they mean to you! Nurse.org has compiled the 25 best and most practical gifts for any type of nurse from a student to a veteran.
We've reviewed 5 of these awesome products and nurses have chosen the rest! We have affiliate partnerships so, we do get a share of the sale of each product purchased. 
1. Year Of The Nurse 2020 & Healthcare Heroes Cups, Lunch Bags, Shirts and Badge Clips
The World Health Organization has declared 2020 the Year of The Nurse and Midwife. Here are some great gifts to honor your special nurse or, entire nursing staff!
Buy Year Of The Nurse 2020 Swag – starting a $2.49
2. Cell-Phone Sanitizer
Buy the Portable UV Cell-Phone Sanitizer on Amazon for $25.36
Cell phones are 10x dirtier than toilet seats! Working in healthcare, nurses are constantly exposed to different types of germs. Help your favorite nurse out by getting them this portable phone sanitizer – equipped with a charger.
The UV light sterilizer kills 99.9% of bacteria and germs in just six minutes. It also allows for charging through a universal USB port and acts as an aromatherapy diffuser.
Joining the American Nurses Association (ANA) and your specific State Nurses Association for professional support and growth that nurses won't be able to find anywhere else.
ANA is a professional ally to over 4 million registered nurses in the U.S., throughout all different specialties and practice settings. The ANA strives to help create a health-care environment in which nurses can succeed through research and other initiatives.
Membership dues can be collected monthly for approximately $28 per month. Membership includes the ANA newsletter, magazine, access to CEU credits, and national nursing conferences. Members will also have access to discounted entry fees for the B2Awards and REGGIE Awards, complimentary attendance to specific industry-focused members-only regional conferences, and participation in marketing research.
4. Nurse Sweaters Are All The Rave
Nursing students often juggle multiple tasks throughout the day on top of taking care of patients and studying. Show that special student in your life how much they mean to them with this trendy sweatshirt! Just remember – most hospitals do not allow sweatshirts with hoodies so be careful when ordering!
Eat, Sleep, Nursing School, Repeat Sweatshirt on Etsy starting at $32.95
5. Silicone Wedding Ring – Hospital Approved!
Diamonds can cut through gloves and hospitals have policies that do not allow diamond engagement rings and wedding bands. These rings are the perfect solution and can even be worn while working out! They're comfortable, durable, and can withstand the constant washing of hands.
Check out Enso Silicone Wedding Bands here.
6. Personal Massager
Nurses are busy people and don't always have time to book professional massages. After a long shift, this personal massager comes in handy to relieve knots, tension, spasms, aches, and pains. Percussion therapy relieves muscle tension, knots, spasms, aches, and pains. It's powerful and can be customized for various types of massage including deep tissue and trigger point therapy on the neck, back, hands and face.
7. Badge Clips
Badge clips are essential to nurses.  They hold ID badges, important phone numbers, and help patients identify hospital staff members. Determining whether to have a claw clip or an alligator clip can make all the difference in how it sits on scrubs!
Check out these cute badge clip holders!
8. Yeti Tumbler
Staying hydrated and caffeinated while working is a must!
So, how do nurses make iced-coffee? First, they make the coffee. Then, get busy and forget about the coffee. End up drinking it cold! That won't happen with this YETI tumbler. Ever. Yeti is king. This durable stainless steel, the double-walled insulated tumbler will keep drinks hot and cold throughout those long shifts
Check out these Yeti tumblers for $29.99
9. Every Nurse Needs A Good Stethoscope:
A well-made, dependable stethoscope with excellent acoustics is a must-have for any nurse. With thousands of options to choose from, we've narrowed it down to a few of the best (and most popular) "scopes."
LITTMAN
Littman has been the trusted brand by healthcare professionals including nurses, doctors, and students since the 1960's. With its wide range of acoustics and options, Littman offers something for every nurse.
A Full Range of Littman Stethoscopes
This stethoscope continuously receives top ratings!
MDF Instruments
The MDF brand stethoscope has excellent ratings overall and its stylish colors and metals have catapulted the popularity of this sought after stethoscope. Handcrafted since 1971, these stethoscopes offer patented safety lock silicone ear tip adaptor technology, a lifetime parts warranty, and 100% stainless steel construction.
Buy the MDF Rose Gold MD One stethoscope on Amazon for $79.99
The rose-gold & white color is very trendy amongst nurses! It also comes in black and gold. MDF offers top-notch quality at reduced prices and has great acoustics. 
10. Compression Socks
Nurses work 12+ hours in one shift and are on their feet for most of that time. A good pair of socks can make their shift a little more comfortable and help with blood circulation! Nabee socks were created by a Registered Nurse and are superb in quality. Did you know that bodily fluids can splash up scrub pants? The higher the sock the better!
Nabee socks currently offer two types of compression sock:  everyday compression (15-20 mmHg) and medical compression (20-30 mmHg). Bedside nurses will want a higher level of compression to offer the best support.
11. Custom Gift Box – For Nurses By Nurses
With Nightingale Express, each nurse box is specially handmade and put together by Aishleen O'Brien, a Pediatric Cardiac Nurse. The Clara box includes peppermint foot scrub, a delicious smelling white tea and thyme candle, a relaxing face sheet mask, and lifesaver woven socks. These boxes are very special and popular amongst the nursing community!
Buy The Clara Gift Box on Nightingale Express for $68.50
12. Personalized Stethoscope ID Tag
Stethoscopes are not cheap and unfortunately, without a name tag, they can be misplaced or accidentally taken. That's why a stethoscope ID tag is a perfect gift for the nurse in your life. They also add a little style and a fun touch to any scope!
Buy the 'Good Girl Gone Badge' Stethoscope Tag on Amazon for $8.95
13. Badge Cards – For Quick Reference
Nurses have to remember countless medications, information, and tasks on a daily basis. Sometimes they need a quick reference guide during a challenging situation. These ID badge card sets are perfect for new nurses and seasoned nurses alike. They fit nicely with their badge and can be accessed quickly!
Buy the 'Complete Nurse RN CNA NA Horizontal Badge Card Set' on Amazon for $19.99
14. Comfortable and Durable Shoes
Nurses spend 12+ hours on their feet and rarely get breaks to rest their tired feet. A nice pair of shoes that feel like clouds will be adorned by your special nurse.
Nike is set to release a brand new shoe specifically designed for nurses and health care professionals. Developed with a laceless exterior that is easy to wipe down these shoes are being branded as ultra-comfortable and ultra-supportive. They are due to release in early December and are sure to be VERY popular.
Here are a few of our other current favorites:
Buy Dansko Clogs on Amazon, prices vary
Buy the 'Nurse Mates – Women's – Meredith' on Amazon for $67.00
15. Ninja Coffee Bar Brewer System
Coffee STAT! This coffee brewer makes gourmet coffee quick, in all sizes and without the wasteful pods. It comes with a carafe or can be poured directly into a travel mug. With a built-in frother and advanced thermal flavor extraction system – this gift is sure to please.
Buy the 'Ninja Hot and Cold Brewed System' on Bed Bath & Beyond for $178.99
16. Nurse Bag
Nurses carry a lot of items back and forth between work and home. It will make their life a lot easier to have all the things they need most in an organized, handy bag! This fun, fashionable but durable bag has multiple pockets for everything a nurse might need during a busy shift.
Buy this koi versatile nylon nurse bag for $44.99
17. Aromatherapy Diffuser and 10 Essential Oils
After a long day (or night!) nurses and nursing students need to decompress, relax, and turn off their brains. Aromatherapy has proven to help relieve stress, tension, headaches, muscle aches while decreasing anxiety and helping individuals sleep.
This diffuser has a 300 ml capacity and uses state of the art wave diffusion technology to atomize essential oils for ultimate wellness. Included are ten of the most popular aromatherapy essential oils including lavender, eucalyptus, tea tree, orange, peppermint, lemongrass, jasmine, nutmeg, clove, and spearmint. Cultivated from the highest quality.
This is the ultimate aromatherapy diffuser and essential oil set for $39.99!
18. A Nurse Can Never Have Too Many Scrubs
When it comes to scrubs, there are thousands to choose from – nurses are constantly having to replace their old scrubs.
Cherokee scrub brand is consistently voted as one of the favorites by our nursing community!
Buy this 'Infinity By Cherokee Scrub Pant And Top Set' on Amazon for $48.30 
With its ultra butter-soft scrubs and unique designs, Uniform Advantages Butter-Soft Scrubs are becoming increasingly popular amongst newer nurses. Vibrant colors, rhinestone embellishments, and jogger pants allow nurses to add a touch of flair to their work uniform. Just because they are scrubs – they don't have to be boring!
Prices start at $9.97 for tops and  $10.97 for bottoms
19. Fitness Equipment
Nurses work extremely long hours. That's not a secret. Unfortunately, long hours mean little time for self-care and exercise. Thanks to the new state of the art fitness equipment such as the Peloton Bike and Tread as well as the Nordic iFit, nurses are able to work shifts and still get a work out in.
Both have developed a cult following with their infectiously energetic trainers. Jess King, Cody Rigsby, Robin Arzon, and Dennis Morton lead classes ranging from 15-90 minutes to the hottest music and old classics.
Both are offering limited-time holiday discounts and guaranteed delivery for Christmas.
20. 'Nurses Support Their Young' Apparel
Earlier this year, Nurse Blake and Nurse.org started the 'Nurses Support Their Young' movement to end the phrase and culture of 'nurses eat their young.' Together, the campaign has gained international attention and is already creating positive change within the nursing community. We hope to create a culture based on kindness, civility, and respect for many nursing generations to come. If you'd like to show your support for nurses, hoodies, mugs, posters, and pillows are available here. 100% of profit is donated to the University Nurse Camp for high school students! While you're at it – sign the pledge, here!
Buy "Nurses Support Their Young" hoodie, t-shirt, mug, or poster here – prices start at $25.00
21. Nurse Podcast Subscription
Early in the morning or after a long shift, most nurses want to unwind on the car or train ride home. What better way than by listening to a Podcast? With a variety of nurse oriented podcasts, nurses can listen to hilarious anecdotes, inspirational stories, or about other fields in nursing. Most podcasts can be found through Amazon or Spotify.
Check out these fantastic nurse bloggers and their associated podcasts! 
22. Fitbit Versa
The average day shift nurse walks 4-5 miles a day. The Fitbit Versa helps keep track of those steps! The Fitbit Versa tracks real-time heart rate and resting heart rate as well as keeps the wearer to stay focused on health insights and trends in fitness. Wearers have access to the weather, text messages via Bluetooth, the ability to track fitness workouts, and even fertility tracking apps.
Check out Fitbit Versa online.
23. Amazon Echo & Alexa
Throughout the hustle of the busy shift at the hospital, nurses crave simplicity at home. The constant beeping of alarms pumps going off, and phones ringing, sometimes need extra help at home. The Amazon Echo and Alexa help simplify things for nurses and their families.
Affordable but practical this gift is a winner for every nurse on your list! The Amazon Alexa is a virtual assistant that you can communicate using your voice, can listen to your favorite songs, make shopping lists, set alarms, check weather and traffic updates, among various things which can be performed using your voice.
24. L'Occitane Shea Butter Hand Cream
Nurses are constantly washing their hands and using rough hand sanitizers. This leaves dry and cracked skin, especially during the winter months. This creamy balm with 20 percent shea butter, honey, almond extracts, and coconut oil are blended to create this extremely effective formula.
Get L'Occitane Shea Butter Hand Cream on Amazon for $29.00
25. Heartbeat Necklace
This super cute necklace features an EKG reading of a normal heartbeat. Nurses are rarely allowed to wear jewelry at work with the exception of a simple necklace.
26. Black Out Curtains – For Night Shift Nurses
Seriously, these curtains are a game-changer for those who work the night shift. Nothing is better than a pitch-black room in the middle of the day. And, nothing is worse than any peak of light shining through the window. OK, there are worse things – construction and the doorbell rank pretty high, too. While you're at it, throw in some earplugs!
BONUS! Lots Of Love
The best things in life aren't things. The work of a nurse often goes un-thanked during shift changes and emergencies. Hug your special nurse a little longer. Cook them a warm meal. Book them a relaxing massage or spa day.
Or, if you have the means, take them on a well-deserved relaxing vacation – preferably on a beach with unlimited margaritas!
PS: A simple "Thank You" goes a long way.
Shared from Nurse.org