4 Insights on the Future of Nursing Report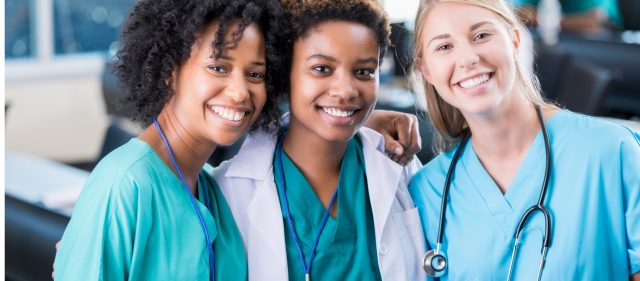 RWJF's Susan Hassmiller shares her perspective on how far the nursing profession has advanced over the past 10 years and what the future holds.
---
KEY TAKEAWAYS
There is a cultural shift toward nurses achieving their BSN-degrees.
With focus, it's possible to achieve 10,000 nurses participating on boards by 2020.
Nurses can help achieve health equity by addressing social determinants of health.
Editor's note: This is the second installment in a two-part series on the Future of Nursing report and Future of Nursing: Campaign for Action. Part one can be read here.
Susan Hassmiller, RN, PhD, FAAN, is a visible champion for the nursing profession. Since the Institute of Medicine (now the National Academies of Sciences, Engineering, and Medicine) issued its landmark report, The Future of Nursing: Leading Change, Advancing Health in 2010, Hassmiller, who is senior adviser for nursing at the Robert Wood Johnson Foundation and director of the Future of Nursing: Campaign for Action, has worked tirelessly to ensure that the report and its recommendations didn't just "sit on a shelf."
In partnership with AARP, Hassmiller runs the Foundation's Campaign for Action, which seeks to ensure that everyone in America can live a healthier life, supported by a system in which nurses are essential partners in providing care and promoting health.
Through the Campaign for Action, there has been momentum in all 50-states to achieve the report's recommendations on how nurses' roles, responsibilities, and education must evolve to elevate their contributions to care delivery.
An effort to galvanize stakeholders across the country is essential to successfully creating change, she says.
"I want everybody to feel like they own this. That's why I think the first report was so successful," Hassmiller says. "It has remained the No. 1 report at the National Academy of Medicine, which is amazing. People are owning it. They bring it into the classroom. I know that there are a lot of CNOs that have done their strategic plans around the recommendations."
Hassmiller shares her insights with HealthLeaders on the recommendations' impact, where nurse leaders should focus their efforts running up to 2020, and what's next regarding the Future of Nursing report. Following are the highlights of her recent interview. The transcript has been lightly edited for brevity and clarity.
1. WHAT MEMBERS OF THE C-SUITE SHOULD REALIZE ABOUT NURSES
"When I say nurses are a means to an end, I mean nurses are very, very, very important to the health of our country," she says. "[Our foundation] believes nurses have value."
"Often, people in the C-suite don't see nurses as a means to an end. [Nursing is often] the biggest line on the budget. But really, if you had enough of us doing the right things, we could save you a lot of money and make you a lot of money. Not tapping into the full capacity of your nursing workforce is a missed opportunity. Many see nurses as just doing tasks, but there's much more that we can do."
2. WHERE PROGRESS HAS BEEN MADE
"[The NAM] report was about building nursing's capacity—keep going to school, be at the [decision-making] table, and make sure you're practicing at the top of your license. It was all about building the nursing profession."
"[For example], at the time of the report, only 49% of nurses in the U.S. had bachelor's degrees. The evidence the [NAM] committee studied showed that a baccalaureate degree was beneficial [to patient care and outcomes]."
"It's a stretch goal, but here's the important thing about this recommendation—in our country, there's been a cultural shift. If you speak at community college graduation and ask who will go back to school, every single hand will go up. It wasn't like that 10 years ago."
"What we did over all these years was put the infrastructure in place for this cultural shift to move forward. Now, we have memorandums of understanding between community colleges and universities. Will the country reach 80% by 2020? No. But there will be some institutions that will. And in Hawaii, they are at 72% BSN-prepared nurses."
"I want people to look at the Campaign for Action's BSN-prepared nurses map so they can see exactly where they are  [in relation to the 80% goal]. We don't want them to forget they still need to work on that."
3. WHERE NURSE LEADERS SHOULD FOCUS THEIR EFFORT
"One recommendation I really would love to meet is having 10,000 nurses on boards by 2020. I really believe we can meet that one. I know we have more than 10,000 nurses on boards. If we could get them to sign-up at the Nurses on Boards Coalition, then I think we could reach that goal."
4. WHAT'S NEXT FOR THE FUTURE OF NURSING REPORT
"Employment, housing, transportation, food access, social isolation—those are the indicators of a person's health and well-being. We know what all the indicators are in this country and they are dismal.
There will be a new report (The Future of Nursing 2020-2030) which aligns with RWJF's mission to ensure everyone in this country has a fair and equitable chance at achieving their highest state of health. This new report is going to be about the role of nurses in addressing social determinants and health inequities in our country. That's a big-ticket item and another way to achieve the goal of reducing high-frequency users."
Jennifer Thew, RN, is the senior nursing editor at HealthLeaders.
This article is shared from an online source Health Leaders