5 Ways Johnson & Johnson Is Working to Improve the Well-Being of the World by 2025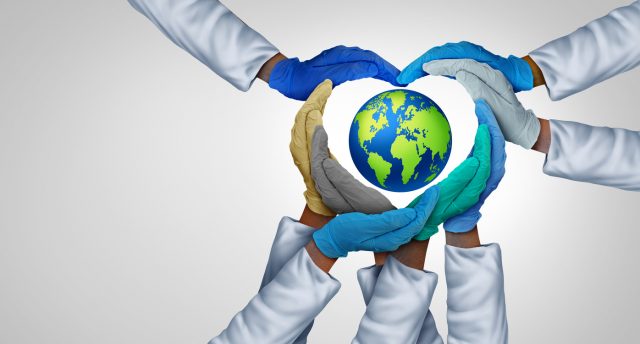 Johnson & Johnson's 2020 Health for Humanity Report details the progress it's made in the past five years in driving sustainable social, environmental and economic change around the globe. Now the company's looking ahead to the next five.
Improving the health of people around the world requires a mix of heart, science and ingenuity—something Johnson & Johnson, the largest, most broadly based healthcare company in the world, has known since its founding in 1886. Since 2010, the company has used that custom blend of values to set its Health for Humanity Goals every five years.
From global access to medications and environmental stewardship to healthy employees, Johnson & Johnson's newly released 2020 Health for Humanity Report details, among other sustainability disclosures, the progress the company has made over the last five years toward meeting the 17 goals it pledged to achieve by 2020, as well as toward its United Nations (UN) 2030 Sustainable Development Goals (SDGs) Commitment.
And that progress has been impressive: The company achieved or exceeded 16 of its 17 Health for Humanity goals and exceeded four out of the five targets it had set against its UN SDGs Commitment.
Now the company is looking to build on that progress. With its just-announced Health for Humanity 2025 Goals, which support 11 of the 17 UN SDGs, Johnson & Johnson is taking on two critical health challenges currently confronting people around the world: pandemics and epidemics and health equity.
But that's not all: Johnson & Johnson is equally committed to building a more diverse and inclusive workforce, protecting the health of the planet and working with its partners to help control or eliminate infectious diseases.
"We are proud to share the progress we made in 2020 and provide further detail around our Health for Humanity 2025 Goals," says Joe Wolk, Executive Vice President, Chief Financial Officer, Johnson & Johnson. "Johnson & Johnson has a long-standing commitment to transparency and accountability which we have applied to our corporate citizenship and sustainability ambitions by setting goals and sharing our progress. As the world's largest healthcare company, we have a unique opportunity to change the trajectory of health for humanity and our 2025 Goals serve to deliver long-term value creation for all of our stakeholders."
Read on to hear from leaders across Johnson & Johnson about five key objectives outlined in the 2020 Report that the company is working to achieve by 2025.