#Hiring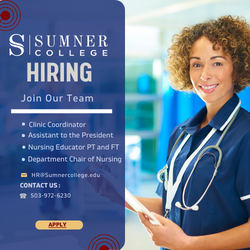 #Hiring at Sumner College! We are recruiting for a few great candidates to join our team at the Portland, Oregon Campus.
The following positions are open:
– Clinic Coordinator;
– Assistant to the President;
– Nurse Educator, Full-Time;
– Department Chair of the Nursing Program.
With a wide variety of skills required for each of these key positions at the college, we ask that if you are interested in learning more or would like to be considered for one of the positions, to forward your resume, skills and desired position to HR@sumnercollege.edu. Join the Sumner College Team!
Dream It. Do It.
#nursingcareers #nursing #nursingschool #careeradvancement #careerchange #career #academia