Going Back to School to be a Registered Nurse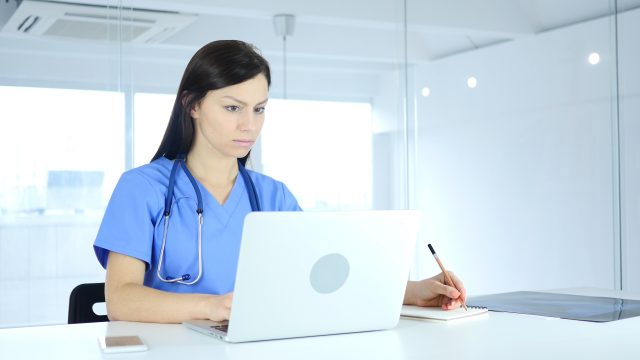 Want to change careers? See how becoming a registered nurse offers a relatively quick option for professionals to jumpstart a new, fulfilling career.
In 2019, there were more than 3.8 million registered nurses working in the United States.
Registered nurses work in various healthcare settings to offer competent and compassionate medical care.
Registered nurses must hold an associate or bachelor's degree in the field and meet state licensure requirements.
---
During the COVID-19 situation, no career has been as essential as the registered nurses that work in hospitals, clinics, and other healthcare settings. And while the stress of a worldwide health crisis has put immense pressure on RNs, many of these professionals continue to offer competent and compassionate care in what is a stable and growing career.
Throughout the following guide, we spotlight vital nursing career elements and why this healthcare career is often a solid option for people wanting to go back to school. Keep reading to review RN career prospects and to see how to become a registered nurse.
What Does a Registered Nurse Do?
The role of an RN varies depending on where they work and their specialty area. In general, RNs perform many of the same tasks, like administering medications, evaluating patients, and recording medical histories. They also perform diagnostic tests, monitor patients, and assist physicians with examinations and treatment plans. RNs may supervise licensed practical nurses (LPNs) and certified nursing assistants.
All RNs must follow a scope of practice as defined by their state's nurse practice act. This scope of practice defines what RNs are legally allowed to do for patient care. Each state maintains its own set of laws governing the scope of practice.
How Do RNs Differ From Other Types of Nurses?
LPN vs. RN
While the differences between what RNs and LPNs — also known as licensed vocational nurses or LVNs — are allowed to do vary by state, their duties often overlap. RNs must meet more education and licensing requirements, and they have more responsibilities than LPNs. Many RNs supervise LPNs.
LPNs are primarily responsible for general patient care. They cannot make independent patient medical care decisions. They also do not typically work in a specialty area.
APRN vs. RN
Advanced practice registered nurses (APRNs) have more education and patient responsibility than both RNs and LPNs. Unlike RNs, these health professionals must hold at least a master's degree. They can provide primary care to patients, which often includes prescribing medications, assessing medical test results, and making diagnoses.
The main types of APRNs are nurse practitioners, nurse midwives, and nurse anesthetists.
[Read more of this article on BestColleges.com]