Hawaii and the West Coast Beckon to Travel Nurses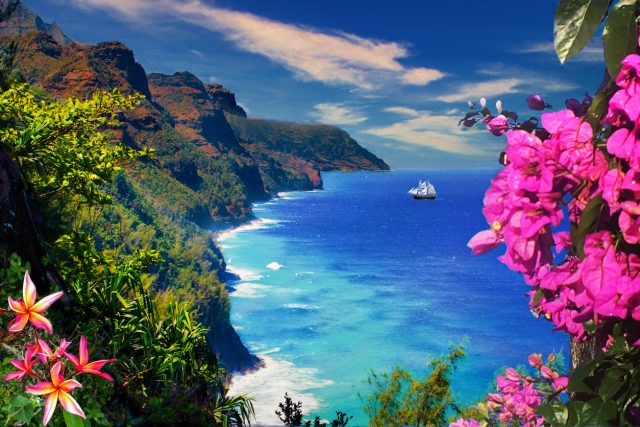 Article shared from Travelnurse.com. Written by Jennifer Larson, Contributor
Travel nursing opportunities abound in the Pacific Region of the United States, including the West Coast states of Washington, Oregon and California, and Hawaii, of course.
Not only do these states have an abundance of jobs, but they offer their own kind of fun and countless places to explore when you're not at work. So, if you're considering an assignment in one of the best states for travel nursing, read on for some ideas of where to go and what to do when you get there.
Note: During the ongoing COVID-19 pandemic, be sure to inquire about operating hours and times before you visit any of these locations. Some places may be temporarily closed or operating with restricted hours.
Check out these sites in four of the best states for travel nursing:
California
The Golden State is home to some amazing cities, like Los Angeles and San Francisco, where you'll never run out of places to eat, drink and play. But there are a lot of natural wonders, too.
Big Sur. This is the ultimate California road trip. Drive up Highway 1 and admire the rocky coastlines in the Big Sur area. Fans of the show Big Little Lies will recognize the iconic Bixby Bridge soaring through the air just south of Monterey. Plan some time to poke around in Carmel by the Sea and maybe even visit the historic Hearst Castle.
Ocean Beach. Think throwback beach town, and you've got Ocean Beach, known simply as OB. Located in sunny San Diego, this beach community was founded in the 1880s, and the locals are fiercely loyal to preserving it. OB is home to the iconic OB Pier, a popular farmer's market, street fairs and festivals, bars, pubs, a popular dog beach, small businesses, surf shops and a laid-back vibe.
Lake Tahoe. Whether you plan to splurge and stay in a luxury hotel or resort, or you prefer to climb into a tent and sleep out under the stars, Lake Tahoe has a place for you. This gorgeous lake in the Sierra Nevada Mountains near the Nevada border is the beautiful setting for a range of outdoor experiences, from water sports to snow skiing and snowboarding, to fishing, hiking, biking and more. Plus, there are restaurants, casinos, breweries, and a range of indoor activities, too.
Find travel nursing jobs in California.
Oregon
Oregon is an interesting state, one that's home to both the world's largest collection of carousel horses in its Carousel Museum and the largest number of ghost towns in the United States. What else is there to see and do if you're planning on an Oregon travel nursing assignment? Read on.
Willamette Valley wineries. The Willamette Valley is home to nearly 700 wineries. Book a couple of nights at a bed-and-breakfast and take yourself out to tour a few of them. Be sure to taste at least a few pinot noirs, since Oregon has earned a reputation for fine pinots.
Powell's Books. Bibliophiles, you have found your home-away-from-home. Powell's Books bills itself as the world's largest independent bookstore, which becomes very apparent when you visit its Portland headquarters, which it calls Powell's City of Books. (There are two other stores nearby, too.)
Columbia River Gorge. Imagine an 80-mile-long canyon in the Columbia River with some parts of the canyon dropping off to 4,000-foot depths. Take yourself to Columbia River Gorge National Scenic Area and you won't have to imagine it anymore. Go windsurfing, join a bike tour group, hike, or simply explore the Gorge Beer Trail and visit the local breweries in the area.
Find travel nursing jobs in Oregon.
Washington
Washington State is known for its lush forests and majestic mountains–which you definitely don't want to miss. But there is and so much more to see and do!
Pike Place Market. If you don't post a selfie of yourself with the famous Public Market sign in the background on Instagram, did you even really go to Seattle? Eat, drink, shop, sightsee, and be merry in the Pike Place Market in downtown Seattle. And watch the fishmongers toss fish back and forth to each other (trust us, it's an actual thing).
Mount Rainier National Park. Don't be surprised if someone finds out you're going to Washington and urges you to visit Mount Rainier National Park. You won't regret it. Pick a season and there's something fun to do, from hiking among the wildflowers in the spring to snowshoeing in the winter. And if you're not afraid of heights, take a ride on the Mount Rainier Gondola for the spectacular views.
Olympic National Park. If you love chasing waterfalls, the Olympic Peninsula, with its high volume of annual rainfall, is the place for you. You could start with a short, easy walk to Marymere Falls to kick off your waterfall tour, or the famous Sol Duc Falls. Then you can decide where to go from there, choosing from among 20 sites to visit. Just be sure you have plenty of battery life and storage space to accommodate all of the photos you will want to take along the way.
Find travel nursing jobs in Washington.
Hawaii
The Aloha State is home to countless sparkling beaches, of course, so be sure to visit at least a few of them. Bring along your surfboard and snorkeling gear or rent some when you get there. But beyond the sand and surf, consider checking out a few other wonders:
Haleakala National Park. You haven't lived until you've seen the sunrise from the top of this volcano on the island of Maui. Trust us, it's worth getting up in the middle of the night to see. Plus, you can join a bike tour group and literally coast your way down the volcano afterward. (And yes, this 10,000+ foot volcano is inactive.)
Kona Coffee Living History Farm. Are you a coffee drinker? Is that a silly question? If you love a good cup of Joe, be sure to visit this working farm that's also dedicated to the culture and history of coffee farming. Located in Captain Cook, on the island of Hawaii, this farm also sells Kona coffee, so be prepared to drop a few dollars.
Na Pali Coast State Wilderness Park. You might get a little breathless from gazing upon the towering sea cliffs that this park is famous for (if they seem familiar, it's because they have been featured in Jurassic Park and other famous movies.). Located on the northwest part of the island of Kauai, this park is home to the 11-mile Kalalau Trail, which is a must-do if you're an experienced hiker; you can also opt to do a shorter hike just to experience the majesty of nature in this setting. Not a hiker? Take a helicopter tour instead.
Find travel nursing jobs in Hawaii.
TravelNursing.com has thousands of travel assignments across the U.S.
FIND TRAVEL RN JOBS or APPLY TODAY to get connected with a recruiter.