How transformational nursing leaders address fear amid COVID-19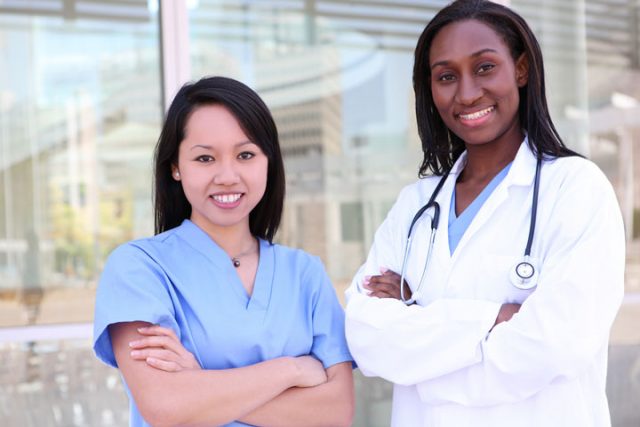 You can provide the guidance nurses need.
Editor's note: This is an early release of an article that will appear in the March 2021 issue of American Nurse Journal. This article is shared on the Sumner College blog from American Nurse.
Takeaways:
Transformational leaders empower followers through the practice of idealized influence, inspirational motivation, individualized consideration, and intellectual stimulation.
Nursing leaders can use transformational leadership practices with bedside staff to help alleviate fear related to the COVID-19 pandemic.
COVID-19 has affected healthcare in ways few could have anticipated. Most U.S. healthcare workers have never experienced anything like this. While they're caring for patients, they're also concerned about their own health, as well as the health of their families and colleagues. Fear of the unknown—including how the virus is spread, whether patients are immune from future illness after they've recovered, and what are the logistics of proper personal protective equipment (PPE) use and availability—is among the many causes of these concerns. New and changing policies, such as suspended patient visitor privileges and cancelled elective surgeries, increase stress. In addition, changes in strategies based on updated scientific information about the virus in response to current science can lead to lack of confidence.
More fear is elicited when friends and colleagues become ill. Shifts are staffed with minimal employees to not only avoid staff exposure to the virus, but because some staff are quarantined with symptoms or confirmed COVID-19 diagnoses. Watching hospital beds fill up and moving patients because of full units add to the palpable anxiety.
Healthcare workers seek consistent guidance. Transformational leaders can use four strategies—idealized influence, inspirational motivation, individualized consideration, and intellectual stimulation—to instill courage and guide nurses through this uncertainty. (See Transformational leadership defined.)
Transformational leadership defined
Transformational leadership is a conscious process for inspiring followers to strengthen personal moral values, perceptions, motives, and beliefs to help achieve organizational goals. Transformational leaders understand that change isn't possible through the work of just one individual, but must include perceptions, ideas, and innovations from those closest to the point of care. This leadership style is based on trust and authenticity. Transformational leaders gain trust and loyalty by:
forming a creative and encouraging relationship with staff
supporting and motivating staff to perform beyond typical expectations.
True transformational leadership is embedded in a culture that encourages active thinking, determination, and creative expression to help progress and improve the organization.
Overcoming fear
Change can elicit fear—fear of failing, fear of not knowing what to do, fear of learning new protocols and procedures. Nurses can't effectively learn or perform when they're fearful. As a nurse leader, you can model desired behavior using transformational leadership to gain staff trust so they overcome their fear. Trust in transformational leaders is achieved when they demonstrate support, understanding, and consideration for staff.
Idealized influence
Transformational leaders serve as role models. They possess qualities and characteristics that others want to emulate—they walk the talk. This admiration leads to trust because they see the leader's actions as respectful to the organizational team.
Idealized influence and COVID-19. Practice idealized influence by caring for patients with COVID-19 at the bedside. If feasible (and you have the necessary expertise), pick up a shift when the unit is short staffed, answer call lights, distribute ice or nutrition, administer pain medication, or collect vital signs. Make yourself visible, display interest, and voice concern for staff well-being and patient care quality. Being present and understanding the fear and uncertainty of the staff through lived experiences will increase trust and respect for you.
Inspirational motivation
Transformational leaders encourage staff to be part of a shared organizational vision. They motivate by clearly communicating current and future progress expectations, sharing a detailed vision, and collaborating with staff to devise a plan to reach shared goals. Expectation clarity and consistent, easy-to-understand feedback motivate staff to go the extra mile to achieve organizational outcomes.
Inspirational motivation and COVID-19. Explain the most current recommended COVID-19 policies and procedures as they become available. If recommendations change, be transparent. Explain that disease knowledge is ever-changing and that care protocols will have to adapt as necessary. Remind staff that this healthcare crisis isn't permanent. As we learn more about the disease, caring for patients will become more routine. And ensure staff understand that the care they provide contributes to the greater good of the community and the organization.
Individualized consideration
Transformational leaders actively listen to and advise staff to create environments conducive to their personal and professional growth. They delegate tasks based on individual personal and professional goals, and they mentor staff to complete tasks that may be outside of their comfort zone but will contribute to individual growth. Followers of transformational leaders feel supported and understood, which contributes to trust between the leader and follower.
Individualized consideration and COVID-19. If possible, provide in-service training sessions and online educational modules about the latest COVID-19 recommendations or treatment practices, or allow time off to attend educational sessions. It also would be helpful to provide time off for staff to participate in psychological or physical healing of their choice. Encourage massage, yoga, meditation, exercise, or professional counselling, as appropriate. Take steps to provide individualized attention to each staff member during this fearful time. For example, schedule 15- or 30-minute sessions with each staff member to simply talk and listen. Developing an individualized plan for each staff member may help make caring for patients with COVID-19 more manageable.
Intellectual stimulation
Transformational leaders encourage staff creativity and consistently challenge the status quo by urging them to face old problems in new ways and by generating frontline solutions. When leaders integrate these solutions into new processes and policies, they empower nursing staff to continue to recommend solutions and make them feel valued.
Intellectual stimulation and COVID-19. At weekly or monthly staff meetings, encourage staff to voice opinions, concerns, and ideas about how to implement or improve COVID-19 care processes. Listen to individual staff concerns and encourage them to develop or educate others about new or changed protocols. Report the protocols that are developed by staff to senior hospital administration, and recognize staff members who play a role in improving organizational processes.
Diminish fear and uncertainty
COVID-19 has caused uncertainty and fear in the global community. Nursing staff and healthcare administrators face daily challenges, including changing practice protocols; dwindling financial, equipment, and human resources; and worsening patient conditions. You can help diminish fear and uncertainty—and make a lasting impact on organizational culture during COVID-19 and beyond—by supporting staff through idealized influence, inspirational motivation, individualized consideration, and intellectual stimulation. Hand shaking and hugging may have been temporarily replaced by elbow bumping and online interactions, but your leadership can help healthcare teams provide the best care possible during these uncharted times.
Tyler Sturdivant is a nursing instructor at Coastal Alabama Community College in Bay Minette. Bridget Moore is a neonatal intensive care nurse educator at USA Health Children's and Women's Hospital in Mobile, Alabama.
References
Bass BM. Leadership and Performance Beyond Expectations. New York: Free Press; 1985.
Burns JM. Leadership. New York: HarperCollins; 1978
Centers for Disease Control and Prevention. COVID-19: Frequently asked questions. cdc.gov/coronavirus/2019-ncov/faq.html#:~:text=In%20COVID%2D19%2C,%2Drespiratory%20tract%20illnesses.
Evans G. Spring of fear: ED staff face surging coronavirus. Relias Media. May 1, 2020. reliasmedia.com/articles/146051-spring-of-fear-ed-staff-face-surging-coronavirus
Hess ED, Murdoch D. Fear: The big inhibitor of innovation and transformation. January 3, 2019. ideas.darden.virginia.edu/fear-the-big-inhibitor-of-innovation-and-transformation
Krepia V, Katsaragakis S, Kaitelidou D, Prezerakos P. Transformational leadership and its evolution in nursing. Prog Health Sci. 2018;8(1):189-94. doi:10.5604/01.3001.0012.1114
Poghosyan L, Bernhardt J. Transformational leadership to promote nurse practitioner practice in primary care. J Nurs Manag. 2018;26(8):1066-73. doi:10.1111/jonm.12636
Suratno K, Ariyanti S, Kusrini K. The relationship between transformational leadership and quality of nursing work life in hospital. Int J Caring Sci. 2018;11(3):1416-22.
Watts LL, Steele LM, Den Hartog DN. Uncertainty avoidance moderates the relationship between transformational leadership and innovation: A meta-analysis. Journal of International Business Studies. 2020;51(2020):138-45.