Indeed Guide: Difference Between RN and BSN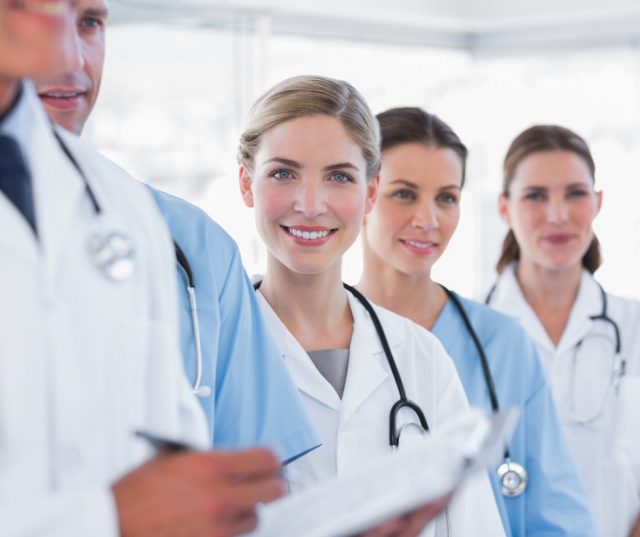 Article written by Indeed Editorial Team
There can be a variety of fields that nurses can choose to enter after earning their registered nursing (RN) license. However, there are several differences between nursing fields and the jobs they perform. For instance, an RN and a BSN may both possess their RN certifications, but there are differences in their degree levels, duties and responsibilities they may take on. In this article, you will learn the key differences between working as an RN with an associate degree and working as a Bachelor of Science (BSN) registered nurse.
What is an RN?
A registered nurse (RN) is a medical professional who has earned their RN certification. Registered nurses work with a variety of patients to provide care and medical treatment. RNs may work closely with physicians and other nursing staff in the diagnosis and treatment of patients. An RN may also specialize in a nursing field like pediatrics, ICU and critical care, surgical and other nursing specialties open to certified RNs.
Additionally, RNs may possess either a two-year associate degree in nursing (RN) or a four-year Bachelor's Degree in Nursing (BSN), and this is usually the biggest difference between a BSN and an RN.
Read more: Learn About Being a Registered Nurse (RN)
What is a BSN?
A BSN is a registered nurse who has completed their Bachelor of Science in Nursing degree. While a BSN may also be a registered nurse (BSN-RN), they can have more job openings and nursing specialty opportunities available to them than RNs who only possess an Associate Degree in Nursing. A BSN-RN may also perform more medical duties, such as prescribing some medications and specializing in nursing fields, than an RN without a BSN.
Differences between an RN and a BSN
While both BSNs and RNs are certified registered nurses, there are several key differences between the two designations. Firstly, the degree levels will differ, as a BSN completes a four-year degree while a general RN may only have a two-year degree. There are also differences in the job duties, qualifications and salary levels between an RN and BSN.
Related: 10 Highest Paid Nursing Jobs
Job duties
The job duties may differ between a BSN registered nurse and a general RN with an associate degree. This is because a BSN typically has more training and nursing education than an RN with an Associate Degree in Nursing. Because of this, the job duties can differ between a BSN and an RN.
A BSN may generally provide diagnoses, treatments and medical care to patients in a variety of health care settings. A BSN can work in a hospital, doctor's office, health care clinic or other medical facilities. Some of the typical job duties that a BSN may perform can include:
Evaluating and assessing patient symptoms and conditions to provide a diagnosis and treatment plan

Prescribing and administering medications, IVs and other medical treatments

Using diagnostic testing and equipment to assess patient symptoms and health

Assisting physicians and other nursing staff in caring for and monitoring patient health

Monitoring patient vital signs and filing and organizing patient medical records

Educating patients on diagnoses and treatments

Working with staff to develop nursing techniques, methods and best practices to better care for patients
While these job duties can be common between both BSNs and RNs, there are some medical tasks a BSN may perform, such as prescribing medications and making diagnoses, that an RN with an associate degree may not. The following job duties can be considered typical for an RN with an Associate Degree in Nursing:
Providing medical care and treatment to patients

Evaluating symptoms and conditions to help physicians make diagnoses

Working with physicians and patients to develop treatment plans appropriate to the patient's medical needs

Evaluating and record patient medical history and information

Monitoring patient health through checking vital signs and providing emergency care in the case of deterioration of patient health

Using medical equipment to assist physicians and physicians' assistants with the diagnoses and assessment of patient health problems

Maintaining patient records like medical forms, treatment plans and diagnoses history
Both an RN and a BSN may take on additional responsibilities throughout their careers. However, a BSN may generally hold more responsibilities than a registered nurse with an associate degree. This is typically due to the level of qualifications each nursing professional can attain.
Qualifications
The qualifications required for RNs and BSNs can also differ. A BSN typically possesses their four-year bachelor's degree while a general RN will only possess a two-year associate's degree in nursing. Because of the additional education and training, a BSN may be more qualified than an RN with only a two-year degree. A BSN degree may also help prepare registered nurses for completing higher-level degrees and additional specialty certifications to advance their nursing careers.
Salary
Another key difference between an RN and a BSN is the earning potential. While nurses can typically enjoy substantial incomes, the differences in education level between a BSN and a general RN can mean differences in salary level, too.
For the most up-to-date salary information from Indeed, click on each salary link. According to Indeed's salary guide, the national average salary for an RN is $61,671 per year.
A BSN, conversely, may be able to earn a higher income as a clinical nurse at $77,080 per year, depending on the nursing specialty.
Read more: How to Negotiate Salary (With Tips and Examples)
Job outlook
Registered nurses may be in-demand for many years to come, and this can be related to the advance and continuous need for medical services. According to the U.S. Bureau of Labor Statistics, registered nurses (ADN or BSN) can expect a 12% growth in available jobs between 2018 and 2028. Registered nurses with their BSNs may also expect a 12% increase in the overall job availability between 2018 and 2028.
The job outlook appears to be increasing because of the demand for highly qualified nurses and medical professionals. Likewise, a BSN may also pursue certification in additional nursing fields, making a BSN a highly desirable degree to complete. Both RNs and BSNs can expect substantial job security, as the medical field can be considered a high-demand industry.