It's Teacher Appreciation Week! Today we honor, Sumner College's Kayla Smith & Elon Schlosberg.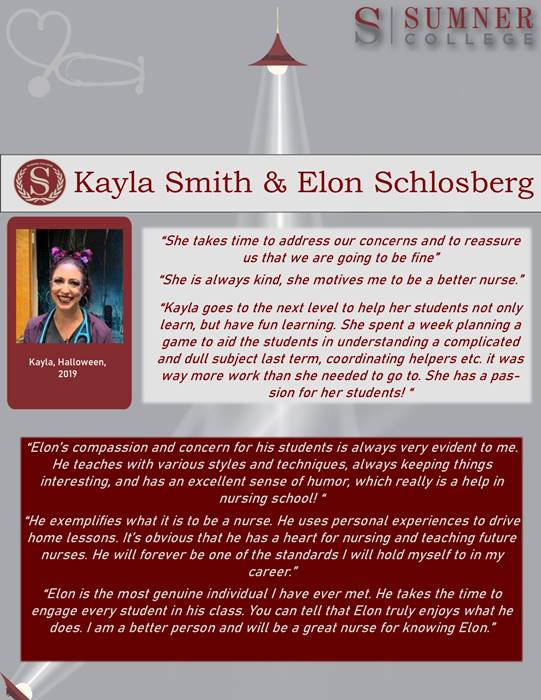 From navigating online classroom to supporting students with no internet connection, this year, teachers across the nation have been stepping up in greater ways due to the coronavirus pandemic. Everyone, even businesses, has taken notice.
For Teacher Appreciation Week, which began May 4 and extends through May 8, Sumner College honors our outstanding teachers who are making an impact on the nurses of the future.
Thank you Kayla Smith and Elon Scholsberg! Here are some quotes from your happy students:
Kayla:
"She takes time to address our concerns and to reassure us that we are going to be fine"
"She is always kind, she motivates me to be a better nurse"
"Kayla goes to the next level to help her students not only learn, but have fun learning. She spend a week planning a game to aid the students in understanding a complicated and dull subject last term, coordinating helpers etc., it was way more work than she need to go to. She has a passion for her students!"
Elon: 
"Elon's compassion and concern for his students is always very evident to me. He teaches with various styles and techniques, always keeping things interesting, and has an excellent sense of humor, which really is a help in nursing school!"
"He exemplifies what it is to be a nurse. He uses personal experiences to drive home lessons, It's obvious that he has a heart for nursing and teaching future nurses. He will forever be one of the standards I will hold myself to in my career."
"Elon is the most genuine individual I have ever met. He takes the time to engage every student in his class. You can tell that Elon truly enjoys what he does. I am a better person and will be a great nurse for knowing Elon."