Johnson & Johnson Share Transformational Nursing Stories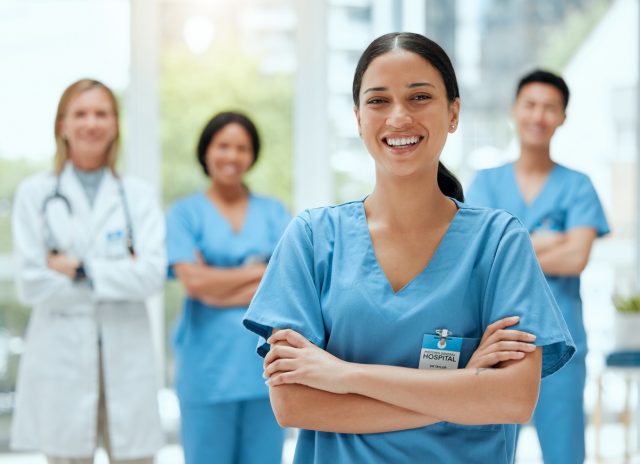 When health systems tap into the true potential of nurses, the outcomes are actionable, enduring drivers of healthcare transformation. In new research, 
Johnson & Johnson
, American Nurses Association and the American Organization for Nursing Leadership set out to quantify critical learnings and promising nursing practices uncovered during the pandemic, and below, are a few exemplary nurse leaders share real, replicable examples of barrier-breaking nurse-led innovation.
How can health systems unlock the true potential of nursing? When nurses work in an environment that enables them to problem-solve and leverage their full skills and experience, the outcomes are transformative.
In new research, Johnson & Johnson partnered with the American Nurses Association and the American Organization for Nursing Leadership to quantify how the pandemic impacted the nursing profession, identify a set of critical learnings about nursing from the pandemic, and capture promising practices in delivering the full potential of the nursing profession for healthcare.
During the pandemic, long standing barriers were broken down, policies were changed, and innovative approaches were employed in days and weeks, instead of months or years. If there is a silver lining of the COVID-19 pandemic, it may be that the urgency of the crisis drove health systems to approach care delivery with newfound innovation and flexibility. And in so many cases, nurses were leading the way.
The research – Accelerating Nursing, Transforming Healthcare – defines a progressive path forward for nursing, a path that strengthens care delivery, elevates the role of nurses as change agents, and prepares the next generation of nurses and nurse leaders to transform healthcare.
Below, four exemplar nurse-led pilot programs provide a roadmap in leveraging nurses as a mechanism to drive change.
"Through the Accelerating Nursing, Transforming Healthcare research, we were able to better understand not only how COVID-19 impacted the nursing profession, but – just as importantly – unveil notable examples of nurses stepping in to apply innovation and improve healthcare," said Lynda Benton, Senior Director, Global Community Impact Strategic Initiatives Johnson & Johnson Nursing.
These nurse leaders and their teams approached specific healthcare challenges with strategic, scalable solutions, creating approaches with the potential to be replicated by system leaders around the country.
Virtual Nursing at Atrium Health
During the early stages of the pandemic, nurses at Atrium Health hospitals in North Carolina needed to minimize the number of times they entered and exited a patient's room. With PPE shortages and only an early understanding of how the virus spread, the question became how to limit contact while supporting quality care.
Bedside nurses and nurse leaders collaborated to develop the Virtual Nurse Observation Program, in which an experienced nurse joins remotely into the patient's room through a camera, becoming an extra set of eyes to care for and engage with the patient, while supporting nurse teams on the floor with valuable knowledge and experience.
"The virtual nurse actually brought humanity to the bedside," said Maureen Swick, Atrium Health chief nursing executive, "because during the pandemic, that nurse's face was the only face that patient saw during their entire hospital stay."
This new care model adds an extra layer of support for patient care and for nursing clinical teams. It was also helpful in retaining the expertise of experienced nurses seeking retirement or leaving the bedside, by giving them a flexible and virtual way to stay engaged in patient care.
This program has been shared with nurse leaders across the Atrium Health enterprise and beyond, Swick said. "They're really excited about it, especially since they've heard directly from their own colleagues and peers about what a positive thing it was."
Nursing Pathways at Children's National Hospital
While the nursing profession is making headway in improving workforce diversity, minority groups still only make up around 20 percent of the profession.
Simmy King is the chief nursing informatics and education officer at Children's National Hospital in Washington D.C., where she oversees nursing education and professional development, among other programs.
In this role, it became clear to King that more work needed to be done faster to improve diversity in nursing. "We really need to think about the opportunities to change the demographics of the nursing workforce to match the needs of the patient populations that we care for," she says.
The Conway Nursing Pathway program is an effort at Children's National Hospital to support diverse students entering the nursing profession. Through the program, nursing students are mentored by nursing staff at Children's National and can participate in work-study initiatives that provide clinical experience. Support for student debt and tuition costs also helps eliminate barriers to nursing education and creates new pathways for students to consider careers in healthcare.
"We have to think about…those upstream strategies that will eliminate barriers to entering the nursing workforce for our minority ethnic groups and other diverse populations," King says. "What can you specifically do for a person to be successful, so that the downstream impact is that we have more diversity and a larger available pool of diverse nurses?"
For more nurse-led solutions and strategies that health systems can use to transform healthcare, click here.
Content shared from J&J website. Link to article