How Johnson & Johnson is Supporting Nurses on the Frontlines of COVID-19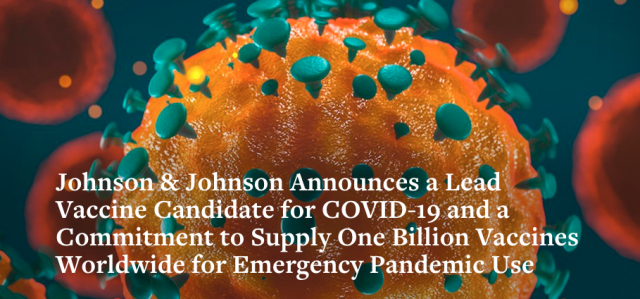 Johnson & Johnson is proud to introduce the launch of Coronavirus Response Fund for Nurses, a national effort with the American Nurses Foundation. We're calling on everyone to join us in supporting nurses through this initiative and invite you to learn more.
We recognize the challenges nurses and their families are facing in these uncertain times. In recognition of the incredible contributions of nurses in this unprecedented health crisis, we're pleased to announce the launch of the Coronavirus Response Fund for Nurses, a national effort with the American Nurses Foundation. This national effort is being kicked off through a $1.5 million commitment from Johnson & Johnson and the TYLENOL® brand.
The national fund will address the identified and emerging needs of nurses impacted by the COVID-19 crisis by:
Providing direct assistance to nurses;

Supporting the mental health of nurses – today and in the future;

Ensuring nurses everywhere have access to the latest science-based information to protect themselves, prevent infection and care for those in need; and

Driving national advocacy focused on nurses and patients.
If you're a nurse on the frontlines of care and need assistance, visit the American Nurses Foundation website to learn how you can request support through the new Coronavirus Response Fund for Nurses. We also invite you to help support this effort by sharing information about the fund with your networks. Donations of any amount can be made to the Coronavirus Response Fund for Nurses online or by texting THANKS to 20222 to make a $10 donation.
Since early this year, Johnson & Johnson has also been working on a broader coronavirus response plan, working directly with governments and health authorities to help end this fast-moving COVID-19 pandemic. We know from 134 years of experience that the power of our science, the scale of our business and the dedication of our employees can drive meaningful, lifesaving innovation and respond to this global public health crisis.
We are:
Screening compounds to determine if any could help treat those who have the virus;

Continuing to supply the critical medicines, devices and products customers and patients depend on;

Taking precautions to support the safety and well-being of our employees, contractors and the communities in which we live and work; and

Mobilizing to provide equipment, our products and financial donations to support organizations and healthcare workers on the frontlines.
In January, we made a $250M commitment to supporting frontline health workers over the next 10 years because we believe a thriving health workforce is the only path to strong and resilient health systems. This week, the Johnson & Johnson Family of Companies and the Johnson & Johnson Foundation increased that commitment by $50M for an immediate COVID-19 response, primarily focused on supporting frontline health workers. Learn more here.
To nurses everywhere, we thank you immensely for your support – now and always. We're proud to support these initiatives because we believe there has never been a more important time to listen to, advocate for and support the nursing profession.
We will continue to listen to your needs and bring our full resources and minds to combat this pandemic. For more information on how Johnson & Johnson is supporting frontline health workers in the global response to COVID-19, visit: https://www.jnj.com/coronavirus