Meet 15 Nurses Who Disrupted Healthcare through the COVID-19 Pandemic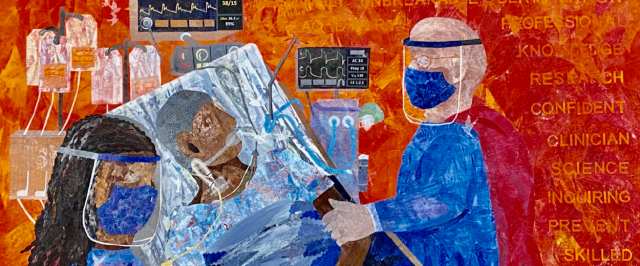 Artwork and content credit – Johnson&Johnson Nursing.
Amid a global pandemic, when the world needed their leadership in healthcare more than ever, nurses answered the call. 
Johnson & Johnson
 is celebrating National Nurses Month 2021 by sharing the stories of 15 nurse healthcare disruptors, just some of the many nurses who led the way through COVID-19.
This past year, no one was immune to the impacts of the COVID-19 pandemic, which brought unprecedented challenges to the healthcare industry and the world. But despite the devastation, we have seen a bright spot – an inspiring nursing workforce that has truly stepped in, problem-solved, and disrupted the day-to-day, shaping and impacting patient care for the better. Nurses found innovative solutions to the challenges of COVID-19 and stretched their presence far beyond traditional settings to deliver care and meet the moment, with potentially long-lasting impacts on the future of healthcare and nursing. And through it all, nurses continued to change lives by bringing ingenuity to the everyday issues impacting their patients and communities.
Because of this, National Nurses Month 2021 is like no other. Johnson & Johnson is excited to celebrate and share the stories of 15 nurse healthcare disruptors, some of the many who led the way through the global pandemic.
Throughout the past year, nurses like Leslie Gevedon, MS, RN of HCA Healthcare's TriStar Division in Nashville, Tennessee, stepped into entirely new roles to support COVID-19 prevention, treatment and vaccination efforts.
As a member of HCA's clinical informatics team, it had been eight years since Leslie provided patient care. But after hearing about staffing shortages, Leslie volunteered to take on the new role of implementation and coordination of the vaccine clinics for the greater Nashville and Middle Tennessee communities. By establishing a centralized location for vaccine distribution, Leslie transformed logistics for this historic and massive task. On December 17, 2020, Leslie hosted the first vaccination clinic, where she and her team saw an incredible demand and were able to vaccinate an average of 1,000 patients a day. Her thoughtful and efficient staffing of the clinics minimized wait times for patients and enabled the clinic to offer appointments to local first responders as well. As of March 24, more than 20,000 vaccinations had been given throughout the Middle Tennessee community. In addition to her work in vaccine distribution, Leslie led trainings for her colleagues who had similarly spent time away from direct patient care, improving the team's ability to care for COVID-19 patients.
Lizzy Mulcahy, MSN, FNP-C, also embraced an entirely new role as part of the pandemic response, driving nurse-led innovation in the launch of a COVID-19 remote monitoring program.
At Ochsner Health in Louisiana, Lizzy worked with the innovationOchsner (iO) and Ochsner Nurse On Call teams to launch the health system's COVID-19 remote monitoring program, helping to save lives by monitoring pre-acute and post-acute patients with digital metrics. Ongoing tracking of patients' information in two-week intervals enabled Ochsner to visualize trends and preempt worsening COVID-19 symptoms. Lizzy brought her deep knowledge of patient care and collaborative practices and even deeper connections throughout the health system to design, staff and gain buy-in for a highly effective program that has now provided care to more than 3,500 patients. Lizzy took steps to problem solve, innovate and lead positive change, making a lasting impact on her patients, the health system and her colleagues.
In a year that uprooted in-person schooling, school nurses across Seaford School District in Delaware found ways to contribute their public health expertise to the greater community.
When Delaware schools closed or went remote in early 2020, nurses across the Seaford School District knew that students and families would continue to depend on them for ongoing support. They rose to the occasion, as a broad unit, to meet that need. They established response plans, developed videos and other educational materials on hygiene and health best practices, and even delivered food to families who were in need and without transportation when schools shut down. In addition to conducting daily welfare checks with families, the nurses also figured out a system to return medication and medical supplies to students' parents with no contact – an undertaking that required massive creative thinking and heavy coordination from location to location. This network of school nurses stepped in to protect the health and well-being of entire communities, utilizing ingenuity and collaboration that stretched far beyond the boundaries of the schoolyard.
Some nurses like Laura Reichhardt, MS, AGPCNP, RN of Hawaii State Center for Nursing, advocated for policies that would better position healthcare workers in the fight against the COVID-19 pandemic.
As frontline healthcare workers, nurses have had a unique vantage point into the role of the government in ensuring adequate resources for pandemic response – and Laura used that insight to the benefit of the greater good. Working closely with state government, Laura developed the Governor's Emergency Proclamation to waive licensure requirements for new AD, BS, and NP-DNP graduates so they could be hired by Hawaii as well as other states' health systems. This effort was critical in dealing with COVID-19 surges not just in Hawaii, but in other states as well, as it bolstered the nursing workforce to help address staffing shortages throughout the pandemic.
Other nurses, like Jeanette Ives Erickson (shown on right), stepped into old roles, bringing their decades of experience and passion back into the workforce in a critical time of need.
While many recent nursing graduates jumpstarted their careers by mobilizing to support COVID-19 relief efforts, Jeanette (pictured right in the above image), jumped out of retirement to provide patient care. In early 2020, Jeanette, chief nurse emerita at Massachusetts General Hospital, opened Boston's first COVID-19 field hospital, Boston Hope, in collaboration with the Commonwealth of Massachusetts, the city of Boston, Mass General Brigham Health System and the MGH Home Base Program, whose mission is to care for returning veterans. Jeanette's decades of experience and expertise in health systems coordination uniquely equipped her to take on this new role and drive sustainable support for patients in need throughout her state. Her contributions did not go unnoticed; a recent Boston Globe publication about local trailblazers during the pandemic recognized Jeanette as a dynamic nurse leader among a list including several physicians and CEOs.
Amid a constantly changing health landscape, nurses like Tarik Khan, MSN, RN, FNP-BC and PhD Candidate at the University of Pennsylvania School of Nursing showed up for underserved communities, bringing ingenuity and innovation to those who needed it most.
When asked about the most significant challenge to health that his work helped to address this year, Tarik named vulnerable populations and their access to healthcare. Central to his work is his belief that being a health educator and community advocate is an essential part of nursing. "It's important for nurses to be that advocate and to serve our patients outside of the bedside," he said. Over the past year in Philadelphia, Tarik has focused on enhancing access for underserved residents by launching a home visit program to get low-income or home-bound individuals registered for COVID-19 vaccines, and he's also bringing vaccines directly to these populations when he can. Utilizing advocacy as another strong skillset, he has also appeared consistently in local media to raise public awareness about vaccine science and he has successfully engaged the U.S. Department of Health and Human Services to update local regulations in ways that support more equitable access to immunizations for communities of color.
Over the past year, Bradley Bigford, MSN, APRN-FNP of Table Rock Mobile Medicine, also answered the call to improve access to care for communities struggling with the impacts of the pandemic.
Bradley put his heart into putting the needs of the local community front and center. When COVID-19 cases began to rise in Idaho, local supplies of personal protective equipment (PPE) rapidly vanished. Bradley conducted a community-wide call for help on social media and orchestrated a shared supply between local health facilities to ensure equal distribution. As the year progressed, Bradley focused on amplifying science-based public awareness about the efficacy of the COVID-19 vaccinations, despite a severe lack of information and at times, misinformation, in his community. As a result, Bradley's story was featured in The New York Times alongside other pro-vaccine doctors and advocates.
For a nurse epidemiologist and recognized expert in infectious diseases and infection control like Ruth Carrico, PhD, DNP, APRN, FNP-C, FSHEA, CIC of the University of Louisville, the COVID-19 pandemic presented a unique opportunity to leverage her expertise.
Ruth's drive to improve efficiency and patient outcomes has been instrumental in organizing LouVax, Louisville's COVID-19 vaccination operation at Broadbent Arena. Her proven acumen as an organizer, educator and leader has equipped her to train more than 4,000 nurse volunteers to administer the vaccine. She has also been a dedicated and compassionate supporter of nursing students, who, under her leadership and the supervision of clinical instructors, have been administering rapid COVID-19 tests. During Ruth's tenure as president and immediate past president of the Kentucky Nurses Association, she has provided 28 free continuing education programs about COVID-19 prevention and testing for more than 1,000 nurses.
A registered nurse for over 24 years, Amy Runge, MEd, BSN, RN of the University Medical Center of Southern Nevada (UMC), leaned into an entirely new challenge last year: overseeing one of the largest COVID-19 testing sites in the state of Nevada.
"With the recent pandemic, my role transitioned dramatically," Amy said. "As the manager of a department that focuses on education and injury prevention, we came to a pause. Our efforts then focused on creating and managing testing sites to identify and reduce the spread of COVID-19." And those efforts were a success. Over the past year, Amy and her team administered over 85,000 COVID-19 tests, keeping the health and well-being of her community front and center. Yet her drive to expand community ties during challenging times did not end with her day job—she organized large-scale community events, including a drive-thru Halloween celebration for more than 1,000 local children and a drive-thru Thanksgiving celebration that provided meals for local seniors. Amy's commitment to her community is emblematic of nurses' commitment to patient care in every sense of the word. "It has been a truly rewarding feeling to be involved in the efforts to help mitigate the spread of COVID-19 and misinformation regarding it," she said.
An educator at Columbia VA Health Care System in South Carolina, Kristie Alvey, APRN used her positive spirit and compassionate attitude to make a meaningful difference in a year when positivity was hard to come by.
Kristie embraced the new challenge of cross-training bedside nurses for med-surg and ICU, while healthcare providers were sick, and units were at capacity. She later helped to open a new clinic to vaccinate between 150 and 500 people per day. Kristie believes her ability to partner with and support her colleagues has proven to be invaluable in supporting the truly monumental task of vaccinating patients and "Kicking Covid to the Curb in 2021," as is the Clinic's motto. She is invested in inspiring her colleagues, caring for their health, and making a positive impact on the clinical environment during periods of high stress. By leading with care and compassion, her efforts during the past year have transformed her colleagues' experience and helped them provide enhanced care to patients in need.
Nurses like Garrett Chan, PhD, RN, APRN, FAEN, FPCN, FCNS, FNAP, FAAN, President and CEO of HealthImpact, have always been driven by improving health and saving lives – creating entirely new platforms to power health where none existed before.
Garrett knew that although there were ample opportunities to volunteer in underserved communities, they were hard to find. So, he created VaxForce, a volunteer registration and matching system for healthcare professionals and students to staff vaccination events throughout California. The website has addressed a critical health equity need by enabling passionate healthcare volunteers to provide vaccinations for underserved communities in California, including agricultural and farm workers, who would not otherwise have access to this type of healthcare resource. In just one six-week period, VaxForce facilitated five vaccination events and the administration of 1,030 doses. Garrett's commitment to health equity in a year with unprecedented challenges has made a positive impact in the lives of many.
In a year when access to healthcare was more important than ever, Danielle Pendergrass, DNP, APRN, WHNP-BC, embraced a new way of providing services to her 20,000 patients living in rural Utah.
As a Women's Health Nurse Practitioner, Danielle addressed a significant need nine years ago when she opened Eastern Utah Women's Health, a clinic focused on providing women's health services to a largely underserved rural population with limited access to any form of women-centered care. When rates of COVID-19 began to rise, Danielle quickly pivoted and began offering telehealth to all of her patients, giving her the opportunity to treat even more underserved populations and greatly increasing overall access to care for the region. As Danielle says, "I have been able to reach so many women who would otherwise not be able to travel the 100, 200, and even 300 miles to access the health center." Danielle's commitment to care and expertise has earned her national recognition, including being featured on a segment on NPR's All Things Considered about providing healthcare in rural areas during the pandemic. Additionally, Danielle has been instrumental in changing Utah's Medicaid policy to allow all nurse practitioners to directly bill and be reimbursed by Medicaid at 100% the physician's rate. By partnering with local, state and federal agencies, Danielle is doing her part to ensure that all women have access to affordable healthcare.
Nurse-led and nurse-driven innovation can have a lasting impact on health systems, like the hybrid approach to continuous glucose monitoring (CGM) championed by Eileen R. Faulds, PhD, MS, RN, FNP-BC, CDE (shown on right) and her team at The Ohio State University Wexner Medical Center.
Nurses like Eileen are natural innovators and disruptors, committed to addressing emergent challenges with skills and expertise. As the COVID-19 pandemic began to infiltrate health systems, Eileen and her fellow members of the inpatient diabetes management service at Wexner became increasingly concerned about the associated health risks for COVID-19 patients on IV insulin, given that the therapy requires hourly point-of-care glucose monitoring for its safe and effective use. To address this challenge, Eileen partnered with a multi-disciplinary team to develop a new hybrid glucose monitoring protocol for COVID-19 patients with major comorbidities which included using outpatient continuous glucose monitoring (CGM) in an inpatient setting to reduce point of care testing and therefore potential exposure to the nursing staff. The hybrid approach to CGM has been implemented in the team's COVID-19 medical intensive care unit and has made a lasting contribution to the field: the technique has been shared globally and is now in use in dozens of health systems across the country.
Connie Johnson MSN, RN, WCC, LLE, OMS, DWC is another nurse who led a new approach this year that led to improved patient outcomes – and a global impact.
As a wound care nurse and ostomy management specialist at Princeton Medical Center in New Jersey, Connie was concerned that patients diagnosed with COVID-19 would be at significant risk for decubiti, a pressure-induced ulceration of the skin occurring in persons confined to bed for long periods of time, while hospitalized. Along with other colleagues, Connie led an effort to develop a padding system and rotational positioning schedule that safely positioned patients to help alleviate pressure from skin sores or breakdowns. The results were significant: once this system was put in place, no patients at her hospital suffered from pressure sores or decubiti. Following the success of the approach, Connie and her team conducted additional research, which is pending publication. The novel approach she has developed could be adopted globally as a new standard in proning and patient care, an incredible example of nurse-led disruption and innovation resulting in improved patient outcomes.
As the pandemic put significant stress on health centers across the country, Tanya Henry, RN, BSN, MSHM of Columbia VA Health Care System, Columbia, South Carolina, stepped up and took charge.
Tanya, the Nurse Manager in the cardiology and medicine clinics, volunteered to oversee the coordination and staffing at a COVID-19 patient entry point on the main campus. She created staffing plans, solicited volunteers and constantly motivated staff to conduct consistent, reliable screenings. She also developed a protocol for testing facilities so that nurses and staff would be better equipped to assess, order, and perform COVID-19 tests. Through her leadership, the VA was able to build a cohesive, high-functioning team in a time of unprecedented need. Thanks to Tanya's innovative leadership, the entire screening and testing operation for the medical center has been nurse-led and nurse-driven.
From establishing and leading new initiatives and new procedures, to influencing policy, to caring for the underserved and meeting the needs of local communities amid a global pandemic, these transformative nurse disruptors represent leadership personified.
Johnson & Johnson is proud, during this National Nurses Month, to celebrate these nurses and the thousands of other nurses who are transforming healthcare every day.
Follow us @JNJNursing on Facebook and Twitter to meet more nurse innovators who are pioneering transformative solutions every day and join the conversation at #NurseDisruptors!
The images, video and content of this article is credited and shared from the Johnson&Johnson Nursing website.
The artwork featured at the top of the article, titled "The Power of Nursing Through Learning," is by Forrest Fortier, an artist and retired nurse from South Carolina. Forrest was inspired by her former colleagues to create a series of paintings that captured the strength and resilience of nurses everywhere, particularly during the challenges of the COVID-19 pandemic. You can learn more about Forrest and her artwork at https://forrestfortier.com/