National Nurses Week 2021: 40 Discounts, Deals and Freebies for Nurse Appreciation Week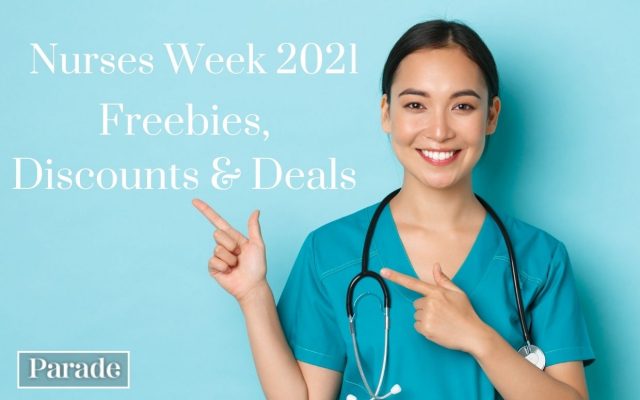 National Nurses Week 2021 kicks off on Thursday, May 6, which also happens to be National Nurses Day! Nursing is an incredibly stressful career, which is why it's so important to thank those nurses in our community for their time and sacrifices. And during these uncertain times, it's more important than ever to show our appreciation for the nurses and healthcare workers who are on the frontline of the global COVID-19 pandemic taking care of others.
For years, companies have been offering special Nurses Week freebies, discounts and deals to celebrate the hard work and dedication of nurses and other healthcare workers. And 2021 is no different. We searched the internet for some of the best deals and giveaways being offered for nursing professionals this year and came up with this list of 40 discounts and freebies in honor of National Nurses Week 2021 and National Nurses Day!
When is Nurses Week 2021?
National Nurses Week begins each year on May 6 and ends on May 12, the birthday of Florence Nightingale. Within the week, there are also days designated to certain nurses, like National Student Nurses Day on May 8, National International Nurses Day on May 12, and National School Nurses Day, which is celebrated the Wednesday of Nurses Week. (This year, that falls on May 12.)
40 Nurse Appreciation Week Discounts For 2021
Free Books: From books about microbiology and EKGs to a biography about Florence Nightingale, the founder of modern nursing, Amazon has free books about nursing available for Kindle owners.
Dunkin': Healthcare workers who show their ID at Dunkin' coffee shops on May 6 will be treated to a free medium hot or iced coffee at participating locations—no purchase necessary and while supplies last.
Chipotle: The Mexican restaurant chain is offering free burritos to healthcare workers (while supplies last) through May 31. You can apply for a free burrito on their website.
Brooklyn Bedding: Get a good night's sleep on new pillows, sheets, or a mattress, thanks to a healthcare provider's discount offered by Brooklyn Bedding. Apply on their website for a 25% off discount code, and enjoy free shipping, too.
Outback Steakhouse: The restaurant offers a 10% Heroes Discount every day for healthcare workers, as well active and former military members, police, firefighters, and first responders. Just show a valid medical, state, or federal service ID.
Free Crocks: The company known for the comfy slip-on shoes gives away 10,000 pairs of free shoes to nurses each day. The virtual queue is set up daily at noon ET on their website, so happy clicking!
Related: Funny Nurse Memes
Purple Mattress: Nurses and other healthcare professionals can apply for a 10% off coupon through the company's website.
Verizon: Both new and existing customers can sign up for the company's "Those Who Serve" pricing plans for Verizon Wireless mobile and Fios home internet. Get more information here.
BikeBerry: Nurses are among the pandemic first responders being offered 10% off from the bike company, now through December 31.
Dave & Busters: Let loose at the arcade-themed restaurant, which is offering a free $10 game card for all healthcare workers, first responders, and military personnel.
Hooters: Enjoy 20% off your bill at the popular burger and wing joint.
IHOP: Show your healthcare ID at a participating IHOP restaurant and receive a 25% discount on your meal.
Mrs. Fields: The famous cookie company has a limited-edition line of cookie tins filled with sweet treats, called the Heroes Collection, that you can send to your favorite nurse. At press time, there were no discounts offered, but the treats have been known to be as much as 40% off in the past, so keep checking the site.
Cinnabon: While there is no national Cinnabon deal in honor of Nurses Week 2021, local bakeries will offer their own promotion during the week of May 6-12.
Discounted Hotels: Nurses who verify their identity as medical professionals can enjoy up to 35% off a hotel stay through the Caesars Rewards program. And healthcare workers who are members of the Hilton Honors Program can receive up to 25% off their reservations.
Related: Nurse Quotes
Asics: Get yourself a discount code for 40% off all full-priced items at Asics.com when you verify your status as a nursing professional.
Nike: Complete the verification form and you'll receive a promo code for 10% off most items that you can use during checkout at Nike.com.
All Seasons Uniforms: The medical apparel company has a selection of scrubs, coveralls, and labcoats set aside as part of its Nurses Week 2021 Deals.
Farfetch: Nurses are among the essential workers offered a 10% discount by the luxury fashion retailer. Just verify your status on the website to receive your code.
Clarks: Verify your eligibility and receive a first responder discount that you can use at checkout at Clarks.com.
Dagne Dover: Treat yourself to a new tote at 20% off by filling out the verification form and your discount will automatically be applied at checkout.
Free Gift Cards: Show your fellow nurses how you take care of yourself. Submit a photo under the "Self-Care Isn't Selfish" contest graphic on either Instagram or Facebook page by May 12. One entry from Facebook and one entry from Instagram with the most comments and likes will win a $500 gift card.
Discount Eyewear: During the week of May 6-12, use NERDYNURSE40 to save 40% off from Discount Glasses, and NERDYNURSE20 to receive 20% off from Discount Contact Lenses.
Nurses' Wish Box: Enter Bayada Home Health Care's NursesWeek.com giveaway and you can win one of five nurse-curated themed kits. Fifty winners will be randomly selected.
Badge Blooms: Through May 12, use code BLOOMSNURSEWEEK21 to save 50% off your purchase on a designer ID badge reel from the Etsy shop.
GO-Clip: This game-changing mask accessory pulls the mask straps off the ears thanks to these adjustable clips that attach to any hat or other headwear. Use promo code GONURSES for a buy one, get one free discount on any Go-Clip of your choosing through May 12.
Macayo's: The Mexican restaurant chain has a special menu set for Nurse Appreciation Week, valid May 6 through May 12 with a valid ID card.
Lululemon: The athleisurewear company offers a 25% discount (in-store only) when your valid ID is presented.
Free Insomnia Cookies: Bring your ID to an Insomnia bakery to grab a free cookie, no purchase required. And if you spend $5 in the store, you'll get a free six-pack of cookies.
Related: How To Help Healthcare Workers During The Pandemic
Discounted Rental Cars: Nurses can receive a 25% discount on their rental car purchase from Budget, Enterprise, and National, after verifying their ID.
Free Movies: EVO Entertainment Theaters in Texas will offer complimentary movies for nurses the week of May 6-12.
Free Mystery Boxes: NurseDeals.com is again giving away 10 mystery boxes, boasting that this year's collection has almost twice as many personalized items, making it the best mystery box yet! Winners will be chosen at random.
Red Lobster: Through May 17, nurses and other healthcare providers will get 10% off their order (dine-in or to-go) by showing a valid employee ID or badge at the restaurant.
Sketchers: Essential workers can get 30% off and free shipping through May 31 at Sketchers.com.
Under Armor: Through May 9, nurses and other first responders can enjoy 40% off purchases in stores and online. After that date, healthcare professionals (and military) can verify your identity at UnderArmor.com to receive a 10% discount.
Discounted Gas: BP gas stations are offering healthcare workers and other essential employees 15¢ off every gallon of gas for 60 days. Get the details here.
I Heart Mac & Cheese: The rapidly-growing restaurant chain has two special deals in honor of Nurse Appreciation Week. Nurses and nursing students who visit the restaurant's locations across the country on May 6 will receive a free entrée. And during the entire month of May, nurses and nursing students will receive 20% off every order.
Shared from Parade Magazine's Website – Discounts are reported according to the article. By sharing this information on our blog, Sumner College does not imply an endorsement of the offer or the business referenced and cannot be held liable.