Now Hiring – Dean of Students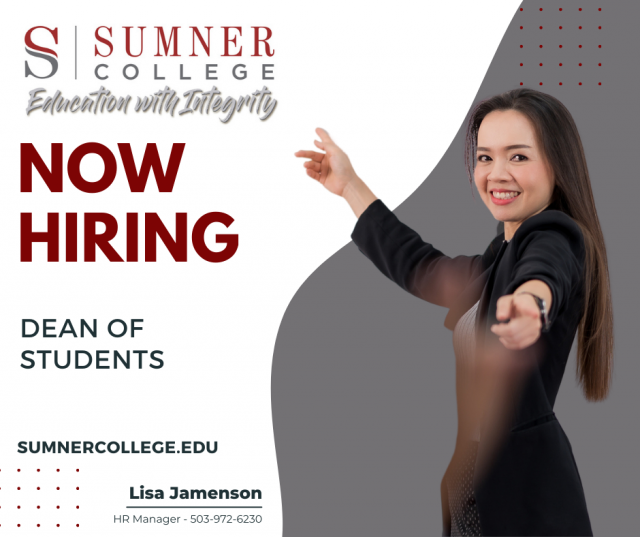 Sumner College is hiring for a Dean of Students.
Title: Dean of Students
Supervisor: Vice President
Job Summary:
The Dean of Students is part of the management team and will report to the Vice President. This team member provides oversight and manages performance of the registrar and general education faculty. The Dean of Students is responsible for efficient and effective academic program delivery and development of curriculum and faculty training tools.
Qualifications:
Bachelor's Degree
3-6 years of experience directly in or related field
Proven student retention process
Experience teaching in private post-secondary institutions is desired
Planning, staffing, and coordination skills are required and also preferred to be in an educational setting
Possess strong leadership abilities
The desire to help others succeed in their career goals
Duties and Responsibilities:
Works toward the achievement of the College's retention
Administers, implements, and monitors the College's institutional program effectiveness
Fosters strong programs that contribute to the education environment that encompass intellectual pursuits ranging from basic scholarly activity to innovative personal
Administers the College's program for professional growth and development, in-service programs, faculty meetings, program director meetings, and on-boarding tools for
Administers the policies and procedures contained in the College Catalog, the Faculty Handbook, and the Employee
Implements a scheduling process that includes maximum utilization of faculty and classrooms while meeting the needs of
Participates with other senior officers of the College in institutional planning, policy development, and problem solving.
Directs and assists program directors in the recruitment, selection, evaluation, retention, and success of
Conducts regular classroom observations of faculty, reviews all end of term surveys and provides timely formative feedback to faculty.
Makes recommendations on the selection of text and other instructional support
Assure all syllabi is updated with the most current textbook editions, page numbers, grading, ISBN's, resources, etc. The syllabi must be updated on the network drive prior to the term start.
Oversee the evaluation of transfer credit for incoming
Execute and ensure end of term surveys are completed for all
Review feedback with direct reports and provide feedback to program chairs. All faculty should have formative feedback within 30 days of the end of the
Assure that advisory board meetings are conducted at least annually, if not more, during the calendar year.
Conduct regular meetings with the program Assure program directors are conducting, at a minimum, quarterly meetings with faculty. Must attend all scheduled faculty meetings.
Assist in faculty training, hiring, interviewing, and finalizing teaching
Assure timely processing of student status changes through the student change
Monitor attendance and grades regularly and consult at risk
Review and approve syllabi and textbook change
Oversee, monitor and ensure the quality and content of instruction in the department and assist in the training and evaluation of instructors and Instructor evaluations must be completed each term as assigned by the vice president or campus president.
Provide oversight to the registrar and ensure timely and accurate reporting in the student information system.
Participate in the revision, development, maintenance and implementation of existing and new programs.
Interested candidates, please contact Lisa Jameson, Human Resource Manager at Sumner College.