Now Hiring – Financial Aid Officer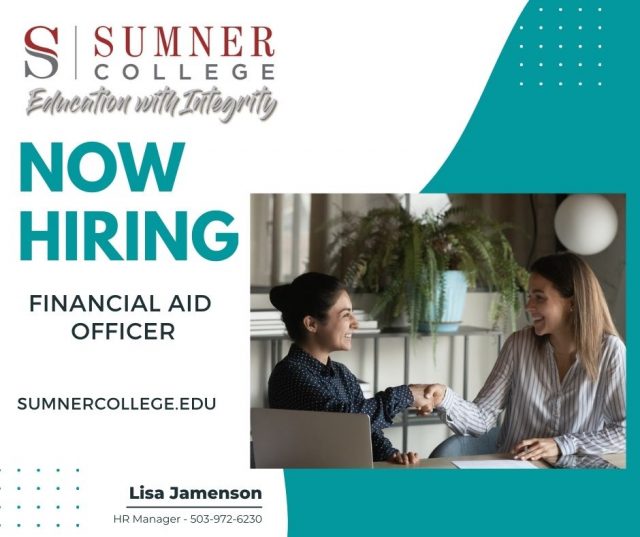 Financial Aid Officer 
Within a centralized financial aid services environment, evaluates, approves, and awards financial aid to students in accordance with federal, state, and college regulations, policies, and operating guidelines.
Assesses financial needs of students, and advises students and parents regarding financial aid options, processes, and requirements. Participates as appropriate in systems/procedures planning and management; implements and coordinates specific individual programs and/or assignments, in accordance with the overall objectives of the department.
Duties and Responsibilities
Disseminates information about Sumner College's financial aid program and application process, as well as counseling new students and their families on eligibility factors and alternative financing options.
Acts as back up for Senior Financial Aid staff
Implements, coordinates, and oversees one or more specific administrative programs and/or service areas, as assigned.
Provide financial aid counseling to students and parents regarding application procedures and eligibility requirements for student aid programs, and assist students and their families with the completion of application forms.
Reviews and assesses eligibility of applications for financial
Reviews for accuracy and provides signature approval/disapproval of loan applications, promissory notes, and other financial documents.
Participate in orientations and
Conduct entrance and exit interviews, in accordance with college, state, federal, and other agency
Responds to inquiries and researches and resolves problems related to transactions handled by the unit; serves as liaison with other constituencies in the resolution of day-to-day administrative and operational issues.
Provide information, in person, on the telephone, and via electronically to students, prospective students, and families regarding student financial aid, admissions, student account balance, and registration status.
Available to conduct workshops and/or presentations to students, parents, and/or other interested parties on financial aid policy and procedural issues.
Performs miscellaneous job-related duties as
Minimum Job Requirements
Bachelor's degree preferred, preferably with course work in counseling and business
At least one (1) year of experience in financial aid/related experience required
Experience with on-line student information systems and personal computers Knowledge of EdExpress, EdConnect,COD and NSLDS preferred.
Knowledge, Skills and Abilities Required 
Strong interpersonal and communication skills and the ability to work effectively with a wide range of constituencies in a diverse community.
Skill in the use of personal computers and related software
Ability to communicate effectively, both orally and in
Ability to verify and assess student eligibility for financial
Ability to analyze and solve
Interviewing
Ability to make evaluative
Ability to investigate and analyze information and draw
Ability to supervise and train employees, to include organizing, prioritizing, and scheduling work
Organizing and coordinating
Knowledge of federal and state laws, regulations, and policies concerning the provision of financial aid to students.
Knowledge of financial aid policies, procedures, and eligibility
Knowledge of data management systems and
Ability to develop and present educational programs and/or
Knowledge of the policies and eligibility requirements of a range of federal, state, and agency scholarship programs for tertiary students.
Ability to communicate effectively verbally, in writing, and over the phone