Nursing and Healthcare Trends We Can Expect to See in 2022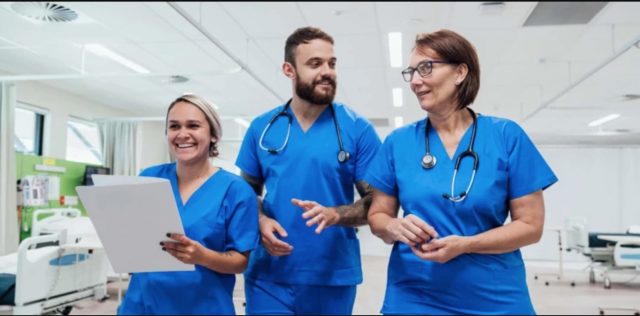 Knowing upcoming healthcare trends can help guide your practice and decisions. Two nursing leaders share the top 10 trends they expect in 2022.
While dramatic changes were happening in healthcare before the pandemic, COVID-19 caused these changes to occur more quickly. These changes have helped address stresses placed on the healthcare system.
We spoke with two seasoned nursing leaders about the trends in healthcare expected in 2022. We discuss those trends and offer insight into how healthcare delivery is evolving.
10 Nursing Trends We Expect to See in the Coming Years
The last of the baby boomer generation will retire in 2030. This means changes in how healthcare is delivered will be necessary to meet more complex medical needs. Nursing leaders expect to see these ten trending patterns in the coming year. They will affect how nursing care is managed and delivered.
1. Job Growth for Nurses Will Continue to Rise
The world is in the middle of a critical nursing shortage. Many factors have contributed to the current situation:
Increased demand for care during the pandemic
Retiring nurse educators mean a falling number of nursing faculty
Nurse burnout from the pandemic
An aging population with complex medical needs
Nursing staff reaching retirement
Greater shortage in rural areas
Job growth is a function of supply and demand. The U.S. Bureau of Labor Statistics projects the job growth for registered nurses (RNs) through 2030 to be 9%, as fast as average. They also estimate job growth for advanced practice nurses through 2030 to be 45%.
2. Home Health Will Increase in Popularity
Demand for home healthcare nurses will grow as the population ages. However, COVID-19 prompted an unexpected rise in need for these services. Home health benefits are a lifeline for vulnerable patients who are at increased risk of medical complications. This includes infectious illnesses like COVID-19.
In response, a new bill called the Choose Home Care Act was introduced to the Senate in July 2021 and to the U.S. House of Representatives in October 2021. If passed, it would expand the benefits provided by Medicare for home healthcare services. It would also open the door to more remote monitoring and tele health nursing services for seniors. Seniors could choose to go home rather than a skilled nursing facility after hospitalization.
As home healthcare expands, experts are calling for greater standardization in the industry. They point out that license requirements are not uniform across states, making applications at the federal level next to impossible. Industry leaders are calling for standard on boarding and vetting procedures. It would include background checks, experience, certification, and social security verification.
3. Care Models Will Experience a Necessary Shift
Anne Dabrow Woods, chief nurse at Wolters Kluwer Health, anticipates a necessary shift in how nursing care models are applied due to COVID-19. For instance, the New York-Presbyterian Healthcare System carried out a vigorous model of nursing care during the pandemic.
There are two key components to how care is delivered:
The mode of delivery
The skills of nurses on the hospital unit
"Healthcare models must migrate from traditional nurse-to-patient staffing models to a more agile one in times of crisis, that facilitates flexibility and supports the best care for patients," Dabrow Woods explains.
While staffing must be based on patients' care level and staff competency, Dabrow Woods proposes an improved model during crisis management: team-based with an increase in floating nurses.
This system would allow hospitals to address hardships caused by future public health events or insufficient staffing, not unlike what we face now with COVID-19. Dabrow Woods stresses the need to be flexible. A care model should always support an organization and a nurse's ability to deliver excellent patient care.
To continue reading this article visit Nursing Journal – Nursing and Healthcare Trends in 2022
Written by: Gayle Morris, RN, BSN, MSN
Photo Credit: Shared from Nursing Journal / Getty Images