Nursing Student Must Haves and Essentials for Nursing School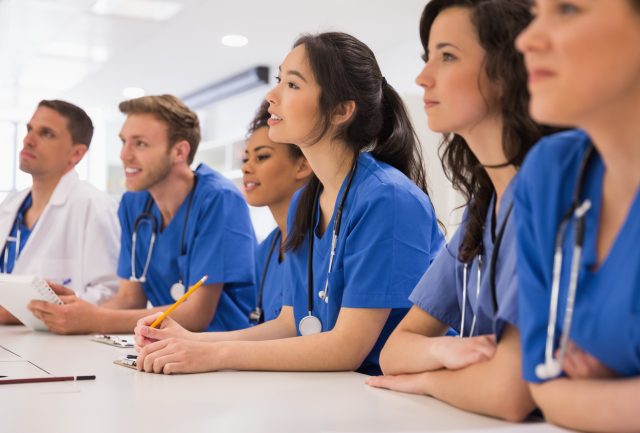 Article and links courtesy of NurseSecrets.com
*Disclosure: This post may contain affiliate links. "As an Amazon Associate, I earn from qualifying purchases."
Being a new nursing student is an exciting time. You are starting a wonderful journey. Now that you have been admitted it is time to think about the things you will need for nursing school.
There are certain supplies you will need for nursing school that is not required for other degree programs. We have put together a list of Nursing Student Must Haves and Essentials for Nursing School.
The list is divided into categories of clothing, class, clinical, books, and extras. We have attempted to vary the list to fit different budgets but still meet the need. If you have these items you will be ready for nursing school.
Class
We begin with items that are needed for the classroom because you will begin classes before clinical. Having the right items for classes will help you be successful in your studies.
Laptops
Laptops are required in most nursing schools. Even when classes meet face to face, they are supplemented with online education technology. A laptop can also be used to take notes during class. Whether you prefer a Mac or PC make sure you do your research. During the semester you will need to create documents, PowerPoints, and download additional information from your instructor. Here are a few choices for you.
iPad
iPads are not required but they can be a substitute for a computer. If you are a Mac person or just like the IOS format, an iPad may be for you. You can do the same things on an iPad as you can on a Mac or PC. Also, there are some great note-taking apps that are only available on the iPad. You can get iPads in different sizes and price ranges.
Backpack
Whether you purchase a regular backpack or a rolling backpack will depend on if you are using traditional nursing textbooks or using electronic textbooks. If you use electronic textbooks your load will be a lot lighter. This item is also a matter of preference. Also, make sure your backpack will keep your laptop and other electronic devices safe.
Tote
If you are using electronic books and a backpack is not your cup of tea, a great tote is an option for you. You will want to make sure that your tote fits your laptop or tablet.
Planner
This is a must-have to help keep you organized. Whether you chose a paper planner or a digital one, this is definitely essential for nursing school. Undated planners are great. You can use them regardless of when your semester begins. This way you are not wasting room in your planner for summers and in between semesters. Consider your usage and breaks throughout the year before you decide on a dated or undated planner.
Notebooks
Notebooks are definitely essential. Your only decision is whether you want a spiral-bound notebook or a binder. It depends on what you prefer.
The good thing about a spiral-bound notebook is that all of your notes stay together in one place.
The good thing about a binder with loose-leaf paper is that you can add or subtract notes easily. You can add PowerPoints and notes to go with PowerPoints. Notes can be easily removed if you rewrite them. You can use one binder for all your classes or have one for each class. I guess you can tell which one I like.
Writing materials
You will need pens whether ballpoint or gel. Most people have a favorite type of pen. Gel pens are very popular and they come in different sized points. Also, they come in many different colors.
Most hospitals have electronic charting so having a black pen may be optional.
Ballpoint pens are a better choice for clinical unless you have a gel pen that does not smear. You will use a pen to date dressings and IVs that may become wet and worn. Ballpoint pens tend to hold up longer under those conditions.
Highlighter
Highlighters are also essential for nursing school. You can use them to highlight your book, notes and also color-code your calendar.
Sticky Notes
Sticky notes help keep you organized and get stuff off your mind. You can add additional notes to your notes without rewriting them. Notes can be added to your textbook. You can write reminders as you study so you don't have to stop as things come to mind. Post-it notes are helpful in so many ways. They are easy to remove and re-stick.
Flags are great for keeping pages in your textbook and planner accessible. You can mark certain pages or you can mark your book chapters. They come in many colors so you can color code to highlight things that are more important than others.
Clothing
Nursing students wear uniforms. And most often these are specified by the nursing school. Some nursing schools give guidelines of what is and are not acceptable. Some uniforms are still all white and some have white tops and dark bottoms. Be sure you check your school's policy before you purchase these items.
Scrubs
You will need to purchase scrubs. You will be told the color but most times you can choose the brand. Pick a good and durable pair of scrubs. This is very important so you can purchase scrubs only once during nursing school.
Make sure your scrubs are comfortable and loose-fitting. During clinical you will be bending and squatting. You will be moving and assisting patients.  Your uniform needs to move with you.
Also, you will want a uniform that is wrinkle-resistant. One that can be taken out of the dryer and ready to go. You will not have time for ironing. Here are some great brands for nursing scrubs.
You may also want or need a lab jacket. Like with the uniform check with your particular school for requirements.
Tees
Students who do not like lab jackets opt for long sleeve tees. Temperatures vary and sometimes the scrub top is not enough. Some school policies allow long sleeve tees under scrub tops. They usually have to be white.
Compression socks
Wearing compression socks is a good habit to begin in nursing school and continue when you become a nurse. Compression socks help with circulation and reduce swelling in the feet and ankles. Check out this article about compression socks. https://www.webmd.com/dvt/choose-compression-stockings
Shoes
The most important thing about your nursing shoe is that they are comfortable and provide support for your feet. You will be doing a lot of walking and standing.
You will have the option of wearing a tennis shoe or a nursing shoe. There are restrictions on colors, so check with your nursing school. And, also most nursing schools require leather for sanitary purposes.
Clinical
Next, we will cover those items needed for clinical. The items on this list are some must-haves for clinical and a few that just make your clinical day better.
Stethoscope
All students must have a stethoscope. You will use your stethoscope in every clinical. A stethoscope will cost anywhere from $25 to $300. You will want to purchase a stethoscope that will take you through nursing school and your first nursing job.
Stethoscope tag
Whether you pay a little or a lot for your stethoscope you want it to keep it. Having an identifier on your stethoscope will help you keep up with it and be able to claim it. They don't always walk off on purpose but they do walk off. Sometimes if you leave it lying around no one knows who it belongs to.
Watch
You will also need a good "nursing watch." A nursing watch needs to be able to count seconds with not much effort. I always used a waterproof watch so I could wash it with my hands and wrist. You don't want a watch you have to take off. Also, a leather band will stay wet and not hold up well.
Clipboard
Large clipboards are nice for the lab but a small clipboard is better for clinical. The main reason to opt for a small clipboard is it can fit in your pockets. You don't want a large clipboard that you have to always find a place to put it. So, if you like clipboards think about a larger one for lab and a smaller one for clinical.
Bandage scissors
Bandage scissors are a nursing student must have that will take you into your career. They are great for cutting dressings to size, cutting tape, and opening packages. You will use this tool every clinical.
Hemostats
Hemostats are great. They are an all-purpose tool. You can use it for tightening and loosening, screwing, and unscrewing things like IV tubing and tops. They are also great for picking up items you may not want to touch like a needle. You may not see the use at first but your will. This is definitely a nursing student must-have.
Penlight
Penlights are a must-have item for clinical as you practice your assessment skills. Make sure you buy a dependable penlight. Some people use small flashlights, but some may be too bright to shine into a patient's eye.
Sharpie
I placed this under clinical because a sharpie can come in handy in your clinical rotations. They are especially handy for marking NG tube drainage and chest tube drainage. Having one handy can be a lifesaver.
 Calculator
This item can go under clinical and classroom. You will need a calculator in the clinical as well as the classroom. Your phone will not be an option for class tests or clinical. A basic calculator is fine.
Liquid Bandage
This item offers a layer of protection for you in clinical. If you have a scratch, bad cuticle, or a nail that broke wrong, this item can not only protect your wound but also help it heal faster. This is a really nice to have item.
Must Have Books
You will receive a booklist from your university. Certain books will be required and some will be optional. Here are a few books that will be of great value to you in the classroom and clinical.
Medical Dictionary
Drug Handbook
You are definitely going to need a drug handbook. This book will be helpful for writing care plans, giving medications, and also studying for exams (pharmacology).
Drug Cards
These are an older form of a drug handbook, but they have their place. They are great for clinical use. You can pull the drug cards for your patient's medication for the day. Some instructors may allow you to use it in place of writing out drugs on a care plan. You can keep them in your pocket easier than a book and use them to study or reference throughout the day.
One thing is that every deck will not have every medication, but you always write out cards and add them to your deck. Drugs cards make a great supplement for clinical.
Calculation and Dosage Books
You will start with the calculation of drug dosage from day one. Most universities will require calculation and dosage problems on each exam. You will need to pass a calculation and dosage test prior to clinical. This will mostly be self-study. We have two books that will help make this process easy and quick.
We have a free basic math book. This book is a refresher on the basic math you will need for solving calculation and dosage problems.
Our second book shows how to use dimensional analysis to solve calculation and dosage problems easily. This book guides you through dimensional analysis quickly and teaches you how to solve each type of calculation and dosage problem step by step.
APA Guide
An APA guide will be helpful with writing. You will have papers to write and colleges use APA format. An APA guide will help you through your writing assignments.
Extra Must Have
The items on this list are not required but they are really nice to have.
Charger
People use their phones for almost everything. In the busy life of a nursing student, there will be times when you use your phone or iPad a lot in one day. Having additional chargers so you are never left without them is a very good idea.
Extension cord
Just as your phone battery may run low so will your laptop. Depending on how your classroom is set up you may need to charge during class. You may even need to charge in a library. Having an extension cord that is long and will reach a wall outlet is another great tool. Your day can be ruined by a dead laptop.
EARBUDS
A good pair of comfortable headphones will be a great tool for your busy life. You will be able to listen to lectures that your instructor may have recorded or listen to notes you record yourself. You can use them to listen to meditations prior to an exam instead of getting caught up in a useless review that only confuses you.
Beverage Container
A beverage container that keeps your hot liquids hot and cold beverages cold is a great essential for class. A container that does double duty is the best. These have a great assortment of colors.
Lunch Containers
One way of staying healthy and frugal during nursing school is packing a lunch. You can pack a lunch for class and clinical days.
It's always fun to make a purchase. And it's even more exciting to purchase supplies for something as wonderful as nursing school. This list attempts to cover all the must-haves and essentials you will need to get you off to a good start in nursing school. Have fun shopping!
Also, check out 12 Tips for Nursing Students First Year.
Disclaimer: The information contained on this site is not intended or implied to be a substitution for professional medical advice, diagnosis, or treatment. All content, including text, graphics, images, and information, contained is provided for educational purposes only. You assume full responsibility for how you chose to use this information.