VA nurses often go above and beyond the call of duty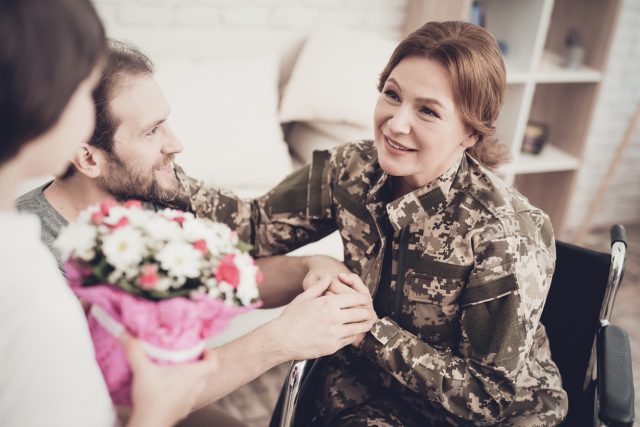 VA nurses often go above and beyond the call of duty when it comes to helping not only Veterans and their families, but also the communities we serve. Their rich commitment, bolstered by their training, shows us all how we can make the world a better place.
Read on to see how our nurses have gone the extra mile to effect positive change on the lives of those around them.
A simple conversation
Richard Hall of John Dingell VA in Detroit enjoys talking to fellow Veterans and engaging with them during visits to the emergency department, but taking some additional time with Veteran Larry Washington was unequivocally life-saving.
Hall, an emergency department nurse, former firefighter and Navy Veteran, struck up a conversation with Washington after noticing the Veteran had been to the emergency department multiple times over the preceding days. He also noticed that Washington's wife was also not feeling well.
Through conversation with the Washingtons, Hall learned that their apartment recently had a new furnace installed. He suggested that they have carbon monoxide levels checked, which confirmed CO levels were dangerously high. The suggestion saved the Washingtons' lives and potentially many others in the apartment complex.
"To know I had that effect on someone is the greatest feeling in the world," said Hall. "My dad's a Veteran. I'm a Gulf War Veteran. To give back to my brethren and care for the community in which we reside is why us nurses do what we do."
A family reunited
Three nurses from the Birmingham VA Health Care System went above and beyond the call of duty when they encountered a young woman outside their building who needed help.
Meme Barron, Stephanie Christian and Elonda Hendley, nurses in the community care department, were informed there was a young adult female sitting in a flowerpot outside the building. The nurses asked if they could do anything to help her and, without making any eye contact, the girl asked them if they could call her dad and tell him that she is okay.
The young woman's father, an Army and Air Force Veteran who receives care at Birmingham VA, came to pick her up about half an hour later. At the time, though, the young woman had been missing for several months. The father said that, if the nurses hadn't assisted his daughter, they might never have been reunited.
"Sometimes all it takes is just seeing about someone and taking the time to show that you care," Barron said.
A life saved
Linda Longshaw and her daughter Heather Longshaw, both nurses from the LTC Charles S. Kettles VA Medical Center, were on their way to dinner when they were flagged down by a group of frantic people in the street.
The mother-daughter duo found a person on the ground, unresponsive, not breathing and with no pulse. The Longshaws quickly began working as a team to get the person breathing and restore a pulse.
Responding police arrived and provided an automatic external defibrillator, which helped the nurses aid their impromptu patient as they continued CPR. They managed to get the person breathing again as the local fire department and EMS team arrived on the scene to take over care.
Their assistance helped save the person's life.
"We know that we would want somebody to help our family," Linda said. "That's what we thought when we pulled over and parked the car."
Work at VA
VA nurses make a difference in the lives of those around them. Their training, talent and dedication make them irreplaceable members of our team. Join them, and us.
Content shared from U.S. Department of Veterans Affairs News