Why Should You Earn a BSN? It May Soon Be a Requirement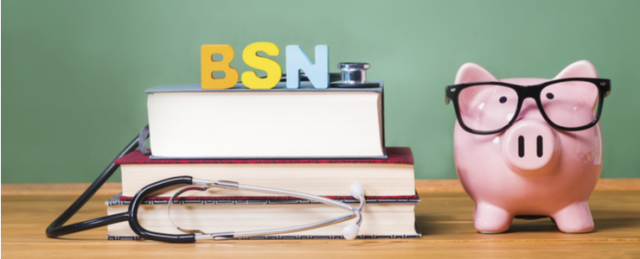 According to the landmark announcement of the 2010 Future of Nursing report by the Institute of Medicine (now the National Academy of Medicine), 80% of all practicing RNs should have their BSN by 2020
This isn't a demand or a law, but it's informed speculation based on research showing that a Bachelor of Science in Nursing (BSN) degree is important for the nursing profession. If you are thinking about becoming a nurse, it is probably a good plan to start with a BSN or have a clear path to get your RN to BSN or ADN to BSN. Nurses with a BSN, or another higher degree, are considered more valuable and sought after than nurses with a diploma or an associate's degree.
What Is the Difference Between BSN and ADN Nurses?
The associate's degree requires two years of study compared with a baccalaureate program which typically takes four years to finish. The Associate's Degree in Nursing (ADN) will provide the foundation needed to take the NCLEX and will allow you to become a registered nurse (RN). However, the ADN nurse does not have nearly the same depth or intensity of coursework as the BSN nurse. From communication to in-depth psychology courses, there are many requirements covered by the BSN that do not fit into the ADN course schedule.
One of the biggest differences between the BSN and ADN degrees are the clinical requirements. BSN-prepared nurses have to complete clinicals that require them to work out their education in real-life settings with the oversight of a professor. These intensive settings are one example of how a BSN program can better prepare nurses with increased field experience.
Most hospitals acknowledge this difference by offering higher pay to RNs with a BSN. While an entry-level ADN nurse will make around $40,000 each year, a BSN nurse starts at over $70,000 on average. Both start as entry-level roles in hospitals and other healthcare settings but, as they move up, BSN nurses become the top 25% highest earners in their field, averaging around $82,000. As hospitals clearly demonstrate with their pay scales, there is a big difference between the ADN RN and the BSN RN in terms of the level of education and skillsets.
Why Is a BSN Important?
The American Association of Colleges of Nursing (AACN) expects BSN nurses to be educated on topics including communication, community education, patient education, nurse management, clinicals, leadership, patient psychology, and more. These differences have led to better patient outcomes and lower mortality rates.
The University of West Florida has published studies showing a clear relationship between higher education and better nursing practices. Lower mortality rates, fewer failure-to-rescues, and fewer post-surgery complications were seen in hospitals with higher percentages of BSN-prepared nurses. A decrease in stay times and patient deaths was also clearly linked to the increase of BSN nurses on the hospital staff. A study from the University of Michigan even reported that as many as 10.9% fewer deaths occurred with just a 10% increase in the proportion of BSN-prepared nurses on the floor.
Studies showing these outcomes have led to a push for increasing the number of BSN-prepared nurses to 80% in hospitals. And hospitals continue to recognize the importance of nurses who are better prepared to communicate with patients and have the experience to deal with an onslaught of cases.
Will a BSN Be Mandatory for the Nursing Profession?
Since 1964, there has been a push to require a BSN for all nurses in healthcare settings. This isn't a change that will happen overnight but the medical field is currently facing a shortage of qualified nurses. This is projected to become an even greater gap in the workforce, with the National Nursing Workforce Survey reporting that nurses over 50 make up half of the current RNs in the United States.
Over 10 years ago, the Institute of Medicine (IOM) wrote a Future of Nursing Report that highlighted eight areas where nurses could improve US health care. One of the goals was to increase the number of nurses hired with BSN degrees. According to the report, nurses that finished baccalaureate training were better equipped to handle the increasing complexity in the nursing field.
In California, nursing graduates with a BSN increased from 54% to 60% in seven years (from 2010 to 2017). This was largely due to universities working directly with community colleges to create seamless ADN to BSN programs.
The "BSN in 10" Law
Some states, specifically New York, have adopted laws requiring nurses to continue their education past an ADN. The law gives nurses 10 years to obtain a BSN after becoming an RN. This controversial bill from 2017 states:
"The legislature finds that expanding the educational requirements for the profession of nursing, while maintaining the multiple entry points into the profession, is needed. (…)  This proposal is the result of a growing body of research evidence that additional education results in better patient outcomes. Therefore by requiring the baccalaureate degree for continued registration as a registered professional nurse, this legislation seeks to be responsive to meet the increasingly complex health care needs of the residents of New York state."
While this law only impacts New York nurses, it could be considered a test for other states. It follows the example of other countries that already require higher education degrees, like a baccalaureate, to enter the nursing profession. This law only impacts nurses who have not started their studies since it was adopted, grandfathering in those who already joined the profession.
"This legislation affects future nurses graduating from an associate's degree or diploma nursing program who would be required to obtain a baccalaureate in nursing within ten years of initial licensure. (…) All current nurses licensed in New York and students in programs preparing for registered professional nursing are to be exempt from the new requirement."
Is an Associate's Degree in Nursing Worthwhile?
There are a lot of students looking for online nursing courses because they need to study at night or can't afford four years of tuition. The ADN currently helps students get into the field and start working faster. So, in many cases, an associate's degree can be the best option. However, most nurses should plan to further their education. RN to BSN courses allow working nurses to get their baccalaureate degree while they earn money as an RN. Some hospitals or healthcare centers will even pay for their employees to obtain higher degrees.
If you are able to get your BSN, a lot of statistics and nursing history will tell you that's the best way to go. Even though it isn't currently a requirement to start working as a nurse in most states, the future is strongly leaning towards an expectation for nurses to have a bachelor's degree. It is even possible that a BSN will become a requirement within the next year.
Not only will having a BSN put you in a better position to get a job as a highly qualified RN, but it can also give you great career options. Getting your BSN and then advancing to a master's or even a doctorate in nursing (DNP) can open doors for all kinds of career moves within the field.
Content shared from #EveryNurse
Sumner College now offers a 100% Online RN to BSN program. Learn more