Yoga for Patients with Psychiatric Illness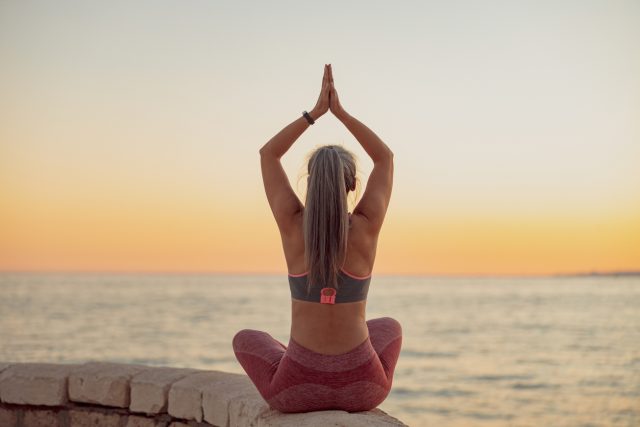 Yoga-based treatments, which are recognized by the National Institutes of Health's National Center for Complementary and Integrative Health as a form of complementary and alternative medicine, have proven to be beneficial for people with various psychiatric disorders, including depression, anxiety, posttraumatic stress disorder, and attention deficit–hyperactivity disorder, as well as schizophrenia and other psychotic disorders.
Purpose:
The purpose of this evidence-based practice (EBP) project was to offer structured yoga sessions as a means of providing stress relief, promoting relaxation, reducing anxiety, and improving quality of care among male and female adult patients (ages 18 years and older) hospitalized in a locked medical–psychiatric unit within an academic medical center for treatment of both acute medical and acute psychiatric conditions.
Practice change and implementation:
The Iowa Model and Implementation Strategies for EBP provided the guiding framework for this pilot project. Patients were offered once weekly, 30-to-60-minute yoga sessions for 12 weeks and were screened for their ability to participate by the nurse–yoga instructor and the interprofessional team. Using a Precision Implementation Approach, a data-driven selection of strategies from the implementation framework promoted the adoption and sustainability of the practice change, which were further advanced through interprofessional reinforcement of yoga practice and internal reporting.
Results:
Patient feedback was sought before and after yoga sessions. Thirty-nine patients responded to the pre-yoga questionnaire and 38 patients responded to the post-yoga questionnaire. Patients reported improved mood after yoga, with 23% (nine of 39) reporting feelings of calm and relaxation pre-yoga compared with 76% (29 of 38) post-yoga, and 41% (16 of 39) reporting feelings of anxiety pre-yoga compared with just 5% (two of 38) post-yoga.
Conclusion:
Yoga sessions provided by a nurse certified in yoga instruction improved patients' mood and sense of well-being. Instructional materials and videos were created to promote sustained use. The EBP of providing yoga sessions grew from a pilot program to a sustained change with more widespread use. In addition to patients hospitalized on medical–psychiatric units, the health system expanded the sessions to include inpatients on behavioral health units.
This article is shared from the American Journal of Nursing, Off The Charts Blog. For entire article and other articles in the July issue visit: Website