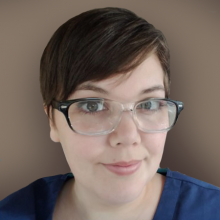 Amy A.
RN
Registered Nurse
Manor Care Salmon Creek
Graduate, Associate Degree in Nursing Program
"I have always been passionate about helping others."
Amy's Story
Before attending Sumner College, Amy was raising three children and working overtime shifts at a warehouse. Amy has always had a passion for helping people, as well as a love for medical science and the human body. She knew
that "By becoming a nurse, I would be able to combine all of that."
Amy believes the Associate Degree in Nursing program "was one of the best things to ever happen to me. The books we used were great and the lab activities were very practical. The instructors were very insightful and had first-hand
knowledge of the field." Amy recalls her time in preceptorship was "wonderful and made me feel ready to enter the workforce as a proud and compassionate Registered Nurse." Amy came across Sumner College when she was searching
online for nursing schools in the Portland area.
Amy sees her education taking her "Wherever I want to go. The future is bright." She is employed as a Registered Nurse at Manor Care.