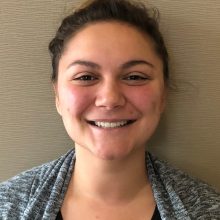 McKayla P.
LPN
LICENSED PRACTICAL NURSE
Avamere Health Services
Graduate, Practical Nursing Program
McKayla's Story
Before attending Sumner College, McKayla was working over 70 hours a week and occasionally taking some online courses. During this phase, she felt unsuccessful.  She knew she always had a passion for science and a fascination for the complexity of the human body.  Her career dream was to work in a healthcare facility where there was an opportunity for growth.  To fulfill her goals, she applied to Sumner College's Practical Nursing program because of Sumner's professionalism and seemingly relaxing atmosphere.  According to McKayla, "It was exactly as it appeared to be!"
After successfully graduating from our Practical Nursing program, McKayla is working as a Licensed Practical Nurse for Avamere Health Services.