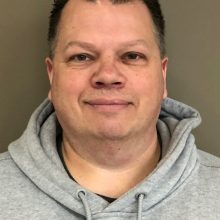 Scott G.
LPN
LICENSED PRACTICAL NURSE
Discovery Nursing and Rehab
Graduate, Practical Nursing Program
Scott's Story
I have been a Licensed Massage Therapist for 20 years and have always enjoyed helping others improve their overall well-being.  After experiencing the enormous loss of my wife to breast cancer, I knew I wanted to do more as far as helping others with their healthcare needs. To achieve my new career goal, I chose to enroll at Sumner College's Practical Nursing program because it allowed me to get started immediately with all the prerequisites included in the curriculum!  An added plus was the smaller class size which I really enjoyed!  My ultimate goal is to be a traveling nurse or work in an urgent care facility.
Scott G., LPN –employed at Discovery Nursing and Rehab in Vancouver, WA