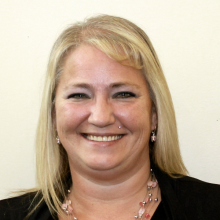 Traci F.
LPN
Charge Nurse & Preceptor
Avamere Rehabilitation
Graduate, Practical Nursing Program
"...if somebody wants to make a career change but is hesitant, I would encourage them to GO FOR IT!"
Traci's Story
Traci was a professional business owner for many years until one day she decided that it was time for her to make a career change. Like many established professionals, there was a bit of apprehension in making that switch. She knew she wanted to get into the medical field and become a nurse, but the question that constantly went in her mind was, "Can I do it?"
After talking with a friend who had graduated from the nursing program at Sumner College, Traci decided that she was going to make the switch, and was determined to become a nurse. Having previously attended community college to fulfill her prerequisites for nursing, and after careful consideration, she decided that Sumner College was her best option to begin this career change.
Traci was determined to succeed, and it helped that she had the support from the faculty and staff at the College. She states that 'not only did she gain the practical skills from her instructors, but she also gained valuable life lessons through them'. Traci feels that the biggest aspect of nursing is your ability to think critically and have sound judgment, both in which she now utilizes on a daily basis.
Traci loves making a difference in the lives of people every day, and plans on pursuing her education to become a Registered Nurse and wants to work with Veterans. She feels that this is just a small part of her way of saying thank you to the men and women of the Armed Forces for their service to the country.