TOP MEDICAL ASSISTANT SKILLS
Medical Assistant Skills
Different employers may emphasize different skills when hiring staff, so be sure to read all job descriptions carefully. Be ready to provide examples of how you embody each skill because most likely your interviewer will ask you to provide explanations.
Here's a look at the top medical assistant skills you'll need:
Basic Office Skills
These office skills are similar to those done by an administrative assistant in any field. You'll need telephone courtesy, strong written and verbal communication, and strong customer service skills.
In some cases, you will have to handle billing and bookkeeping, and you'll have to troubleshoot computer problems. If you have experience with a particular computer system or software, mention that in your resume. Microsoft Excel and Word skills are commonly needed. You will need writing skills to handle correspondence.
Experience with specific phone systems, PC or Mac computers, and medical records management software may also be required.
Medical Administrative Skills
Medical administrative skills include monitoring inventories of medical supplies and re-ordering as needed, selecting the best suppliers by price and quality. You'll schedule patient appointments, arrange for hospital admissions, work with laboratory services, update patient records after exams and test results, and record medical histories.
You could also have to handle billing, which involves processing insurance forms, reconciling co-pays, resolving insurance billing problems, and advocating for patients with their insurance companies.
You'll likely need to learn medical practice software and screen sales reps, as well.
Medical Skills
Medical assistants are not doctors or nurses but must provide simple medical and nursing care under the direction of doctors. You'll be asked to administer medications, give injections, apply dressings, draw blood, secure blood and urine samples, remove sutures, perform EKGs, and convey information and relay questions from doctors to patients and vice-versa. You'll prepare treatment rooms for patient examinations.
You'll arrange prescription refills, perform accurate assessments of vital signs, and possess basic life support (BLS) skills, such as CPR. You'll have to follow infection control and safety guidelines as well as quality control standards when sterilizing and setting up instruments, maintaining medical equipment, and preparing treatment rooms for patient examinations.
When you apply for a job, be sure to specify your relevant certifications.
Patient Interaction
Medical assistants often work directly with patients. Because of this, you need a whole set of skills related to customer service and what is loosely called "bedside manner." You will need to explain medical instructions, information, and procedures in a clear, non-technical way and be able to receive, interview (and sometimes triage) patients.
You'll receive patients and prepare them for exams. You'll also need to remain calm and supportive with distressed or difficult patients. Fluency in a second or third language is helpful. And of course, you'll have to maintain confidentiality.
When interviewing, be prepared to discuss specific experiences with patients and how you handled them, while maintaining patient confidentiality.
Personal Qualities
Emphasize the personal qualities you possess that make you the best person for the job you're applying for. To be a medical assistant, you have to be detail-oriented, committed to accuracy,  empathic, and adaptable.
Good interpersonal skills are a must. You must also be able to multitask. You should be well-organized, capable of prioritizing and problem-solving,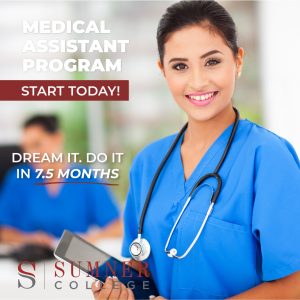 and able to collaborate with teammates. You must be an active listener. Possessing manual dexterity and speaking a foreign language are helping things to mention.
Sumner College's Medical Assisting Program has classes starting every 10 weeks. Enroll in our Portland or Arizona classes today.
Learn more about Medical Assisting: