5 Reasons Why Every Nurse Should Get a BSN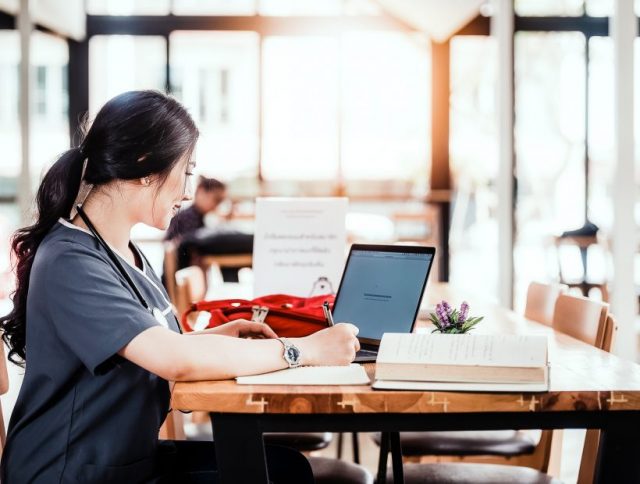 The Institute of Medicine's The Future of Nursing report recommends that 80% of nurses will earn a bachelor's degree by the year 2020. Most healthcare facilities agree that nurses should earn a BSN to pave the way for better preventative and inclusive patient care. It can be daunting to think about going back to school, especially if you already have a job and a family. However, earning your BSN is a crucial key to making the most of your nursing career.
Do I need a BSN to be a travel nurse? We're breaking down travel nursing with an ADN
1. Expanded Opportunities
Nurses with their bachelor's degree have an advantage over RN's in that their studies prepare them to practice in different settings and specialties. With a BSN, you can consider jobs such as a Nurse Manager, Nurse Advocate, Informatics, Oncology, and Perioperative nursing. Plus, a BSN is a requirement for master's programs like APRN and CRNA. If you are wanting to branch out and have more opportunities in your career, it should be on your radar.
2. Earning Potential
It's no secret that earning a higher degree can dramatically increase your earning potential. Having a BSN will make you eligible to earn specialized certifications for higher-paying jobs, as well as managerial and administrative jobs, which have higher pay rates. According to nursejournal.org, there is a large salary discrepancy between ADN and BSN nurses. At first, you may not notice, but over time the additional education adds up. The starting salary for a registered nurse with a BSN can be similar to a nurse with an ADN.
RNs earn a median annual salary of $71,730
RNs with a BSN earn an annual income of $82,000
According to Payscale, RNs earn an annual salary of $68,000 on average, but this nursing salary study found that the annual salary for BSN nurses will continue to grow because of the growing need for BSN-prepared nurses.
3. Having a BSN may be a Requirement in the Future
Some states, such as New York, are requiring that nurses earn their BSN. Recently, New York Governor Andrew Cuomo signed a law that requires nurses to earn their degree within 10 years of their initial licensure. The "BSN in 10" legislation only applies to those who are seeking initial licensure, so if you already have a nursing license, you are grandfathered in. However, keep in mind this law and others that may soon follow will certainly increase competition for the best jobs. This legislation will set a precedent nationwide, making now a timely place to get started.
According to the American Association of Colleges of Nursing, the BSN-prepared nurse isn't the way of the future, but the nurse of today.
The nation's Magnet hospitals, which are recognized for nursing excellence and superior patient outcomes, have moved to require all nurse managers and nurse leaders to hold a baccalaureate or graduate degree in nursing by 2013. Settings applying for Magnet designation must also show what plans are in place to achieve the IOM recommendation of having an 80% baccalaureate prepared RN workforce by 2020.
Employers are expressing a strong preference for new nurses with baccalaureate preparation. Findings from AACN latest survey on the Employment of New Nurse Graduates show that 46% of employers require new hires to have a bachelor's degree while 88% strongly prefer baccalaureate-prepared nurses.
Find these stats, and more, on the AACN Fact Sheets.
4. Better Patient Care
Nurses are known for being caring, sensitive and empathetic caregivers – it's usually why they enter the nursing profession in the first place. However, the research shows that getting your BSN will make you a better nurse by giving you more critical thinking skills, clinical knowledge, and specialized education. The medical landscape is quickly changing with dual diagnoses, complicated disease processes, advanced procedures, and technology. Earning your BSN will help ensure you provide the best care and treatment to every patient, every day.
5. You can Earn your BSN While Working Your Current Job
Many people in other fields don't go back to school for advanced education because they would have to quit their current job, and they can't afford to fit it into their schedule. There are many online RN to BSN programs that can fit your schedule and allow you to continue working.