Hiring | Nurse Educator (Nurse Instructor, Nurse Educator, RN Instructor)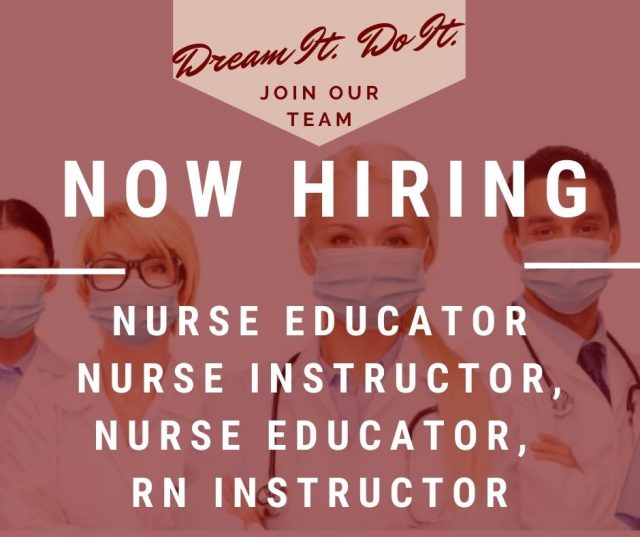 Sumner College is hiring for a Nurse Educator (Nurse Instructor, Nurse Educator, RN Instructor)
Title: Nurse Educator (Nurse Instructor, Nurse Educator, RN Instructor)
Supervisor: Department Chair
Benefits for Nurse Educator:
Sumner College will invest in you by paying your tuition in full, to attend the RN to BSN online program offered at Sumner College after completing 90 days of employment. To be eligible, employees must be in good standing and commit to teach at the college for one year. This time frame can be while an employee is enrolled in the program, or after they complete the program.
Job Summary of Nurse Educator:
The Nurse Educator will teach, guide students in their labs and clinicals, along with enhancing the design of the curriculum. This person will also be responsible for evaluating students and giving feedback to students on how they are progressing in the program. The Nurse Educator will be a motivated and dedicated teacher who will stay current on the latest nursing research and communicate this information to students.
Requirements of Nurse Educator:
• Unencumbered Oregon RN license • Associates degree in Nursing • At least 3 years nursing experience • Ability to engage students in active learning and critical thinking • Excellent communication skills Duties and Responsibilities: • Delivers curriculum as outlined in provided syllabus • Engages students by creating and maintain a safe and encouraging learning environment • Documents student's attendance, participation, and post grade in accordance with college policy • Provides timely and constructive feedback • Utilize multi-media equipment and software for communication and teaching • Support the delivery of the College mission, vision, program, and course outcomes • Participate in curriculum evaluation and planning • Full-time faculty participate in faculty meetings and college committees • Meet in-service and professional development requirements • Maintain knowledge of and adhere to the Board of Nursing Chapter 851 Division 21 Standards for Approval: Nursing Faculty • Other duties as assigned by the department head
Job Posting updated 5/24/2021
Open until filled