Job Outlook for Registered Nursing (RN)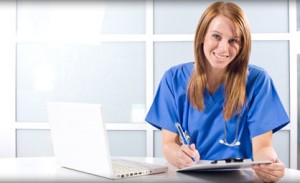 The nursing profession, like healthcare in general, is in a state of change. The profession of nursing is becoming increasingly complex as patient care is moving out of hospitals and into outpatient and primary care settings. For years, the role of nurses has been evolving from a bedside caregiver to a specialized member of an interdisciplinary medical team.
Registered Nurse Job Outlook
According to national data published by the U.S. Bureau of Labor Statistics (BLS), employment for registered nurses (RNs) is expected to increase 16% by 2024, which is faster than the national average for all other occupations. The BLS also stated that registered nurses with at least a Bachelor of Science in Nursing (BSN) are expected to have the best job opportunities. Prospective students are encouraged to conduct independent research to determine actual job growth rates, which may vary according to location, education and experience.
Many employers have instituted hiring policies that require all RNs to have BSN degrees. Others will employ RNs without a BSN Degree, but typically require new RNs to complete their BSN degree within a certain amount of time.
RN Duties and Responsibilities
RNs perform a wide variety of job duties during their shifts, caring for and educating patients about their conditions, as well as establishing trust and building rapport with patients and their families. Some daily RN duties might include:
Working with a variety of patients, from pediatric to geriatric, or specializing in one of many possible areas such as neonatal intensive care, cardiac care, neurologic care or dermatology
Observing and recording patient behavior
Consulting with physicians and other healthcare professionals
Establishing treatment plans, operating medical equipment
Supervising licensed practical nurses (LPNs) and certified nurse assistants (CNAs)
Performing diagnostic tests
Treating medical emergencies, such as heart attacks, strokes, car accidents and burns as well as recovering post­operative patients
Administering medications and treatments
According to recent data from the BLS, registered nurses earned an average salary of $67,490. Reported salaries ranged from $46,360 for those in the lowest 10% to more than $101,630 in the highest 10% of earners.
Because salary potential may vary depending on location, education and experience, prospective students are encouraged to conduct independent research to determine actual earning potential.
Career Outlook
A variety of exciting nursing positions and specialties are available in today's dynamic healthcare industry. Among the career possibilities for highly skilled nurses are:
Clinical Nurse Manager
Chief Nursing Officer
Nurse Anesthetist
Critical Care Nurse
Labor and Delivery Nurse
Patient Educator
Today's registered nurses are relied upon for their critical ­thinking and problem ­solving skills and are expected to possess a much broader base of knowledge, including humanities, social sciences, and data analysis. They continue to be in high demand across the country, and increasingly, employers are seeking those with the advanced skills and clinical knowledge that can be obtained through BSN programs.
Some content provided by Villanova University
Learn more: