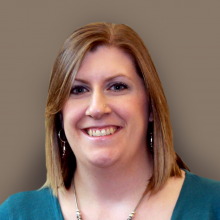 Rebecca H.
LPN
Licensed Practical Nurse
Roolan Healthcare
Graduate, Practical Nursing Program
"I made the biggest and best decision of my life. I quit my job, moved back home with my son, and applied to Sumner's Nursing Program."
Rebecca's Story
Before Rebecca's journey began at Sumner College she was a single mom living in Seattle, working at a job that just barely paid the bills. She attended a different college right out of high school and started a new career. Unfortunately, that career was in the building industry. Soon after she started working in that field, that industry wasn't doing well. Rebecca was tired of jobs that didn't give her fulfillment, or even a little bit of joy. She did not want a job that she dreaded every day.
Rebecca decided to make the biggest, and best, decision of her life. She quit her job and moved back home with her son, and applied to the nursing program at Sumner College. She was terrified, to be quite honest. Luckily she had a great support system, both at home and at Sumner.
Graduating from Sumner has given Rebecca many more options than she had before. Since she graduated from the Nursing program she has so many employment options, from doctor's offices to nursing homes. Not only that, but "The student services department has been fantastic with resume assistance and job placement".
Rebecca is currently an LPN, working as a medical nurse at a nursing home in Lacey, WA. She met and married her husband, Will, while attending Sumner.