Nursing Assistant Skills and Qualifications
Top Skills and Qualifications for Nursing Assistants
If you're interested in a career as a nursing assistant (NA), you may have questions about which specific skills you need to be successful in the position.
Indeed, it takes a multitude of skills to succeed in any healthcare role, and a NA career is no different. So whether you've recently completed training or you're already working in the field, here are  the most important qualities of successful NAs.
1.    Strong Attention to Detail
Nursing assistants must have good attention to detail. They work daily with data, patient charts, and forms containing pages of pertinent health information that they must accurately interpret and transcribe.
You also need to pay very close attention to patients' nonverbal cues and be on the lookout for any physical or mental health changes. Of all the nursing professions, NAs tend to provide the most direct and frequent care to patients—noticing these small details about a patient's health can save lives.
2.    Excellent Communication Skills
Clear and direct communication is key for the career. Nursing assistants work directly with many different groups, from patients and their family members to doctors, nurses, physical therapists, and social workers.
Good written communication skills are also a must for NAs who need to communicate via clear and concise notes when reporting and documenting details about a patient's wellbeing.
3.    Knowledge of Medical Terminology
NAs should know the wording pertaining to infections, conditions, and general medical terminology to follow proper safety protocols and communicate effectively with other healthcare workers.
4.    Patience
Patience is one of the must-have NA skills because nursing assistants are responsible for providing constant comfort and care.
By remaining patient and keeping a calm and supportive demeanor, NAs can provide the best possible care without exacerbating an already challenging situation.
5.    Empathy and Compassion
Empathy and compassion are soft skills that are crucial for every type of healthcare job, including nursing assistants. Successful NAs use these two qualities daily, especially when working in nursing homes.
6.    Flexibility
Every day is different—some days are smooth sailing while others can feel much more challenging. And, with shortages across the country, nursing assistants may be asked to work weekend shifts, switch shifts, or work more hours than initially scheduled.
Working day in and day out with sick and elderly patients also requires significant flexibility. A method or care approach that works for one patient may not work for another, so NAs must rely on their creativity and flexibility to adapt to ever-shifting personalities and priorities. Remaining flexible, professional, and on-task no matter what comes up is an essential trait for NAs.
7.    Optimism
During nursing assistant work, NAs inevitably run into some difficult, sometimes negative situations. However, it's important to stay enthusiastic and positive—this optimism radiates to patients and coworkers and helps foster an overall healthy and happy environment.
Plus, finding the best in every situation and not letting the bad days get them down can contribute to good overall mental health and less burnout for NAs.
Sumner College offers Nursing Assistant classes on our Arizona campus. Learn more 
Nursing Assisting Median Annual Salary
Nursing Assistant Program in Arizona
Sumner College offers a Nursing Assistant Program on the Arizona Campus.
If you're looking for a career where you can make a difference in the lives of others, a career as a Certified Nursing Assistant (CNA) or Licensed Nursing Assistant (LNA) may be perfect for you. CNAs and LNAs work alongside nurses and physicians to ensure the comfort and safety of people who are often at their most vulnerable. Through direct interaction, they are a vital link between nurse and their patients.
This four-week program will provide you with knowledge and skills including patient safety and rights, diet and nutrition, ambulatory transfers and CPR. Sumner College is licensed by the Arizona State Board for Postsecondary Education and is approved by the Arizona State Board of Nursing to offer the Nursing Assistant Training Program.
Source: The U.S. Bureau of Labor & Statistics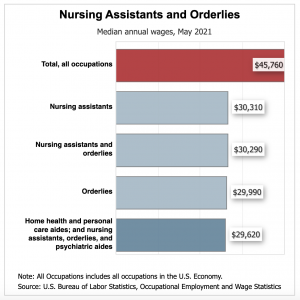 The median annual wage for nursing assistants was $30,310 in May 2021. The median wage is the wage at which half the workers in an occupation earned more than that amount and half earned less. The lowest 10 percent earned less than $23,880, and the highest 10 percent earned more than $44,240.
The median annual wage for orderlies was $29,990 in May 2021. The lowest 10 percent earned less than $23,970, and the highest 10 percent earned more than $46,470.
In May 2021, the median annual wages for nursing assistants in the top industries in which they worked were as follows:
| | |
| --- | --- |
| Government | $37,310 |
| Hospitals; state, local, and private | 35,870 |
| Nursing care facilities (skilled nursing facilities) | 29,970 |
| Continuing care retirement communities and assisted living facilities for the elderly | 29,900 |
| Home healthcare services | 29,280 |
In May 2021, the median annual wages for orderlies in the top industries in which they worked were as follows:
| | |
| --- | --- |
| Government | $36,950 |
| Hospitals; state, local, and private | 30,010 |
| Ambulatory healthcare services | 29,620 |
Although most nursing assistants and orderlies work full time, some work part time. Because nursing and residential care facilities and hospitals provide care at all hours, nursing aides and orderlies may need to work nights, weekends, and holidays.