OR Nurses Returning to Full Capacity, plus Backlog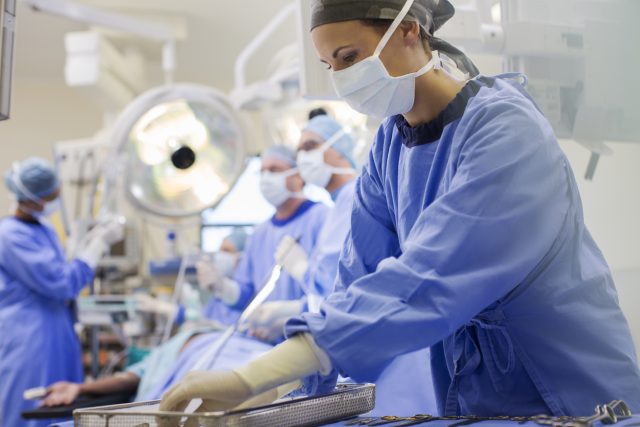 By Debra Wood, RN, contributor
In the early weeks of the COVID-19 pandemic, many governors ordered elective surgeries postponed to conserve personal protective equipment (PPE) and other resources. Operating rooms and post-anesthesia care units (PACUs) were converted to negative pressure rooms or critical care beds.
Now, with those orders lifted, surgeons are performing elective surgeries, often with some additional precautions.
"[Our nurses] are happy to get back into the operating rooms and doing what they love," said Tracey Penaloza, RN, MSN, CNOR, director of perioperative services at Mercy Medical Center in Baltimore, who praised Mercy leadership for redeploying OR nurses to other units and to check points to screen people arriving at the hospital for elevated temperatures.
"Mercy made sure people continued taking home a paycheck, so they could jump back in when we could resume surgeries," Penaloza added. "My heart is so warm because of how everyone from every level has come together to take care of each other in this crazy time."
Mercy's operating room RNs were encouraged to spend the time obtaining certification and completing clinical-ladder evidence-based projects. Some perioperative nurses deep cleaned the operating rooms and stocked cabinets, so everything was ready to go when the Maryland governor gave the okay for elective procedures. Now, the hospital has returned to its prior surgical volume.
"It was so amazing with the great spirit here," Penaloza said. "Our leadership allowed us to reinvest in the unit, and the nurses felt empowered."
FIND travel OR nursing jobs across the U.S.
Returning to Elective Surgeries
"It is very complicated to chart the return of elective surgeries, with new challenges and policies for a world that includes the ongoing risk of COVID-positive patients in the midst of needed care," said Renae Battié, MN, RN, CNOR, vice president of nursing with the Association of periOperative Registered Nurses (AORN).
In April, AORN, the American College of Surgeons, American Society of Anesthesiologists and American Hospital Association issued a Joint Statement: Roadmap for Resuming Elective Surgery after COVID-19 Pandemic. The document addresses the timing of reopening, securing adequate personal protective equipment, testing, prioritizing cases, collecting and managing data, safety and mitigating risk.
"As the return to elective surgery gets underway, periop nurses are actively involved in returning the physical spaces of the operating room and PACU to their pre-COVID patient care status," Battié said. "Sometimes this means returning the negative pressure OR back to positive pressure, and a segregated PACU area back to a general recovery area."
Dealing with COVID-19
"Knowing that we will have COVID-19 around for a while, all surgical units have had to create workflows for a COVID-positive patient that protect the staff and other patients, while providing protocol-driven standards for the highly infectious COVID-positive patient," Battié said. "That has meant learning new complexities with PPE donning and doffing, restricting personnel in the affected areas, and ensuring updated policies and procedures were in place for all."
Social distancing protocols are in effect in other areas like waiting rooms and bathrooms.
The joint statement suggests testing to protect staff and patients from COVID-19, and several health systems are testing all elective surgical patients.
Emily Volk, MD, MBA, FCAP, president-elect of the College of American Pathologists, and senior vice president of clinical services at University Health System and assistant professor of pathology and laboratory medicine at the University of Texas Health, Long School of Medicine, in San Antonio, reported that all patients undergoing elective procedures at her facility are being tested for COVID-19. Fewer than 1 percent are testing positive. Volk added that two months ago, such testing would not have been available.
Mercy is testing for COVID during pre-op testing and instructing patients to self-isolate between testing and surgery. Surgical teams operate on emergency patients, who cannot be COVID tested quickly enough, in a negative-pressure isolation operating room.
Keep reading OR Nurses Return to Full Capacity