Requirements to Become A Licensed Practical Nurse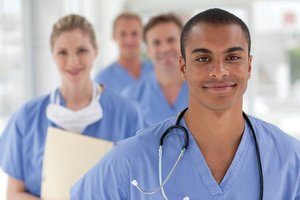 Licensed Practical Nurses (LPNs) are nurses that assist patients and medical professionals with medical care. They often provide emotional support for patients and their families and help keep records.
Certain states allow LPNs to work independently, while others require them to work either under direct supervision or in a collaborative agreement with a doctor. Aspiring LPNs should consider this and several other factors regarding their education options.
FAQs
What Degree Do You Need to Become aN Lpn?
LPNs must complete an accredited practical nursing program. LPN programs prepare them to pass the National Licensure Examination for Practical Nurses (NCLEX-PN).
How Long Does it Take to Become a Licensed Practical Nurse?
Timelines differ based on the candidate's educational and professional experience levels. A typical LPN program takes a year to complete.
Can You Earn a Licensed Practical Nurse Degree Online?
Many colleges offer affordable online nursing degrees to meet prospective students' diverse career goals and specialization interests. In addition to standard master's and doctoral programs, distance learners can also choose from the bridge, dual-degree, and accelerated tracks.
Online Options
A lot of people now seek to study online. This allows them to study on their own time, while they continue to work and bring home a paycheck.
Program advisors place students with local hospitals to complete practical training and post-baccalaureate practice hours. Very often this is done at the nurse's existing place of employment.
Hybrid programs will require you to attend class on campus once every semester or so, while fully online programs will help you to arrange practical experience rotations in your geographical area without ever having to attend class in person.
LPN Job Outlook 
According to the Bureau of Labor Statistics (BLS), licensed practical nurses earned a median salary of $48, 820. On top of excellent pay, LPN's can also look forward to solid job prospects. The BLS projects that employment for licensed practical nurses will grow 9% by 2030, adding approximately 60,700 new positions during that period.
However, the competition for these jobs may be high, as many students have elected to enter the field of nursing in recent years. A bachelor's degree in nursing can help you stand out from other candidates. This page provides an overview of what to expect in these programs, including admission requirements, courses of study, and possible career paths. It also offers advice about how to help pay for your education.
Licensed Practical and Licensed Vocational Nurses : Occupational Outlook Handbook: : U.S. Bureau of Labor Statistics (bls.gov)