Compassion is Paramount in Infusion Nursing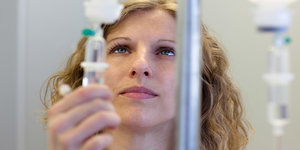 Infusion nurses are registered nurses who specialize in administering medications and fluids via infusion. They monitor patients, manage their tubing, maintain arterial catheters and stay aware of potential drug complications. It's a unique specialty, requiring high levels of technical skill and excellent bedside (or in many cases with infusion nursing, "chairside") manner.
For nurses who are looking for a career change or students planning their next step after graduation, infusion nursing is a promising option. It's also an increasingly popular specialty. According to Healthcare Traveler, the demand for infusion nurse services is expected to rise 26 percent in 2020, due in part to new medical technologies, the aging of America and several anticipated cost-saving initiatives required by the Affordable Care Act.
Flexibility, adaptability and quick thinking are keys to excelling in the ever-evolving world of infusion nursing, where nurses must be prepared to both works autonomously and be a part of interdisciplinary teams.
"Although it's a difficult specialty, the most important characteristic of infusion nursing is a strong sense of compassion," said Linda Ankrom MSN, MHA, RN, an infusion nurse in Pittsburgh, Pa. "If you have the passion to care for others, the rest can be taught. The skills can be developed, and nurse mentors will guide you along with your career, but the most important thing is that you're truly invested in being a nurse and caring for others."
Infusion nurses have a particular opportunity to work closely with patients and their families during difficult, sometimes painful, parts of their treatment. Ankrom notes a big part of the infusion nursing role is to educate patients and their families about their care. It requires translating complicated medical knowledge into terms that patients (even pediatric patients) can understand. Ankrom often encourages her nurses to open up to their patients in order to develop a stronger relationship.
"Nurses are not trained to talk about themselves, but I always tell my nurses to talk to their patients," she said, "Tell them about where you are from, what you've studied and even what experiences you may have had with being an infusion patient yourself. These stories help build a relationship with the patient."
Infusion nurses practice in any setting where patients receive medication or fluid infusion treatments, including hospitals, long-term care centers, clinics and home health agencies. During her career, Ankrom has worked in many of these settings but currently works in an outpatient clinic.  Outpatient clinics can be a valuable option for patients with an ongoing condition that requires regular infusion treatments.
"One of the benefits of an outpatient setting is the disease doesn't become my patient's entire life," said Ankrom. "They can get treatment and be home in time for after-school activities. For people with chronic illness, having to constantly go in and out of the hospital can be very demanding. An outpatient clinic helps them have more control over their care."
After nearly 20 years of practicing nursing, Ankrom still lights up about her chosen specialty.
"There's a million rewards to being an infusion nurse, but the number one thing is bringing a sense of calm, peace and hope to a patient."
Content courtesy of The Campaign for Nursing's Future. Johnson and Johnson
Learn more: