This Is How a Travel Nurse Couple Paid Off $60K in Debt in 1 Year While Living in an RV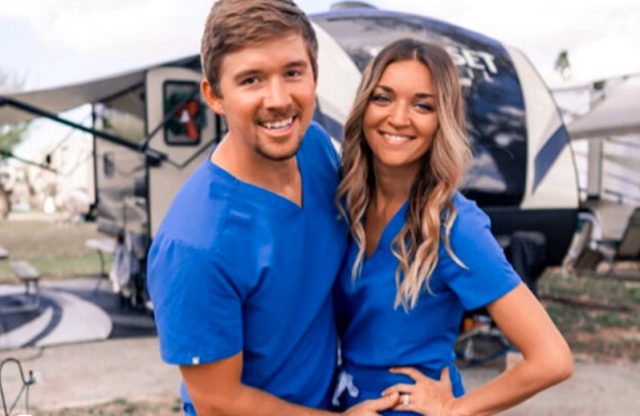 "A married travel nurse couple living in an RV on a mission to see the world and become financially free!" That's what Lindsay Garrett's BSN RN CCRN and Chase Garrett's BSN RN CCRN bio reads. We caught up with the couple to see what it's like living on the road.
PW: How long have you been nurses?
L&C: 6 years 
PW: Why did you decide to become travel nurses? What drew you to this lifestyle?
L&C: Ever since we started dating, we've always had a passion for traveling and exploring together! We found ourselves manipulating our schedules to take eight days off once or twice a month so we could travel. Working as critical care nurses, we have learned that you're never promised tomorrow or your good health — we really took that to heart and try to live our life now versus waiting for the future. Once we found out about travel nursing, we knew it was the perfect opportunity for us. It was a way that we would gain endless freedom to fulfill our passion for travel without putting our careers on hold. 
The biggest perk for us has been freedom. 
We are able to take as much time off as we want to travel the world. 
We work 13-week contracts and then take 1-2 months off to travel and visit family. 
We didn't choose to become travel nurses for the money, but it has been a huge perk!
We're essentially getting paid to travel. We've doubled our income by travel nursing and even work less than when we were staff nurses — this has helped us pay off ALL of our debt (minus mortgage).
PW: How did you prepare for your first assignment?
L&C: We researched all aspects of travel nursing for about eight months before taking our first contract. There is so much to learn. 
We reviewed several different companies
Learned how to understand pay packages
Bought an RV for traveling
Saved up an emergency fund
Started interviewing recruiters
We also updated our resumes and organized all nursing licenses and certifications.
PW: How many assignments have you completed?
L&C: We've completed five contracts during our two years as travel nurses. We're currently searching for contract number six.
PW: How does traveling as a married couple work? Do you work in the same unit/hospital? 
L&C: We absolutely love it! It was one thing we worried about before we started traveling. We were spoiled as staff nurses because our manager let us work the same shifts. We were worried there may be some facilities that won't allow it, but so far, we have been able to work on the same units and have been given nearly identical schedules.
PW: What are your specialties?
L&C: We're originally cardiovascular intensive care unit (CVICU) nurses, but since becoming travel nurses, we've expanded our learning and areas of comfort and will take all ICU contracts.
PW: How much student loan debt did you have after graduating?
L&C: We both graduated from West Virginia University with BSN degrees. During our time at WVU, we accumulated just over $100K debt between the two of us. 
PW: How has travel nursing helped alleviate that debt?
L&C: We were able to pay off our remaining $60K of debt during our first year of travel nursing! Travel nursing has allowed us to double our income. We were able to work hard at paying off debt, but we were also able to save money for the future and take 1-2 months off in between contracts to do some international traveling!
PW: How specifically did you pay down your debt? Did you have a specific financial plan? 
L&C: 
We've been tracking our income and expenses for a few years, which has led to building a budget and monitoring our habits. 
We use a personal budget tracking sheet and are able to see how much money we have leftover each month. 
Instead of spending all the money we make, we used the extra money to pay off our debts.
PW: What advice do you have for nurses who are considering becoming travel nurses in order to pay off significant debt? 
L&C: 
Start by reviewing your monthly budget (income vs. expenses) over the past few months. This helps you get an idea of what you need each month. We talk about building a budget on our blog and Instagram, @WereOutNAbout. 
Since the travel nursing field can be very unpredictable at times, we recommend having a three-month emergency fund saved. That's where looking at your monthly expenses over a few months comes in handy. For example, on average, if you spend $5,000 a month on groceries, rent, gas, utilities, loans, etc. — a safe emergency fund would be $15,000. 
List off all of your debts and interest rates. Pay off your minimums for all loans/debts and then use your excess money to start tackling your debt!
Just because you're making twice as much as a traveler, if your goal is to pay off debt — don't change your style of living.
Keep sticking to your budget, and, in almost no time, you'll start seeing your debt disappear!
Don't get us wrong, in our first year of traveling, we paid off $60,000 debt and saved/invested $13,000, but we also took 1-2 months off in between contracts to travel to 13 countries for fun! It's all about balance.
PW: What are some best practices for making the most money, contract negotiations, and lifestyle changes? 
L&C: We don't typically chase the highest paying contracts. We live in an RV and prefer to chase locations and weather rather than chasing money. It's all about your personal preference. Our goal is to make sure we're doubling the income we would have made as staff nurses. 
For example, if we made $700 per week as staff, our goal is to make at least $1,400 per week as a traveler. Another tip is to compare pay packages between different companies, and if you see one company offering a better rate, either sign with them or negotiate with the other company to match the higher rate. This is why we prefer to work with more than one company — it adds transparency.
Follow Lindsay and Chase on Instagram to see where they're headed next.
Storey shared from Nurse.org
Learn more: