RN to BSN Guide | Take the Next Big Step in Your Career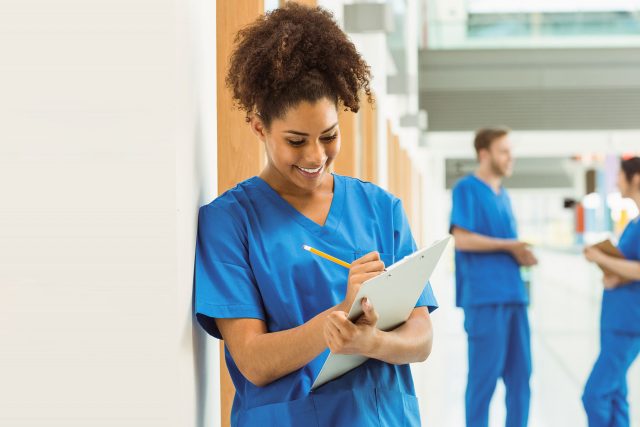 With a big industry push for all nurses to have a BSN in 2020 and the growing number of online nursing programs, many RN's are considering getting their BSN degree. With all the program options, from bridge to online courses, it can be difficult to know what is right for you. This educational guide will highlight what you need to know in order to take the next big step in your nursing career.
What is an RN to BSN Degree?
An RN-BSN degree is a specific program for practicing nurses who have already earned an ADN degree. The RN-BSN program is shorter than a standard BSN, which normally takes four years, and it allows ADN's to build on the nursing experience that they already have.
How Long Are RN to BSN Programs?
Sumner College's RN to BSN program can be completed in as little as 13 months.
What Classes Are Needed to Go From an RN to a BSN?
In an RN to BSN program, nurses have already taken many of the basic nursing courses so they'll focus on higher-level courses and can include: Informatics in Nursing, Innovations in Healthcare, Nursing Management and Leadership, Nursing Ethics, Community Health and a Capstone Course among others.
How Much Does an RN to BSN Program at Sumner College Cost?
Programs that are taught 100% online do not require clinical, but may require you to be working full time as an RN. Visit the RN to BSN program page on our website for costs and enrollment information. 
Will Hospitals Pay for an RN to BSN?
Most hospitals do offer tuition reimbursement for BSN bridge programs for full-time and part-time employees. 
What is an RN to BSN degree?
An RN to BSN degree is a specific type of nursing program for RNs who already hold an Associate's Degree in Nursing (ADN). Often referred to as a bridge program, it's a great way for ADNs to level up in their career, while they continue working.
On average, students that attend a BSN program after high school will complete the program in roughly four years. A nurse that starts a bridge program after working as an ADN can complete a BSN program in as little as 12 months or as long as 5 years. This varies based on the program, individual, and home/life commitments.
Benefits of a BSN degree
More prepared for the hospital setting. BSN prepared nurses are thought to be more prepared for the hospital setting because of the time and commitment spent during the previous four years. 
Increased clinical skills. According to the American Association of Colleges of Nursing, BSN nurses have better clinical skills than ADN nurses. Reports indicate that BSN nurses have lower patient mortality rates, lower failure-to-rescue rates, higher proficiency at diagnosis and evaluating nursing interventions, and improved professional integration and research/evaluation skills.

A step towards an MSN degree. In order to obtain a Master of Science in Nursing (MSN), nurses must first complete a BSN program. MSNs are required to become a nurse practitioner, certified nurse anesthetist, or a nurse educator.

Management and leadership opportunities. BSN prepared nurses can move into management and leadership roles within the healthcare setting. ADN nurses are unable to do so. 

Access to non-hospital opportunities. Obtaining a BSN degree opens the door to non-hospital opportunities. Most nurses do not foresee themselves as bedside nurses when they are 50-60 years old. Nurses who hold BSN degrees can move into teaching, case management, informatics, policy review, and management.
Career and Salary Opportunities for Nurses With BSNs
Most major healthcare systems use clinical ladders to reward nurses for participation in hospital base committees and education. Nurses must be BSN prepared in order to apply for the clinical ladder. Clinical ladder advancement is met with salary increases.
Many hospitals, specifically magnet hospitals and academic healthcare organizations, are only seeking BSN prepared nurses. In fact, on job postings and applications it will state, "do not apply if you don't have a bachelor's degree." Most nurses will not see a bump in their salary after they obtain their BSN. However, they will be at a disadvantage when applying for positions if they do not have a BSN degree. 
Obtaining a BSN is a gateway to numerous career opportunities. Nurses seeking to further their care will ultimately need to obtain a BSN whether it is through a traditional program or an RN-BSN bridge program. In order to obtain a Master of Science in Nursing (MSN), nurses must first complete a BSN program. 
So, while there is no direct salary bump, there are more opportunities to advance a career which in turn will lead to a salary increase.
Learn more: