What to Expect in Nursing School Clinicals: Top Questions, Answered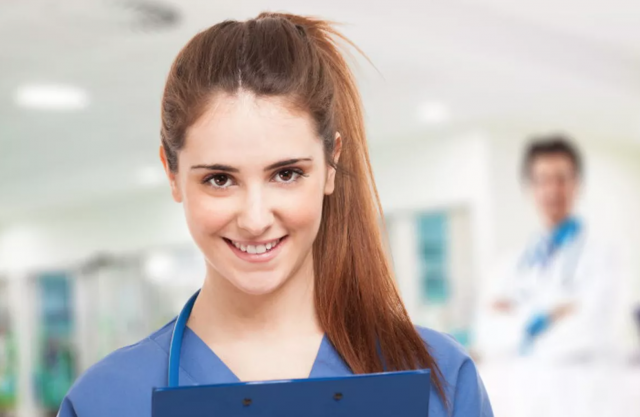 Written by Mariam Yazdi from Nurse.org
Nerves…confusion…chaos…all of the above?!?!
Your first time in a hospital for clinic rotations can be daunting. While pulling up to the hospital parking lot at the crack of dawn, your mind might be racing — "Where do I show up…what do I bring…what am I going to be doing…who is going to be my nurse…are they going to be nice…how do I not make a fool of myself?"
The first and most important thing to remember is this — giving in to the nerves of your first day at clinical will only cloud your thinking and could give you a negative experience. If your thoughts start getting the best of you, take deep breaths and remember — everyone starts right here!
What Are Nursing School Clinicals?
Nursing school is typically divided into three major components: didactic, simulation lab, and clinicals.
Clinicals are the , hospital-site, "on-the-field" portion of nursing school.
The didactic segment of school or the in-classroom lectures, provide a fundamental layer of knowledge for students to apply in the actual hospital setting.
Nursing programs use the simulation lab or a pseudo-clinical experience, to allow for future nurses to practice the various skills and tasks they need, in a safe, non-risk environment before touching real patients.
How Do Nursing School Clinicals Work?
Clinicals are organized through your nursing program. You will have a clinical instructor (who may or may not also give lectures in class) and they will be on-site with you for part or all of the clinical rotation. This clinical instructor is your liaison between the hospital and school.
Your clinical instructor is there to assist you with any questions you may have, but they are also there to grade you on your performance and effort. You are not shadowing your clinical instructor, as they are not directly caring for patients. You will shadow one of the staff nurses who has a patient assignment.
Will I Have My Own Patients?
In the beginning, no. This takes time. By the end of the program, however, there is usually a final practicum or preceptorship, where you will spend upwards of 180 hours dedicated to one unit and one nurse. In this time, you may be given the responsibility of a small patient load by yourself (with the assistance of your preceptor, of course.)
How Are Clinicals Graded?
Every school has its own system of grading the clinical portion of the program. Typically, clinicals are graded on four things:
Attendance
Participation
Preparedness
Homework
Homework will generally consist of care plans. Care plans are a way for you to connect the patients you see with the nursing process:
Assessment
Nursing diagnosis
Plan
Intervention
Evaluation
Schools will require at least one to four care plans per clinical rotation. And speaking from experience, don't procrastinate! Finish those care plans as soon as you get out of the hospital, while the information is fresh in your mind.
What Happens If I Fail A Clinical?
Clinicals are a subjective experience, and it's not very common to fail clinicals because there is a lot of support and interaction with the instructors. If you put in the effort — you're on time, you complete your care plans, you ask questions, and you're engaged — you will not fail clinicals.
If, however, there is a circumstance where you could not complete your hours, or your instructor determines that you should not pass clinicals, it is important to assess the situation and determine what is preventing you from passing. Have a conversation with your clinical instructor and with your program director if needed. Coming together and forming a plan on how to best move forward will help you get through a sticky situation.
What Do I Wear To Clinicals?
Your school will give you a list of guidelines on what to wear to clinicals. Usually, these guidelines consist of the mandated school uniform and badge (remember that your badge is an absolute must…don't get caught without it!). Comfortable shoes are important, and if you find it difficult to be on your feet for long hours, compression stockings are definitely a plus.
In your pocket, you should have at least a couple of pens, pencils for care plan drafts, and maybe even a highlighter. A small notebook for notes will be useful throughout the day. And of course, a stethoscope!
What Specialties Will I Observe During Clinicals?
Clinicals serve as a way for nursing students to get exposure to different specialties in healthcare. Clinical rotations will typically include:
Medical-surgical
Labor and delivery
Pediatrics
Geriatrics
Perioperative
Critical care
Emergency
Psychiatric
Community health
How To Use Clinicals As A Powerful Networking Tool
You may not feel drawn to every specialty you are exposed to but you should always try to make a good impression. Even if you feel invisible as a nursing student, you are still leaving an impression with those you meet, particularly other nurses and managers.
If you stay engaged, keep a positive attitude, and take the extra step to introduce yourself to the manager or charge nurse, you will be remembered when it comes time to complete a job application. If this makes you nervous — even better! Challenge yourself to introduce yourself to a manager, even if you know you don't want to work in that department. This will help you practice pushing through those nerves.
The Dirty Secrets Of Clinicals
Being a student is a difficult time in the lifespan of a healthcare professional. Going into a hospital as a nursing student, you would think that the nurses around you are excited and supportive of your new journey — and don't get me wrong, a lot of them are. However, hospital settings can have very tense and stressed energies, and this can be reflected in the attitude of the nurses that you are shadowing or interacting with at the hospital. Unfortunately, you will likely encounter nurses who are seemingly not pleased about having you around and may not readily include you in the day's activities.
Every student in the medical field will feel this to a degree, and it doesn't do much for fostering a positive environment or cultivating relationships between nurses and students. But there is always a way to handle this.
First, remind yourself that you cannot control how other people feel or act. You can only handle yourself and your own emotions — and it is NOT worth it to have a negative clinical experience due to the attitude of others. Begin by taking deep breaths when you find yourself becoming overwhelmed by all the unknown factors of a clinical experience. Then remind yourself that you are an intelligent person worthy of being in this clinical rotation.
Remember that you are doing your very best, and just because you don't know how to start an IV today, don't know what labetalol does, or feel terribly awkward talking to patients doesn't mean it's going to be this way forever. You are at the beginning of your journey, a gorgeous and beautifully blooming one. One day you will look back at this time and say — wow! I've come such a long way!
Learn more: