Taylor's Story | Working as a Medical Assistant While She Advances Her Education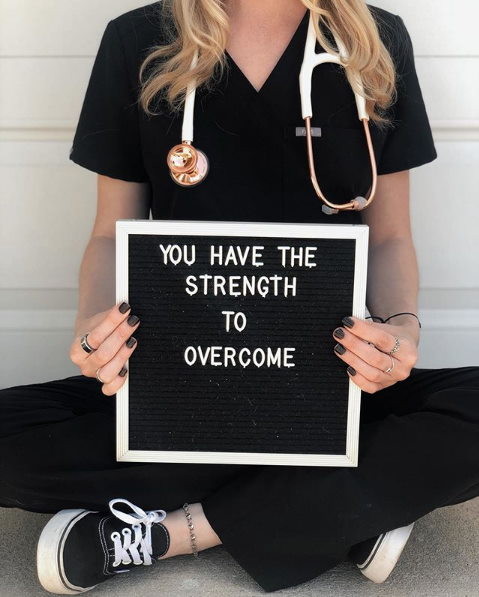 Written by Jake Uitti from Nurse.org
Taylor Brune is many things. To start, perhaps above all else, she is passionate about healthcare. Brune, who recently survived COVID-19, suffers from chronic autoimmune deficiencies, which began from a bite from a tick. As a result, she has had to learn and research much in the medical world so that she is as well equipped as possible to survive her severe afflictions.
On top of all that, Brune is also a Medical Assistant. In this capacity, she works with healthcare providers as a liaison to patients, in administrative capacities and other roles to ensure the facility operates smoothly. Brune, never one to shy away from a challenge, is also a student continuing her education. She is using her experience as a Medical Assistant to help transition to, one day, becoming a doctor. That is her ultimate aim.
We caught up with Brune to ask her about this long professional journey, her fight with COVID-19, her passion for healthcare and much more.
When and why did you decide you wanted to be a Medical Assistant?
The last ten years, I have dealt with my own health issues and my own health journey of developing chronic disease and autoimmune disease after a bite from a tic. So, when I lost my health, I was engulfed in the medical world and I was a patient 24-7 and having to do research for myself and be my own health advocate. In the process of learning how to heal myself, I grew the passion of wanting to help heal others.
While I was going through treatments, I was like, this is my calling. This is where I'm supposed to be. This is why I'm having my health issues and going through this huge life transition and transformation. When that realization happened, I decided to learn about medicine and how to switch my degree over to pre-med and integrative health.
Going into medical assisting school, was the first step in my path.  And I'm going to be a doctor one day no matter how long it takes! No matter what challenges I face, I know that everything I'm going through in my own health is helping me transform into the best person that I can be so that I can be the best doctor for patients. Since I've had the perspective of being a patient for so many years, I know exactly what they're thinking and feeling.
What was the process like for you to become a Medical Assistant?
First, I prayed a lot about it. I knew I wanted to switch my degree to pre-med but, I also wanted to work in the medical field a lot sooner.  Becoming a doctor takes years in pre-med and medical school.
So, I figured the first step to completely immerse myself in the medical field as soon as possible was to complete a medical assistant program and to actually start working in the field that I love so much. Once I graduated from my medical assistant and phlebotomy program I immediately started working in the field. The experience I've gained has just confirmed that this is where I'm supposed to be and I love it!
How long did the process take, what type of schooling did you get?
For medical assisting in California , I needed to go to a medical assisting school. I went to a trade school and enrolled into a medical assisting program. Medical assisting programs are more about gaining experience in an actual doctor's office.  This is how the program was set up,
Complete the required amount of classroom lecture credits
Attend the required amount of clinicals and pass them
Work in the field for 200 hours underneath different doctors and specialties
The program style was really beneficial to help me to get on-the-job training and also land a great position right after graduation,
I gained a lot of valuable on-the-job experience while I was still in school
I quickly graduated and got my diploma from medical assisting school
I was able to apply to private practices and I got a job quickly
I've been working at private practices up until now
At the same time, though, I've been going to Arizona State University Online to finish my Bachelor's degree, which I'll be finishing in the fall. This fall, I'll have my Bachelor's as well as my medical assisting diploma.
As a medical assistant it's important to be certified. I took a national certification exam and every two years, I complete the required credits and retake the test to keep my certification up to date.
How did you land your first job as a Medical Assistant?
It was actually pretty easy for me because I seem to interview really well with medical places. My first job was working at a naturopathic office. Next, I went to primary care and oncology. So, that's where I've been working the last year.
There's a lot to know for the job and you have a lot of responsibilities – from first-aid to computer work to patient liaison. Do you like having all these aspects to your workday?
I love it! I have gained so much experience including,
Customer service in front at the reception desk
Rooming and taking care of patients in back clinical
Helping oncology patients during their treatments
Drawing blood in phlebotomy and lab tech
Drawing blood is my absolute favorite because I really enjoy direct patient care. But, overall working with different modalities, systems and technologies has taught me so much about the medical field. Each private practice is completely different and the providers are unique in that they offer different specialties and treatments. It's been fun learning all these different skills.
Your long-term goal is to be a doctor. How did you choose becoming a medical assistant for that aim and how has it helped?
There are a few reasons why I chose medical assisting as my first step towards my goal of becoming a doctor,
I love chronic disease
Being a medical assistant gives me time to focus on my own health
It allows me to work while advancing my education to become a doctor because pre-med takes a while.
I wanted to give a voice to the chronic illness community –  because of my own health and all the experiences I had with doctors pushing me aside. In my experience I feel that a lot of the chronic illness community is not heard. So, I really just want to make a change in how nurses, medical assistants, and all types of healthcare workers are treated. I want to help change how doctors perceive patients who have chronic illness. There are so many amazing, positive things in the medical field. But there is a lot of darkness, too. I really just want to be that light. I really feel like taking that path via doctor, I'd be able to help the patients, give them a voice that they need to feel confident in the healthcare system again – especially with chronically ill patients.