5 Steps To Becoming A Certified Medical Assistant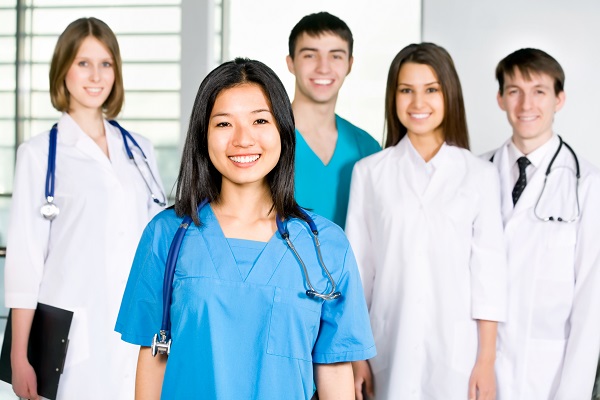 If you're service-oriented, flexible and dedicated to patient care, becoming a certified medical assistant may be a good career path for you. You can choose a variety of different training programs to become a medical assistant, such as on-the-job training, online training, on-campus training, or even a medical assistant program that combines all these elements. If you're interested in finding a certificate program, here are the steps you can take to become a certified medical assistant.
5 Steps to Becoming a Certified Medical Assistant
1. Complete Appropriate Training
2. Apply and Study for the Certification Exam
3. Pass the CMA Exam
4. Ace Your Job Interview
5. Keep Your Momentum
It's possible to become a medical assistant with simply a high school diploma or GED, plus appropriate on-the-job training – but most employers prefer to hire medical assistants that have already gone through formal training and been certified through an accredited program. In fact, it's often difficult to find a physician who is willing to hire an untrained and inexperienced medical assistant. Becoming certified also typically ensures that you can expect a higher pay grade – as much as $12,000 higher than a non-certified medical assistant, by some estimates. Going through the certification process is a good signal to employers that you've been tested and shown to display the kind of skills and expertise they want for their patients.
Medical Assistant Job Overview
A medical assistant supports physicians, nurses, patients and other members of a health care team. Medical assistants carry out a wide variety of important tasks, some of which are more administrative in nature, while others involve directly working with patients. Some of those administrative duties may include things like answering telephones and scheduling appointments, updating patients' medical records, submitting insurance requests, and coordinating hospital intake or laboratory tests. In particular, electronic medical records management is becoming a larger component of medical assistant duties.
More clinical duties may include drawing blood or removing sutures, assisting physicians during exams, taking medical histories and helping patients prepare for the examination. In addition, most medical assistants will know how to take vital signs. Many times, a medical assistant may be the first person a patient interacts with inside a medical office – and some medical assistants may also give injections or medications as permitted by state law under the direction of a physician. A certified medical assistant may also assist with prescription preparation or changes and help with some minor outpatient clinical procedures.
Overall, the outlook is positive for medical assistant jobs, as aging baby boomers continue to drive demand for medical assistance. This strain on the physician population means that more opportunities will grow for medical assistants to perform basic clinical and administrative duties. In fact, according to the Bureau of Labor Statistics, more than 160,000 new jobs are forecast to be available to medical assistants across the nation between 2012 and 2022 – an employment growth rate that's much faster than average. You'll typically see most medical assistants working in primary care, which is a steadily growing slice of the medical field.
According to the U.S. Department of Labor, a successful medical office assistant will display the following characteristics: communication skills, ability to work well under pressure, attention to detail, customer service ability, listening skills, knowledge of medical terminology, clerical skills, knowledge of medical treatment and more. In general, someone starting out as a certified medical assistant can expect to earn around $40,000 at the beginning of their career.
5 Steps to Becoming a Certified Medical Assistant
While being certified isn't always a requirement for medical assistant jobs, it is certainly recommended and preferred. Here are the steps you can take to obtain medical assistant certification.
1. Complete Appropriate Training
Before you can take your certification exam, you must complete training through an accredited program – and choosing the right program for you can be a daunting task. You'll want to look for a program that has been accredited through either the Commission on Accreditation of Allied Health Education Programs or the Accrediting Bureau of Health Education Schools. Going through the medical assistant certification process typically takes around a year or less.
You should give some thought to how you might like your medical career to develop so that you can choose the right kind of medical assistant training. For example, if you eventually want to move into other healthcare fields, you might want to pursue an associate's degree or bachelor's degree before taking your exam. This helps lay the foundation for future study. But if you want to move quickly into the workforce, you might prefer going for a different kind of certificate program that's more streamlined. Certificates can be earned through technical or vocational schools or online. There are even hybrid programs that incorporate both classroom and online study.
Carefully consider the types of courses offered as well – while most medical assistants handle a wide variety of tasks, you do have the option with some programs of specializing in a specific area, like administration or patient care. Administrative specialties will include coursework in medical billing issues, insurance, and general customer service, while a patient care field of study will emphasize skills like medical terminology, EKG, anatomy, and phlebotomy. You also have the option of specializing in a particular field, such as ophthalmology, obstetrics, or podiatry.
Most training programs will include some type of training or externship in order to build clinical experience. If you can handle the workload, you may also consider finding an entry-level position just to help gather clinical experience along the way as you study. Look for opportunities with doctors' offices, clinics, and hospitals.
2. Apply and Study for the Certification Exam
Before you take your exam, you need to apply through the appropriate accrediting body. You'll need to show that you've completed appropriate training and have all the proper documentation. During this process, you'll likely be able to select the date on which you'd like to take your exam. Be sure to give yourself plenty of time to study for your certification exam; even with appropriate training, the test is challenging.
But you do have many options for guided test preparation. You can find several exam preparation programs available from a variety of professional organizations – and if it's helpful, the American Association of Medical Assistants even offers a CMA practice exam you can take to gauge your readiness. These kinds of programs can supplement your previous work and focus your efforts on what's most important for acing the exam.
3. Pass the CMA Certification Exam
While most states don't require that you be certified to be employed as a medical assistant, the credential is preferred by most employers. You have several options to choose from in terms of accrediting bodies and the exams they offer. For example, the National Center for Competency Testing offers the National Certified Medical Assistant exam. The Certified Medical Assistants exam, from the American Association of Medical Assistants, is given in January, June, and October every year. Additionally, the National Health career Association offers a Certified Clinical Medical Assistant credential, and the corresponding Certified Medical Administrative Assistant certification.
Whichever test you take, make sure you're familiar with the testing center you'll use – especially its test-taking policies, along with what to bring with you and what to expect the day of your exam. Generally, you'll receive an initial pass/fail notice as soon as you submit your exam, with your official results following by mail within three to four weeks.
4. Ace Your Job Interview
Once you have your certification, you're well-positioned to ace an interview with a physician's office and get to work. Make sure to carefully research the facility and team you're interviewing with, and practice answers to questions that showcase your skills, what you know about the medical practice, and how well you'll fit into the team's culture. Also, make sure to come armed with your own questions that show your interest in both the practice as a whole and the specific position.
5. Keep Your Momentum
Don't let getting your first medical assistant job be the punctuation mark on your career; once you've taken this step, make sure you look for opportunities to take your career even further. For example, you may eventually decide to go back to school in order to enhance your career options. If you earn an associate degree initially, you may decide to go back for a bachelor's degree. Or you can also choose to expand your options as a medical assistant by becoming additionally certified in a variety of areas, like office programs, medications, phlebotomy or others.
Medical Equipment Needed as a Medical Assistant
Certified medical assistants are called upon to successfully operate a wide variety of medical equipment in the course of their day-to-day duties. For example, a medical assistant in a primary care or other clinical setting may use any of the following:
Thermometer
Exam lights
Electrocardiogram machine
Scale
Hemoglobin machine
Autoclave
Computer
Ultrasound machine
Stethoscope
Sphygmomanometer
Ophthalmoscope
Syringes
Biohazard Sharps Containers
Glucometers
Otoscopes
Penlights
Ear scopes
Surgical instruments like forceps, scalpels, etc.
Ultimately, the types of medical tools a certified medical assistant will need to use will depend on the type of office setting and the office equipment favored by the health care staff. Some pieces of equipment, like EKG machines, computers, X-ray equipment, and scales will be supplied by the employer, while other, more personal pieces of equipment, like a stethoscope, penlights, etc. may need to be purchased independently by the medical assistant. In general, the major medical equipment will be supplied by the medical facility, while the smaller tools of the trade that a medical assistant might carry throughout the day may need to be purchased independently by the specific medical assistant.
In addition, clinical medical assistants will need to be well-versed in infection control – most medical offices use standardized sterilization products like Hibiclens or Cavicide to ensure that their clinical areas remain pathogen-free for the safety of both patients and the medical team. It's likely that once hired by a particular medical practice, you will receive any appropriate training on that medical team's specific equipment.
Becoming a Certified Medical Assistant
If you're interested in becoming a certified medical assistant, your choice is a good one – medical assistant jobs are some of the most appealing in the healthcare industry, and good medical assistants are in high demand. Medical assistants are vital and valued members of the health care community. A position as a certified medical assistant can offer solid pay and benefits, job security and continued employment potential. While not required in most states, certification is strongly recommended within the healthcare industry.
Overall, the process for becoming certified is reasonably attainable, especially when compared with its benefits. If you decide to pursue medical assistant certification, follow the steps listed here, and you'll be well on your way to success in one of the most rewarding and promising career paths within the medical industry.
Content shared from USA Medical and Surgical Supply