How to Become a Medical Assistance (MA)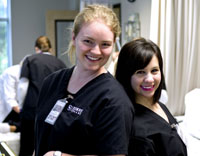 MAs can find employment with only a high school diploma. However, many go on to pursue postsecondary training or education to better prepare themselves for the role.
Candidates can find one-year certificate or diploma programs or two-year associate degrees at vocational schools and community colleges. These programs often include courses on record keeping and insurance coding, in addition to the basics of human anatomy and medical terminology. You can find an in-depth resource about certified medical assistant programs here.
MAs can also earn professional certification in medical assisting. Although most states do not require certification, extra credentials can boost medical assistants' job prospects. As a part of the certification process, MAs must pass an exam that evaluates the skills and knowledge needed to excel in the role.
Sumner College has offers classes in Medical Assisting that start every 10 weeks. Visit Medical Asstant Program Sumner College to learn more.