Important Phlebotomy Technician Skills for Success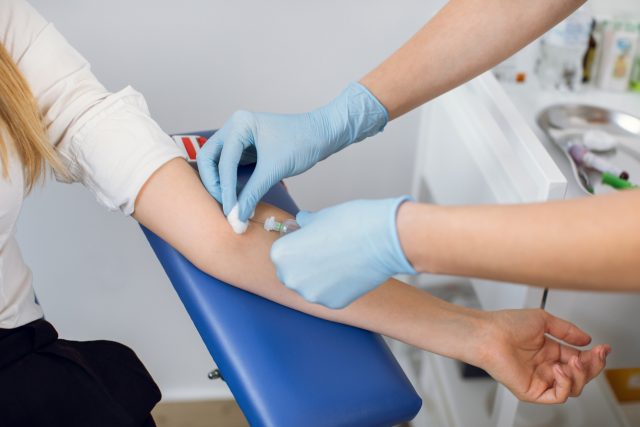 What Kind of Skills Do You Need to Be a Phlebotomist?
Phlebotomists draw blood from patients for tests, research, transfusions, and/or blood donations. They work primarily in hospitals, doctors' offices, blood donation centers, and laboratories. Along with drawing blood, they label the blood for processing, enter information in computer databases, and assemble and maintain all the medical instruments needed to draw blood.
Phlebotomists often explain the procedure gently to patients in order to calm their nerves. Sometimes, they also have to care for patients who have an adverse reaction after their blood is drawn.
Types of Phlebotomy Skills
Phlebotomists require a wide variety of skills. Some of these are hard skills, such as knowing how to perform certain medical procedures and dexterity for using equipment efficiently. Others are soft skills, such as compassion for anxious patients.
Phlebotomists usually have a constant flow of patients throughout the day. They need to be precise when drawing blood and labeling and keeping track of samples.
Calculating the Quantity of Blood Needed
Decontaminating the Puncture Site
Documenting All Procedures
Following Infection Control Guidelines
Locating Appropriate Veins for Blood Collection
Maintain Specimen Integrity
Preparing Specimens for Transport to the Laboratory
Communication
Phlebotomists need to be able to clearly explain procedures to patients, and listen to their questions and concerns. Many patients will be nervous, so clearly explaining what is going to happen will put patients at ease. Strong verbal communication skills are critical.
Oral Communication
Nonverbal Communication
Active Listening
Explaining the Process of Extracting Samples
Instructing Patients Regarding Proper Urine Collection
Persuasion
Writing Reports, Correspondence, and Policy
Data Entry
Most hospitals and doctors' offices require phlebotomists to enter patient and specimen information in a medical record database on the computer. Having data entry skills and experience is a big plus for a phlebotomist.
Data Management
Accuracy
Computer Skills
Microsoft Office Suite
Data Management Software
Information Management
Dexterity
Physical dexterity (or motor skills) is critical for a phlebotomist. Phlebotomists have to work with their hands to handle equipment and draw blood. They need to be able to draw blood quickly and efficiently, with minimal discomfort for patients.
Close Vision
Hand-eye Coordination
Working Quickly
Performing Chemical Tests
Promoting Workplace Safety
Empathy
Phlebotomists need to have strong interpersonal skills. In particular, they need to be able to empathize with and show concern and care for patients who are nervous. Empathy will help a phlebotomist interact successfully with patients and their families.
Calming Anxious Patients
Customer Service
Emotional Intelligence
Interpersonal Skills
Patience