Medical Assisting Occupational Outlook Handbook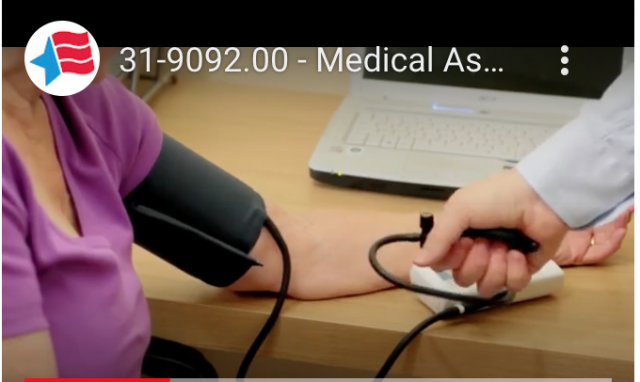 Medical Assisting Occupational outlook Summary
Quick Facts: Medical Assistants
$34,800 per year
$16.73 per hour
Postsecondary non degree award
None
None
725,200
19% (Much faster than average)
139,200
Medical assistants complete administrative and clinical tasks in hospitals, offices of physicians, and other healthcare facilities.
Most medical assistants work in physicians' offices, hospitals, outpatient clinics, and other healthcare facilities.
Most medical assistants have postsecondary education such as a certificate. Others enter the occupation with a high school diploma and learn through on-the-job training.
The median annual wage for medical assistants was $34,800 in May 2019.
Employment of medical assistants is projected to grow 19 percent from 2019 to 2029, much faster than the average for all occupations. The growth of the aging baby-boom population will continue to increase demand for preventive medical services, which are often provided by physicians. As a result, physicians will hire more assistants to perform routine administrative and clinical duties, allowing the physicians to see more patients.
Explore resources for employment and wages by state and area for medical assistants.
Compare the job duties, education, job growth, and pay of medical assistants with similar occupations.
Learn more about medical assistants by visiting additional resources, including O*NET, a source on key characteristics of workers and occupations.
For more information visit the US Bureau of Labor and Statistics