Student of the Month: February 2023 Medical Assisting Program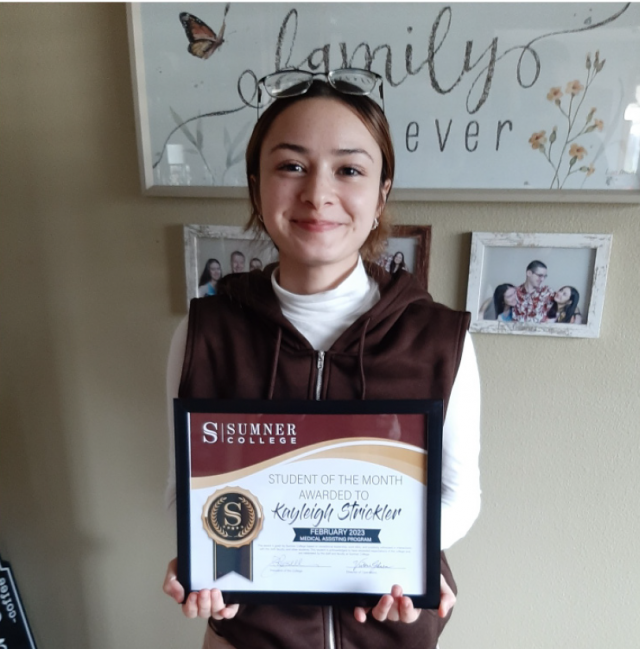 Kayleigh was selected by Sumner College faculty and staff for the February Student of the Month. Some of the reasons she was chosen include:
"….her visible passion for helping people."
"Kayleigh's ability to be an informal leader and contribute to a dynamic learning environment."
"She encourages other to participate and grow during active learning sessions."
"Kayleigh's unfailingly kind and persistently focused on nursing as her goal."
Winners of the Student of the Month Award are nominated by the staff and faculty each month. They are presented with a certificate and given a $500 scholarship.
Originally from Illinois, Kayleigh moved to Oregon in December. She was inspired to become a medical assistant because she wanted to help others and was unsure of where to start in the medical field. She recognized that becoming an MA would give her the opportunity to decide. Kayleigh is a people person who loves helping others with their conflicts and problems. She thrived with the hands-on labs that are offered at Sumner College, which were her favorite part of the program. When asked to give advice for students starting at Sumner College, Kayleigh emphasized the importance of being patient and not being too hard on yourself. She encourages students to take things one day at a time, and with focus and repetition, things start to get easier. Kayleigh devotes most of her time to her studies and work, but enjoys listening to music during her free time. She is a hardworking individual who is sure to make a positive impact in whatever career path she chooses.